With gratitude and pride: Yavapai-Apache's Jane-Russell-Winiecki empowered to accomplish anything she puts her mind to
By
Bill Helm
|
BillHelm42
Originally Published: November 1, 2018 9:14 a.m.
MIDDLE VERDE – With a strong sense of self and a strong sense of humor, Jane Russell-Winiecki had a most healthy response to a recent question about her chronological timeline.
"You really shouldn't ask a lady her age."
Born in Jerome, the Yavapai-Apache Nation's Tribal Council Chairwoman lived in Phoenix as a young girl before the family moved to New Mexico.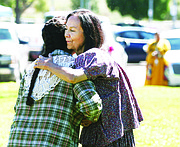 But she spent "every summer" in the Verde Valley. "As a wild Indian."
Then she moved back to the Verde in 1995. "Permanently."
Once upon a time, Russell-Winiecki served on the Clarkdale Town Council. But she had no plans to serve on her Nation's tribal council.
Although her late-father Ned Russell was once chairperson of the same nation's tribal council.
"My ancestors inspire me, especially my father and mother," Russell-Winiecki said. "Our story of removal from this Valley and return is a story of the great significance. It's the story of a people who survived against the greatest of trials. My heart swells with gratitude and pride at their resourcefulness and resilience.
"Their blood flows through my veins, and so when I have a challenge, a disappointment, a heartache, or fear, I close my eyes and remember what they endured so that I could live in this beautiful Valley."
Because of those ancestors, Russell-Winiecki is "empowered to accomplish anything I put my mind to."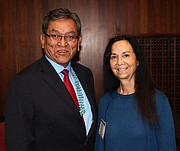 Russell-Winiecki said her biggest challenge as Tribal Council Chairwoman – more specifically as a woman – is to maintain the Nation's "beautiful culture."
"We are not only the life-givers, we are the culture bearers, and care takers of our tribal communities," she said. "We are also healers, artists, leaders, lawmakers and warriors. It is our responsibility to guide and prepare the future generations.  
"As all the problems of the American experience press down upon us, we must remain ever and strong a vigilant in protecting the gifts that have been handed down by our ancestors."
The following is from a question and answer session with Jane Russell-Winiecki.
Some of this Q&A appeared in a special publication by Verde Valley Newspapers on Women in Business:
What advice can you offer to women leaders in a similar field?
My advice to women who go into politics is that you do it for the right reason.

Remember that you will be a servant (or public servant) first and a boss second. Never forget to tell the truth and keep your integrity.
Everyone you are serving deserves this, even if they are opposed to your decisions. There is a truth called "karma" and I can promise that everything done for good will eventually come back good and everything done without integrity and truth will come back with the same intention.
A person must be mature enough to not take things personally and to respect the views of all people. Reserving decisions until all facts are known is a great gift and will take you far if continually practiced.
How has mentorship made a difference in your professional and personal life?
I was not directly mentored but believe it is a very valuable tool to help women. The ability to broaden a woman's perspective, help her gain confidence, practice skills to be used later fosters positive growth and expectations.
A good mentor will help point out strengths as well as weaknesses. And a good mentee will accept constructive criticism and use it to increase her skills and approaches to difficulties. In retrospect, there were some challenging lessons I learned the hard way and would have been very grateful for some guidance.
 My father would have been my greatest mentor for my current position.  Watching him serve as a Tribal Chairman gave me firsthand knowledge of what to expect. I will be forever grateful for his wise counselling. 
What event motivated you to be where you are now?
Family members (including my father who was a Tribal Chairman) have asked me for years to give back and contribute to our Tribal community.  I served on several boards for several years and finally was persuaded to take it to the next level. My motivation was and has been to share any talents, successful life experiences and a strong work ethic for the betterment of my people.  I'm a worker bee, who for a time is assigned to be the queen and I'm happy to give whatever is needed. The only caveat to that is that when the queen finishes her time in the hive, she dies.  I don't plan on doing that.
What would you tell your younger self/daughter?
I've always encouraged my daughter to find those things which would make her happy. I assured her she could be or accomplish whatever she set her mind to. Each one of my children had to play one sport a year, keep up their grades and they would receive an allowance and pick their favorite instrument and take lessons. She was a smart little girl, winning the school spelling bee in the 3rd grade.
She loved the piano and started playing in the 3rd grade, and ended up winning a state piano competition in high school. She picked track and ran at the State games each year in high school. She joined the HS debate team and took 2nd place in the U.S. Competition in Washington, D.C. as a senior. She ended up going to Harvard and is now a High School English teacher, which was her greatest love. Reading.

I allowed her to make the choices, provided her the tools and she found her sweet spot in each case. As proud as I am of her, these are her accomplishments. I just feel grateful to be a part of her adventures.

We must continue to encourage our children and sisters to find themselves through exploration, and always give them a sense of self-worth and appreciation.
-- Follow Bill Helm on Twitter @BillHelm42
Related Stories
More like this story
SUBMIT FEEDBACK
Click Below to: