It's all good at Rotten Johnny's Wood-Fired Pizza Pie
By JEFF and SUZIE Dunn: The Dunnery
Originally Published: November 5, 2018 3:44 p.m.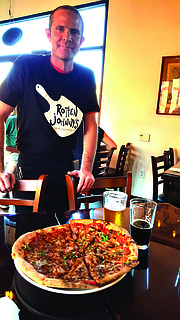 Since mid-July, Rotten Johnny's Wood-Fired Pizza Pie establishment in The Collective has offered Villagers and visitors alike high-quality thin-crust pizza.
Many of our locals were sorry to see John and Nikki Ramagli close the Village Grind coffee stop, but John told us it was a matter of economics.
Besides, Rotten Johnny's (R-J's) is a nice complement to the Ramagli's fine dining J Wine Bistro, not only because of the different menus and styles of service but also the hours and days of operation. Choices are what we like.
The hours for R-J's are: Closed Mondays, Tuesday, open 4-9 p.m.; Wednesday through Sunday open 11 a.m. to 9 p.m. (J Wine Bistro is open Tuesday-Sunday 4-9 p.m.)
What "our scouts" told us was to first order the Antipasto Salad –good and almost a meal in itself. We had a couple slices of different pizza at the Collective Party in July and Suzie especially liked the one topped with Chicken Gouda Apple Sausage.
R-J's has other interesting ingredients available as an extra for cost or part of the general menu offerings: Genoa salami, hot soppressata, capocollo, pancetta, fennel sausage, caponata, Calbrian chiles, ricotta, arugula, wood-roasted mushrooms, black truffle and Mediterranean olives.
There are seven 13-inch Red Pizzas and seven 13-inch White pizzas to choose from. Half & half is possible for no extra charge.
There is cheese-less pizza, more than one vegetarian pizza and several loaded pizzas.
The Dunnery selected the Pancetta Pizza because of the inclusion of caramelized onions. It was served timely and more than satisfied our appetites.
Deciding on beer for our beverage, Jeff chose Deschutes Black Porter and Suzie, Mother's Road Tower Station IPA. Many other beverages, soft and alcoholic, are available.
John is known for keeping an excellent wine menu and that is available by the glass or bottle.
We didn't have an appetizer, though we've heard each one was scrumptious. Good use is made of the wood-fire as shrimp, olives and vegetable of the day are offered, along with burrata and chili peppers stuffed with tuna.
Desserts, locally made, are also available. Nikki told us pizzas take only a few minutes to bake in the hot oven, so wait time isn't an issue. Call in orders take 15-20 minutes.
Presently, no email or text ordering are available but they hope to add delivery soon. Check out the menu at Rottenjohnnys.com or call 928-641-6586.
We give thanks to all at R-J's and all that have participated in our articles over the past year.
We are blessed, Jeff and Suzie at The Dunnery.
More like this story
SUBMIT FEEDBACK
Click Below to: