Camp Verde cross country improves in coach Castillo's inaugural season
Originally Published: November 8, 2018 1:12 p.m.
Updated as of Thursday, November 8, 2018 1:12 PM
Camp Verde High cross country wrapped up head coach David Castillo's first season at the helm last week at Sectionals.
The Cowboy boys finished 11th at the Division IV Section III meet at the Hidden Cove Golf Course in Holbrook.
"It went well, it went well," Castillo said. "The kids all ran hard boys and girls."
Freshman Christian Aranzamendi was 56th with a time of 20:45, senior Fabian Herrera Araiza finished 57th in 20:46 and senior Steven Petty ending up 58th with a time of 20:46.
Aranzamendi was one of the runners who consistently finished with his teammates at meets.
"It was either him winning or Fabian winning, so they've been going back and forth all year so for him to pull it out, they both finished strong, within a second of each other, is impressive," Castillo said. "So I mean I was anticipating a good hard finish and it was really anybody's race, they just all had to give it their all and they did."
Petty finished in the pack despite spending most the fall season playing football. He was the Cowboys' first quarterback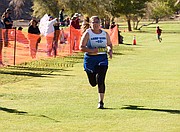 and when he injured his hand Castillo noticed his running ability.
"He did an excellent job, he definitely gave it his all, he didn't have obviously the practice that the rest of the team had but I was very impressed with his performance I did see him running earlier in the year when he had hurt his hand and that's what kinda caught my eye into trying to recruit him because he was running around the track while we were doing a work out," Castillo said. "He impressed me, he had great form so I'm glad he came out, he gave it his all and he actually finished right there with Christian and with Fabian, they were just one, two three right after each other, so it was a very impressive finish from all three of them."
Sophomore Steven Moore was 83rd in 23:56, freshman Regelio Carillo finished 84th with a time of 23:57 and freshman Aaron Mathews took 85th with a time of 24:44.
On the girls side, Camp Verde freshman Daphne Sanchez was 59th with a time of 30:35.9 and junior Bennett Holm was 64th with a time of 35:36.0.
Castillo said his first season went great, thanks to the help from people like assistant coach and last year's head coach Mike O'Callaghan, assistant coach Matt Malloy and athletic director Daniel Wall.
"There's, like I said before, great support with our previous head coach O'Callaghan, coach Malloy was instrumental in being there at practices giving the kids words of wisdom I had just great support from everybody, all the coaches on the team, coach Wall as the athletic director was very instrumental in giving me the support and even all the athletic secretaries and up front and everybody at the bus barn too, just every piece of the puzzle," Castillo said. "We have great support in the Camp Verde school district so I'm proud to be a coach for the district and represent the Camp Verde High School."
Unable to compete this year because of transfer rules, junior Sy Hanson served as a manager.
"Every team has character and Sy was a big part of that character and I'm glad he stuck it out even though he couldn't run," Castillo said.
Castillo said he expects Hanson, Aranzamendi, Carillo, Sanchez and Matthews back and some promising middle school runners to move up.
"We have a very bright future, we've got some young kids that I hope come back out again next year and I hope they recruit some of their friends," Castillo said. "We'll be doing a strong push over the coming the year through track season to try to get more kids there through out the whole season for next year's cross country team but I definitely think it's promising."
More like this story
SUBMIT FEEDBACK
Click Below to: