New book chronicles the 1949-50 Waterloo Hawks in the NBA's first season and features Camp Verde legend Wayne See
Originally Published: November 10, 2018 6:40 p.m.
Updated as of Saturday, November 10, 2018 6:40 PM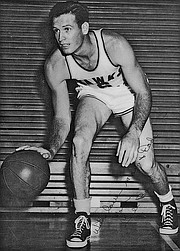 Not only did the National Basketball Association feature a team in Waterloo, Iowa in its inaugural season, Camp Verdean Wayne See was a big part of that first season.
The recently released book Ball Hawks: The Arrival and Departure of the NBA in Iowa by Tim Harwood covers how Waterloo, Iowa got a team in the NBA's inaugural season, the roots of the league and what happened to the Hawks.
See, who is from Camp Verde, graduated from CVHS, went to Arizona State Teachers College, now Northern Arizona University and became the first Arizonan to play professional basketball when he suited up for the Waterloo Hawks.
Harwood, a broadcaster and sports historian, had written a books about Iowa hockey before he tackled the Hawks' history.

Ball Hawks can be purchased at bookstores or directly from the University of Iowa Press at 800-621-2736 or uipress.uiowa.edu.
The Verde Valley Newspapers talked to Harwood about the book.
VVN: What was pro basketball like after the war and what was the beginning of the NBA like?
Harwood: Boy it was a much different game, it was slower; the rules had not evolved to the rules that we know now. So things like obviously the 24 second clock, the three-point arc, those were not part of the game in the late 1940s and early 1950s and the technique was different.
The jump shot had not become broadly adopted by everybody. There were still players that were shooting underhanded free throws as just a matter of course, it's what they had learned.
So it looked quite a bit different to the casual observer than the game of today.
VVN: What was that first NBA season like for the Hawks?
Harwood: Well it was the team's second year, so I should back up. In '48-49 the Hawks were part of a league called the National Basketball League and their main rival was the Basketball Association of America and so it's easy to see how you would get the NBA, those two leagues merge but they had been battling each other for prestige, for players, for media attention for about three seasons.
So in that '48-49 season Waterloo joined the league to help keep the NBL going after the Basketball Association of America had wholesale just swiped four teams more or less. They took the Minneapolis Lakers, the Fort Wayne Pistons, the Rochester Royals and the team in Indianapolis known as the Kautskys into jumping from one league to the other. That way they didn't have to try to get their players because the players just came with the teams, so they had those prestigious players. George Mikan foremost among them moving from one league to the other
So Waterloo played that '48-49 season, they were a real competitive team, they were especially good at home, they struggled on the road. That would be a characteristic of Waterloo's time as a pro basketball city, the teams that Waterloo had didn't fare all that well on the road and that was probably the biggest stumbling block that kept them from being more successful.
They developed a pretty entertaining rivalry with the team in Molina, Illinois, the Tri-City Blackhawks, and some of the others. And then the league merged with the Basketball Association of America and the '49-50 season was a year that started a little slowly and then never completely recovered.
Stylistically the way the Hawks started '49-50 was even at that time, an older school approach to professional basketball.

They were a physical sort of grind it out sort of team with a player-coach in Charley Shipp, who had a lot of experience. He had been playing as a pro since 1935, which that sounds like a long time by current standards, it was a really long time by pro basketball standards at that era. There weren't more than a few players, just a very few, that had that sort of longevity at the pro level.
Some of the teams that they were encountering were a little bit more up tempo, were playing the game in a different way that Waterloo wasn't particularly well suited to match, with the athletes that they had and so mid season they made a change and there was some positive signs after that but it was really just kinda too late, it was into January, the season, at that point ended in mid to late March. So there wasn't just time, even though things better, they still were a team that was struggling in those last months even to get to .500 in just that portion of the season after the coaching change. So certainly it wasn't possible to overcome the deficit that they had to to become a playoff team.
VVN: How did Wayne See get involved in the team? I saw that he was expecting to go to Chicago at first.
Harwood: Yeah he was going to play for that team in Hammond, which is basically Chicago except on the Indiana side of the border. So he had a contract there with the Hammond Calumet Buccaneers and the team just did not survive the merger. It was one of the casualties of the merger between the National Basketball League and the Basketball Association of America.
And so their roster pretty came wholesale to Waterloo, at least in theory that was the plan. Most of the veterans from the Hammond team either retired or asked to be released. The only really notable veteran that came to Waterloo with that purchase was a player named Stan Patrick who had been a pretty well heeled pro at that point. I want to say it would have been a sixth or seventh year as a pro after he had had some success, first at Santa Clara at the University of Illinois.
But the real value of purchasing that roster from Hammond was in the rookies that they had signed particularly in Wayne See and the other notable rookie was Don Boven from Western Michigan. They were the two rookies that lasted the entire season with the Hawks and then played with Waterloo the following year after the team had been pushed out of the NBA and remained with Waterloo as they tried to make a go of it the new league that they formed with some of the other teams that had been left out of the second NBA season.
VVN: Was there a lot of guys who were rookies at his age, that had already fought in the war and were kinda a little older than rookies nowadays?
Harwood: In professional basketball generally I'd say yes, that was a story that actually was fairly common. Don Boven was actually another example of a player followed a very similar timeline. While Wayne See went to the South Pacific as a Marine, Don Boven went to Europe and fought in that theater in World War II. Jack Smiley, who was the coach who arrived midseason and took over as player-coach in January of 1950 left the University of Illinois in 1943 in the spring as it looked like the Illini might win the national championship essentially. He and all of his teammates ended up in the armed forces and so they never made that tournament run.
Harry Boykoff and Dick Mehen were both veterans.
So I guess I wouldn't say that they all followed the same timeline, they weren't all rookies in 1949 but yes, it was very common for the athletes of that era in the NBA or any of the other leagues that were successful or operating at that time to have fought in the war. And in general I would that the experience that Wayne See had was not all that uncommon either. There certainly were athletes who were in the armed forces who were doing things stateside that were not on the frontlines but Wayne See and so many of the others actually were out there in harm's way and serving in the way you would think of as World War II veterans.
VVN: How big of a role did Wayne See have on that first NBA team?
Harwood: He took a bigger and bigger role as the season continued. He was a pretty consistent part of the line up off of the bench in the first half of the year. I would say that he's a player that probably benefitted from the coaching change because his style of play was a little bit more athletic and fit well with what Jack Smiley wanted to do.
The Illinois team that Jack Smiley was a part of was know as that "Whiz Kids." They were a running team, they were a pressing team, they were a very athletic group and that's the style of play that Jack Smiley wanted in Waterloo and Wayne See fit that very well. So as the season continued, the coaching change happened, there were some other roster alterations that Waterloo went through and as the year went on, Wayne See found himself playing a bigger role on that team.
VVN: Is there any cool anecdotes from the book that you can share?
Harwood: It was interesting to hear from Wayne See about his experience going to Madison Square Garden because that was something, even in the 1940s — and maybe more so in the 1940s — that just carried so much weight and so to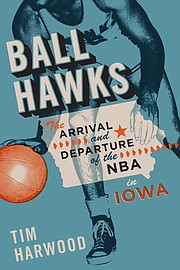 hear him talk about what it meant to actually get to go there as a player from what is today Northern Arizona but at that time was really far removed from that epicenter of sports, especially college basketball and to get to walk into the building and know he was going to get to play there. That was kinda neat.
There's some funny moments in the book, players that were playing at time where it certainly was still a business, it was very much a business, you get that feel when you read about some of the details of how the team was able to take the court with community support from shareholders in the community and how a lot of the decisions about personnel were made based on the dollars and cents of what the board of directors, again all community members, thought they could afford.
But there were some moments where it seeped through that these are all young guys that were all in their mid 20s and it was still sort of an experience of a lifetime to get out and be playing professional basketball and making what for a typical person working an everyday regular job. You could make the same thing in a six-month basketball season that that other person would make in a year. It wasn't the millions of dollars and that life changing amount that a player will get now as a professional athlete but still it was a good living and you could have a pretty good lifestyle that you would have felt was a remarkable way to live at that age and at that time.
VVN: Is there anything that you'd like to add?
Harwood: Well I guess one thing that I've said is that I think this is a story that is not really something in the local consciousness of people here in Waterloo. It's not something right at the top of their mind because I think that those people in that generation who were the shareholders, the investors, the season ticket holders, the fans who really cared about the success of the team, they had the team taken away from them and it wasn't really their fault, they didn't do anything wrong.
They didn't fail as a business, they weren't a playoff team but that didn't really matter, a lot of teams aren't playoff teams and still continue to show up and play the next year.
So I think because the bigger cities, especially of the Basketball Association of America, that part of the merger, because they didn't want to be playing in places Waterloo or Sheboygan or Anderson, Indiana, they pushed those teams, those cities aside and so when you have something taken away from you like that you don't go an celebrate it the way we might look at this now and say "what a cool thing this is that Waterloo, Iowa had an NBA basketball team because the feeling then was very much different. The NBA was not the established league that is today on the one had and on the other it was something that they didn't have the option to continue in because they were cast aside.
I think that's an interesting part of the story in the perception of what this team was and the sort of collective memory or lack of memory about this team in Waterloo.
More like this story
SUBMIT FEEDBACK
Click Below to: