No. 1 Salpointe Catholic trounces No. 9 Mingus Union, 62-22
Originally Published: November 10, 2018 8:18 a.m.
TUCSON — Top ranked Tucson Salpointe Catholic's barrage of big plays was too much for Mingus Union football in the state elite eight.
The Lancers (12-0) defeated the Marauders 62-22 in the 4A state quarterfinals at home on Friday night.
"It's a very good football team that we lost to," Mingus head coach Robert Ortiz said. "They're fast, we tried to put our kids in the best situation to be successful, they just came up short. Our team's been resilient all year, they did a good job of fighting up until the end. They did their best to be as resilient as they could but at some point you run into that team and that's how the story ends."
Salpointe had touchdowns of 36, 65, 31, 46, 17 and 52 yards. The Lancers gained 468 total yards, 404 on the ground.
Their last loss was in 2017 to Scottsdale Saguaro in the state championship game.
"I'm really pleased with our effort I thought the kids played hard, flew around to the ball," Salpointe coach Dennis Bene said. "They're a very well-coached football team, they do some things really well and just thought our kids handled the night really well, just good execution."
Salpointe junior running back Bijan Robinson, who has received offers from schools like Alabama and Oklahoma, 259 yards on nine rushes, 28.7 yards per carry and scored four touchdowns.
"He's special no doubt, I thought the o-line did a nice job controlling the front but Bijan had a really special night and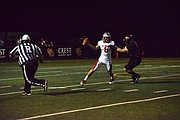 he can make you look really smart, play calling," Bene said. "All in all it's just a really nice effort."
The Lancers jumped out to a 35-7 lead in the first quarter.
"We just came out a little slow, we laid down to a team we shouldn't have laid down to," Mingus senior quarterback Antoine Zabala said. "We just didn't execute, the scoreboard doesn't reflect the talent of this team."
Senior receiver/defensive back Chaz Taylor 12 catches for 166 yards and scored 30, 15 and 17-yard touchdowns.
"Chaz has always been a hard worker, he's always been one of the elite fighters of this group," Ortiz said. "I think his tenacity and never wanting to quit and always going hard kinda rolled off or fed its way down to the other players and wanting to fight til the end of this thing and when he has a night like that I think it shows what his potential really is."
The loss snaps the Marauders' (9-3) six game winning streak. It's also the Grand Canyon Region champions' first defeat of the season by more than a touchdown.
The appearance in the elite eight is Mingus Union's first since 2012. The Marauders' nine wins is their most since 2015.
"It was tough that we lost but overall it was okay game but it was a really good year with these guys," Taylor said. "It's sad that it came to an end but I wouldn't trade it for the world to play with my brothers for one last night."
Mingus senior running back/defensive back Alex Nelson ran for 41 yards on 15 carries. Zabala was 21-for-33 for 223 yards passing with three touchdowns and one interception.
Mingus senior tight end/linebacker Kendrew Streck had four catches for 34 yards and Nelson had four receptions for 19 yards.
Salpointe faces No. 5 Tucson Sahuaro in the semifinals at Marana Mountain View on Friday at 7 p.m. The Cougars defeated Chandler Seton Catholic Prep 63-19 in the quarterfinals on Friday.
Since a Southern Arizona team will reach the state championship game, it will be held at Arizona Stadium at the UA. If a Southern Arizona team didn't make to the title game, it would have been at Gilbert Campo Verde.
Ortiz said it was really impressive for the Marauders to achieve what they did with less time to work than other teams.
For example, Bene has been coaching Salpointe since 2001.
"I've told our kids for three weeks that since the day that they knew that they would be getting a new coach eventually, the deck was stacked against them," Ortiz said. "We've never been a favorite of any kind, we've always been predicted to lose, so everything that they've achieved in such a short period of time, my first day being May 29, to beat teams that have been practicing and working together since, for however long they've been working together, every team we face on our schedule has played as a team a lot longer than we have, so to accomplish what we did with 11 weeks of work over the summer, is nothing short of amazing."
Taylor said the senior class was special not because of their talent or attitude but because they were brothers.
"It was one hell of a ride," Zabala said. "Nobody can really take that away from us and it'll live with this group forever."
Zabala, who is from Williams, grew up dreaming of being a Williams Viking but is glad be moved south.
"Growing up I always wanted to be a Viking, my home town, and bleed orange and black but I wouldn't trade it for the world to be a Marauder and be a part of this family it was the best decision I ever made coming down here and I enjoyed it and I'll remember every second of this," Zabala said.
More like this story
SUBMIT FEEDBACK
Click Below to: