HONORING ALL WHO SERVED: Jerome man served country through music
By
Bill Helm
|
BillHelm42
Originally Published: November 11, 2018 5:19 a.m.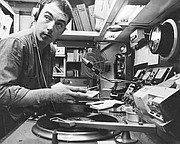 If you can remember the 1960s, you probably weren't there.
That's what Noel Fray wrote recently to his good friend Carl Roberts about the two years they spent together during the Vietnam War.
Safe to say that most people who shared that sentiment didn't go to war. But that's exactly where Fray, Roberts and their three friends met in the late-'60s.
They met on the USS Oklahoma City CLG-5, which at the time was homeported in Yokosuka, Japan.
"I reported to the ship at the end of '69, and met Noel," Roberts says. "Noel had already established himself as a singer, songwriter and performer. He was an excellent singer and creative arranger with his acoustic guitar."
A blues harp player who "vocalized blues and rock songs," Roberts says that "once Noel and I met and exchanged musical riffs, we realized we could merge our styles and play together, and maybe escape the war through music."
With Roger 'Shotgun' Johnson on lead guitar, Ed 'The Kid' Kirkpatrick on bass, and Bill Parker on drums, Roberts and Fray made up Grandma Mule.
Grandma Mule
Fray had two nicknames, 'Les' and 'Squirrel.' While at sea, he talked his way into a volunteer position as DJ on the ship's closed circuit radio station.
"The ship would get records sent to us by the Armed Services Radio Network which would have a lot of cuts from the tunes that were currently popular back in the States," Fray recalls. "I usually got a late night shift – if I remember correctly – and of course I played a lot of the current rock and roll hits, but the guys who worked the bakery at night were partial to country western hits.
"So I would load up on those tunes as my shift was ending and was often rewarded with some fresh bread or rolls or pastry when I was done. We had to look out for each other as best we could."
It wasn't all fun and games for Fray, who has made Jerome his home for the past 35 years. He made time to receive the National Defense Service Medal, the Vietnam Service Medal and the Vietnam Campaign Medal.
But music, he says, has "always been a large part of my life."
"We played on board the ship whenever we could," Fray says. "And we even played on base at the enlisted men's club."
Fray remembers that Grandma Mule played "a lot of blues and rock and roll of the 1960s, which made us fairly popular with most of the younger men around us."
Providing live music to "our fellow sailors and Marines both on board and whenever we were in port," says Roberts, who went by the nickname of 'Sunny.'
"When the guns were firing, and the missiles were launching, and our berthing compartment in the fantail was lurching from the gunfire, Noel would start singing something like Rocky Raccoon or Dave Mason's You Can All Join In," Roberts says. "And I and a number of other guys would gather to sing along."
'Feels like yesterday'
Like with many others of the time, Fray "didn't want to go to Vietnam."
Once he did get there, Fray says he was "pretty sure I wasn't coming home."
As radioman, he said "they were dropping like flies in Vietnam."
"I'm not a fatalist," Fray says. "But a realist. I had accepted the possibility."
Once Fray got his papers to go home, he told Roberts that he wanted to keep in touch.
Fray remembers the conversation.
"'Nah,'" Roberts told him. "'We'll be different people as civilians. We should just keep our memories.'"
So the friends went their separate ways after they left Vietnam. But last year, thanks to modern technology, Roberts found Fray. Roberts lives about an hour from where Fray grew up, in northern California. Ironic how they had to travel thousands of miles to meet.
"Since we've been back in touch, we've accused each other of saving each other's lives," Fray says. "It feels like yesterday."
Friends then, friends today, Roberts says that he and Fray "were able to form and nurture close friendships and truly appreciate each other."
"We depended on each other to do our jobs and stay safe," Roberts says. "Being fortunate to play music was incredible and when we discovered our ability to band together, it literally saved our sanity."
-- Follow Bill Helm on Twitter @BillHelm42
SUBMIT FEEDBACK
Click Below to:
More like this story