HONORING ALL WHO SERVED: Operation Hat Trick generates awareness, support, funding
By
Bill Helm
|
BillHelm42
Originally Published: November 11, 2018 5:10 a.m.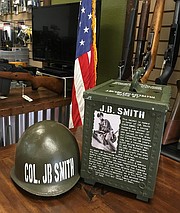 For 30 years, J.B. Smith served in the Army Air Corps and United States Air Force.
A reconnaissance pilot during World War II and the Korean War, Col. Smith's aircraft was shot down in 1951 in North Korea.
Injured, then captured, Smith spent 30 months in a Prisoner of War camp. His whereabouts were unknown until six months before his release.
As part of a POW exchange, Smith was repatriated to the U.S. in 1953. For his heroism, Smith received the Silver Star, Bronze Star, and the Purple Heart. 
It's been 10 years since Smith passed away. Thanks to Operation Hat Trick, his story is getting around in the Verde Valley.
In September, his family "proudly launched" an Operation Hat Trick traveling helmet, said Tricia Winters of Tricia's Treasures from the Heart.
The helmet and a box travel person-to-person across the country to generate awareness, support and funding for the recovery of America's wounded service members and veterans. That's what Operation Hat Trick is about.
Smith's helmet was launched from Cornville by his granddaughter Alison White and her four sons, McKenzie, Sebastian, Maverick, and Jabe.
Operation Hat Trick
Cornville resident Brian White did not create Operation Hat Trick. That honor goes to New Hampshire's Dot Sheehan, whom he calls an "amazing visionary."
"It's somewhat serendipity how the Verde Valley is involved in Operation Hat Trick," he said. "It is very clear that this community supports the military and it's a great honor to be able to live here with like-minded military supporters."
White said that Sheehan employed him to "help guide her in expanding the brand from a localized idea into a national philanthropy."
Including Smith's, each of the three traveling helmets features a veteran who has made what White called "tremendous sacrifices to protect our freedoms" as they tell the Operation Hat Trick story and how Operation Hat Trick supports injured services members through the sale of the Operation Hat Trick branded product.
The first traveling helmet featured Navy SEAL Nate Hardy who was killed in Iraq in 2008. The helmet started in Arizona, traveled to Hardy's parents in New Hampshire, and is now traveling in Virginia.
'As a person'
Created with military surplus materials in Cottonwood, the helmet's box is designed with messaging applied by Winters, also a Cottonwood resident.
"Brian and I met on social media through a friend," Winters said of the man she calls the project's "marketing guru."
"Brian did a post looking for someone who could do stencil or vinyl work with a vinyl cutting machine on a project that would honor fallen or injured veterans," Winters said. "It piqued my interest."
With two traveling helmets to her credit, Winters is "very passionate" about the work she does with Operation Hat Trick. 
"I take the work on these boxes personally, as it is a solemn and reflective process working on the boxes in memory of service members," she said. "I reflect on the veteran as a person, and reflect on their sacrifice and what their family went through while they were at service. I'm grateful for all veterans' service to our country and this is a way for me to give back them."
'Tremendous representation'
To grow awareness and the sacrifices of military both past and present, Operation Hat Trick has been securing donors to help fund the traveling helmets. 
"I think it's interesting that we ended up finding people with the necessary wits and talents right here in Verde Valley to build and properly message these traveling helmets," White said.
Besides Winters, Rob and Jaree Wager at Feral Goat Firearms donated the helmet used for the Smith traveling helmet.
"Rob's contribution to our traveling helmet effort was immediate and without question or any kind of strings attached," White said. "What a tremendous representation of the kind of support the Verde Valley gives to veterans and our military."
Recently, Rob Wager passed away unexpectedly, the loss of a "very good man," White said.
Winters – Wager's sister – said that his donation of the box for the project "was just evidence of huge heart and love for the military, police and first responders."
For more information about Operation Hat Trick, contact Brian C. White at brian.white@img.com.
Or visit http://operationhattrick.org.
-- Follow Bill Helm on Twitter @BillHelm42
More like this story
SUBMIT FEEDBACK
Click Below to: