Camp Verde volleyball's Armstrong wins 2A Central Region coach of the year
Originally Published: November 15, 2018 4:01 p.m.
Updated as of Thursday, November 15, 2018 4:01 PM
Five Cowboys received recognition when the All-Central volleyball teams were announced, led by Camp Verde High head coach Britney Armstrong being named region coach of the year.
"I cried. Literally," Armstrong said. "I was completely moved and honored that I had even been nominated. Many of us go about our lives, day by day doing the things we do without ever getting any kind of praise or recognition for it. I felt blessed and humbled to have been chosen. Definitely lots of pressure on my plate now to keep it up! Haha."
Armstrong née Owens has led the Cowboys for three seasons. Before that she starred at Payson before playing at Chandler Gilbert Community College and at the University of Bridgeport.
The Payson Roundup wrote a story about her winning the award.
"My past high school coach, who has been a great mentor to me these last three years, had my hometown newspaper do a write up about me," Armstrong said. "That got shared on Facebook, where I have since received a generous amount of congratulations. I have also received an outpouring of love in person as well."
Normally the coach of the year awards go to the coaches who led the region winners.
"It's a tremendous honor, especially since four of the teams in the 2A Central are ranking in the top nine in the state in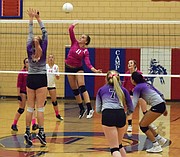 2A," said former Payson head coach Arnold Stonebrink to the Roundup. "It just shows how far Britney's taken that program, and how widely respected she is. This year the team made significant strides and played hard against some stiff competition."
Sophomore setter Chelsey Battise, sophomore hitter/middle blocker Maya Hedges, junior hitter/middle blocker Bennett Holm and senior Hitter/middle blocker Rachel Stockseth received honorable mention.
Armstrong said it would nice if the players were categorized based on their skill level and experience as many players in the region play year round.
"We were a little surprised to not see a second team slot filled but we understand, appreciate and respect that we are in one of the most competitive regions in the 2A conference; with five of the seven teams moving into state playoff games," Armstrong said. "Of those five teams, two teams also made it into the semifinals, Northland Prep and Glendale Prep, who finished second overall."
Although freshman outside hitter Shelly Warfield changed to a much different position in high school level this year, the caches thought she had a good chance to be honorable mention too.
"All three of us coaches agreed that freshman Shelly Warfield was close to earning an honorable mention spot," Armstrong said. "She really impressed us this year with the way she uplifted her teammates and completed at the varsity level. She has a very aggressive serve and really started to get the hang of the outside position."
More like this story
SUBMIT FEEDBACK
Click Below to: