Clarkdale swears in Regner, Hunseder
Richard Dehnert reappointed vice mayor
Originally Published: November 15, 2018 2:29 p.m.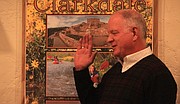 CLARKDALE -- Clarkdale Town Council swore in council members Bill Regner and Debbie Hunseder Tuesday.
Regner was elected outright during the Clarkdale primary in August. He was the top vote-getter.
Hunseder was appointed to a vacant Clarkdale Town Council seat during a special meeting on Oct. 23. The vacant seat was created when Ben Kramer resigned from his seat and declined to take the oath of office. He announced in September that he is vying for the Clarkdale Town Manager Position.
Hunseder is a 14-year Clarkdale resident and has served on the Clarkdale Planning Commission since 2016. She is also a member of the Clarkdale Business Alliance and Verde Valley Regional Economic Organization.
Richard Dehnert was also reappointed to serve as vice mayor.
Vacant seat on Planning Commission
Clarkdale is taking applications for an open seat on the Planning Commission. The seat is set to expire on Sept. 30, 2019.
Applicants must complete and return their applications by Thursday, Nov. 29 at 5:30 p.m.
Applications are available at Clarkdale Town Hall at 39 N. 9th St. or at www.clarkdale.az.gov. Candidates will also be asked to participate in an interview process before a panel.
Town manager recruitment
Clarkdale Town Council will meet with Jenn Reichelt of Novak Consulting Group to talk about the next steps in the recruitment for a new town manager.
Novak is the same consulting firm the City of Cottonwood is using for their town manager search.
Clarkdale Town Council meets the second and fourth Tuesday of every month at 6 p.m. at the Men's Lounge of the Clark Memorial Clubhouse at 19 N. 9th St.
Visit https://www.clarkdale.az.gov/your_government/mayor_and_council/your_government/agendas_and_minutes.phpforagendasand for agendas and minutes.
Correction: An earlier version of this story listed Ben Kramer as the top vote-getter in the August Primary. Bill Regner actually had the most votes. This version of the story has been updated with the correct information.
More like this story
SUBMIT FEEDBACK
Click Below to: