Meg Babcock finishes 94th at state cross country meet
Originally Published: November 15, 2018 4:10 p.m.
Updated as of Thursday, November 15, 2018 4:10 PM
PHOENIX — Mingus Union cross country senior Meg Babcock represented the Marauders at the state cross country meet, getting a top 100 finish.
Babcock finished 94th with a time of 22:55.78 at the Division III state meet at Cave Creek Golf Course on Saturday.
"I think the race went well in terms of the fact that I didn't mentally let go, I was always super positive through it and didn't ever let myself quit but this was probably one of the hardest courses I've run this season just in terms of the hills and the fact that there was never a straight part on the course, you're either going up or down, there isn't really an in between," Babcock said.
The Division III girls race was also the second to last one, starting at 1:15 p.m., whereas last year it was early in the morning.
"She did good," Mingus head coach Dave Moncibaez said. "It was a warm day, tough course, a lot of hills and all that stuff. I know she gave it her best and I think she's pretty satisfied in how she came out; pretty confident going into it, through out the race she looked great. We're happy with her and her progress this season and I think she should be too, so all in all going out her senior year in cross country like this and getting through the season and all that uninjured and setting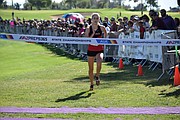 her up for track and field this coming up year, so we're pretty proud and happy with her progress and it was a good day for her I think."
Rio Rico senior Samantha Schadler won the race with a time of 18:01.32. This is the sixth year in a row that a Schadler has won the state championship as her sister, Allie, won four in a row.
Tucson Salpointe Catholic won the team title, breezing by second place Prescott 66-129.
This is the second straight year that the Marauders have had just one runner at State.
"It was a lot different, a lot different mindset," Babcock said. "I think it's definitely easier to run for a team and run with that motivation in your mind because you're not doing it for yourself, you're doing it for four or five other people, so it's definitely harder to train by yourself and run by yourself."
On the Division III boys side, Page edged Prescott 35-114 to win the team title. Page senior Bowen Martin finished first with a time of 16:02.07.
Flagstaff senior Hana Hall (18:07.48) won the Division II girls race as the Eagles won their fourth DII championship in a row, by two points.
The Flagstaff boys also won their fourth Division II title in a row.
In Division IV, Northland Prep won the boys team title by 30 points over Hopi. NPA junior Jordan Black won the race with a time of 16:05.27.
St. Michael Indian won the girls Division IV title 63-102 over second place Hopi.
In preparation for Sectionals, Moncibaez took the Marauders to Flagstaff to practice at altitude.
"Coach Moncibaez was amazing, he opened up so many new doors and opportunities that made the season a lot better because cross country is really long and it's three months of running miles and miles and miles everyday so to like run different settings and do a lot of team bonding is awesome, I loved it," Babcock.
She said the season went really well.
"I PRed, I got really close to breaking 20, I love my new coaches, I loved my teammates, they were definitely fun I loved all the little freshmen girls that I got to run with, so I'm very happy with this season," Babcock said.
With a young and big squad this year, Moncibaez, who just finished his first year at the helm, thinks they get qualify more runners for State in the future.
"It was a great season, we had little numbers in the past couple of years and this year we had 28 runners, which is really good, and on that bubble to getting two full teams into State," Moncibaez said. "I mean we're close, the good thing is that we're young, so we got a few more years but hopefully it's not whether or not we're going to make it, it's if we're going to get boys and girls in at the same time too."
More like this story
SUBMIT FEEDBACK
Click Below to: