Mingus Union's Maddie Bejarano signs with UCF softball
Originally Published: November 17, 2018 4:07 p.m.
Updated as of Saturday, November 17, 2018 4:07 PM
Mingus Union senior Maddie Bejarano is taking her talents east.
Last week Bejarano signed with UCF softball.
"It's a great feeling after 10 years of putting all this work and dedication into it," Bejarano said. "It feels amazing for it to all start paying off."
University of Central Florida is located in Orlando, Fla. Bejarano is part of new Knights head coach Cindy Ball's first recruiting class.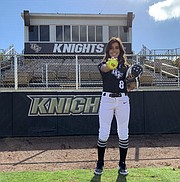 She took over UCF after going 73-36 at Boise State.
Bejarano committed to UCF in February of her freshman year.
"I wanted to get out of state and I wanted a female coach, which were two of my biggest factors just because I've never had a female coach and when I went out to campus it just felt like you weren't 2,000 miles away from home," Bejarano said.
The Knights' recruiting class features five other players, from Florida, Oklahoma and California.
"We are very excited about the 2019 class. This is a dynamic group equipped with all five tools, experience and most importantly tremendous leadership," Ball said in a press release. "They are a committed group striving to incorporate our five core values and getting UCF on the national map in our sport. Being able to spend time with this group on their official visit and really getting to know each other away from the field, I can truly say that we have incredible individuals and families joining our softball family. I am honored to be a part of this class and their commitment to UCF."
Not only has Bejarano met her future teammates, one she knew before visiting UCF. Current sophomore utility player Hayley Bejarano is her cousin. She went to Surprise Shadow Ridge.
"It's really good and a lot more welcoming to have someone there 2,000 miles away, especially someone on your team," Bejarano said.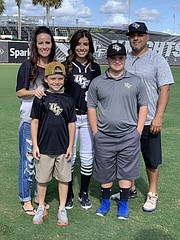 Bejarano chose UCF over Arizona, Stanford, Syracuse and UNLV. She is undecided on a major but "really" wants to go into forensic science.
At Mingus Union, Bejarano was All-State and team MVP as a sophomore.
UCF Softball Complex isn't that old, it opened in 2006, but is being renovated.
"The stadium is phenomenal, they're adding more and more to when I get there, so by the time I'm there in 2019, it will just be 10 times better than what it is now," Bejarano said.
Although she played in the infield at Mingus Union, that was to fill in and will play in the outfield at UCF.
"I'd never touched the infield before I came in here, so I don't see myself playing infield, but if coach Ball needs me to go in there, I will definitely sub up," Bejarano said.
Bejarano plays travel ball for the loaded Oro Valley Judge Suncats, who had nine players sign with colleges last week.
"The competition is very good, we're top 10 in the country," Bejarano said. "Premier Fastpitch Softball is one of the biggest tournaments in the country and we always either finish seventh or second place in there. So we compete at a very high level with all the California teams. We won several California tournaments, so we're up there."
Although she didn't get to play for the Marauders last season, she did set school records for batting average, hits, extra base hits, doubles, triples and stolen bases as a sophomore and will be back this year.
"It was very tough to not participate in the high school, I always loved playing high school ball and I broke so many records there, so I was wanting to just do that again last year but unfortunately I had to go on to online just to get ahead but this year I'll be back and hoping to break some more records (laughs)," Bejarano said.
More like this story
SUBMIT FEEDBACK
Click Below to: