County approves Vista Village sign plan despite public backlash

Originally Published: November 21, 2018 10:36 a.m.
COTTONWOOD -- A sign plan that would rebrand the look of the Sedona Vista Village mall in the Village of Oak Creek was approved by the Yavapai County Board of Supervisors Tuesday.
It was approved with one of the stipulations barring lettering from being greater than 30 square inches unless specially approved.
The Master Sign Program is part of a revitalization effort to upgrade the look of the shopping center, according to staff documents.
The item was approved despite pushback from the public.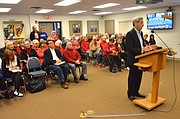 During a call to the public, VOC residents said they were worried signage would block vistas and violate the VOC's dark sky ordinance.
Martin Aronson, the applicant on the project, assured the public that the lighting would comply with the community's dark sky ordinance.
Many also expressed frustration over not being properly notified of the developer's plans.
"People of the VOC have been left out of the process," said Joan Kennedy. "You are elected officials. Your job is to represent us."
VOC resident Nina Joy Rizzo said the project seems massive.
"A lot of stuff us happening outside our control," she said. "We need more time.
But District 3 Supervisor Randy Garrison said the Big Park council held several meetings on the project.
"It's appalling to hear we have been disingenuous," he said. "I don't know how much more public we can make this process."

Tom Graham, president of the Big Park Regional Coordination Council, said council held multiple meetings on the project.
"I've never seen this many people at a Big Park meeting," he said.
A Citizen Participation Report shows public participation in the plan since April. On May 10, the plan was presented to the Rotary Club of the Village of Oak Creek with approximately 25 citizens in attendance, according to the report.
A letter was also sent to approximately 500 citizen addresses with the original use permit application, according to the report.
But VOC residents at Tuesday's meeting said they never received a letter.
In a letter addressing the Board and developers on the project, VOC resident Wes Lusher wrote that saying the public has been involved in every step is not an "accurate portrayal."
"Do not trust or accept our BPRCC's opinion as being reflective of the VOC," he said. "That group represents the business community, not the residents."
District 5 Supervisor Jack Smith was the only nay-sayer in the vote.
"This development is beautiful but I have 50 people here who I represent," he said. "I would prefer to see this in another meeting. If this project was in Prescott Valley, you'd have no problem going forward."
More like this story
SUBMIT FEEDBACK
Click Below to: