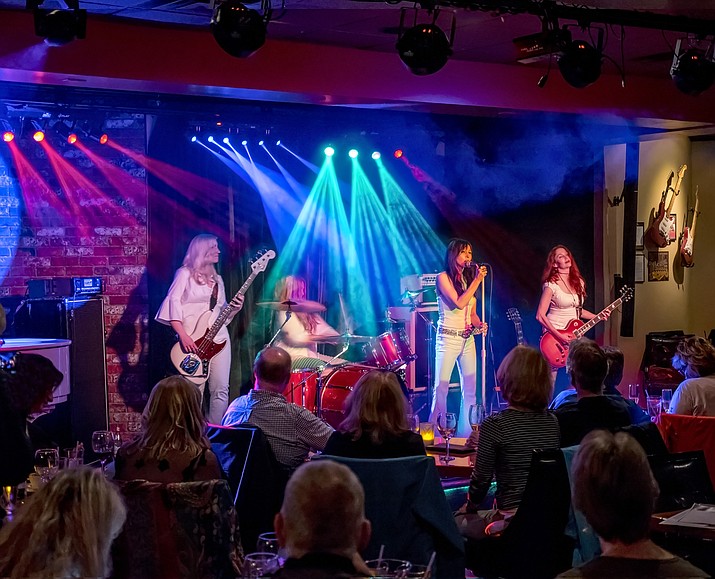 ---
---
Zepparella is the All-Female Zeppelin Powerhouse. Vocalist Anna Kristina, Guitarist Gretchen Menn, Bassist Holly West, and Drummer Clementine have brought their passion for the sacred music of the greatest band in the world all over the US and Canada. Zepparella shows replicate the nuance and detail of Zeppelin's catalog while honoring the powerful improvisational journeys for which Zeppelin shows were renowned.
If You Go ...
• What: Zepparella Tribute Band
• When: Fri Nov 30th & Sat Dec 1, 2018
• Where: Sound Bites Grill Show Room 101 N Hwy 89a Sedona AZ, 86336 at Hyatt Pinon Pointe Shops Uptown Sedona. Cross Street Hwy 179
• More Info: 928-282-2713
www.soundbitesgrill.com
Plant, Page, Jones, and Bonham; four names at the very top of hard rock royalty that four very talented women pay homage to... how can you go wrong? "Zepparella" as they call themselves will be performing in the Sound Bites Grill Celebrity Showroom two nights; Friday Nov 30th and Saturday Dec 1st. Doors open at 5:30 and show time is 7 p.m.
Now more than ever, Zepparella explores their own improvised magic within the framework of Zeppelins mighty songs! Sound Bites Grill is excited to have them perform. Don't miss this fun show. Tickets start at $20 depending on seating.
Sound Bites Grill is located at the Hyatt Pinon Pointe Shops in uptown Sedona. They are open for lunch and dinner daily. They offer patio dining and main restaurant dining in addition to their show room. For information, menus, reservations or tickets call 928-282-2713 or visit www.soundbitesgrill.com