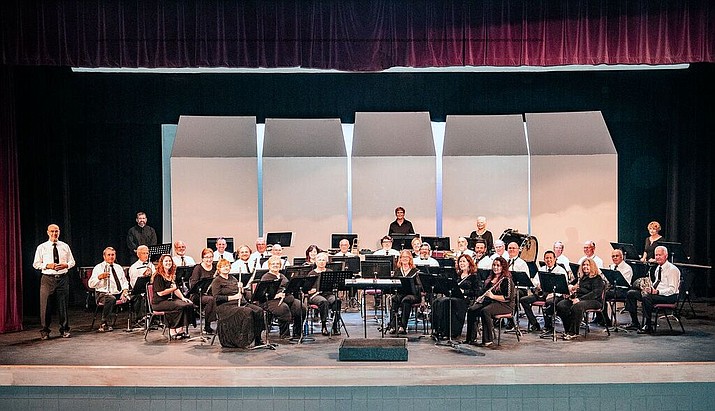 ---
---
The Cottonwood Community Band is presenting their annual Christmas concerts, "A Magical Christmas" under the direction of Dr. Sy Brandon. The first concert will be held on Sunday, December 2nd, 3:00-4:00 p.m., at the Cottonwood Recreation Center located at 150 South 6th Street. The second concert will be held Sunday, December 16th, 3:00-4:00 p.m. in the Rock of Ages Lutheran Church located on 390 Dry Creek Road, Sedona. Under his guidance this past year, the band has increased in size and variety of instrumentation, giving the band a balanced quality of sound. A synopsis of the music selections will be listed here in order of performance. Mark your calendars to hear a variety of music that will entertain everyone.
The opening number, "Overture to Candide" will be played as a tribute to the composer, the late Leonard Bernstein, to celebrate his 100th birthday this year.

The origin of "Candide" a fictional novella, is a French satire first published in 1759 by Voltaire, a philosopher of the Age of Enlightenment. In 1956, an operetta was performed based on Voltaire's story with music composed by Leonard Bernstein. Traditional forms of light-opera populate the piece throughout, although often modernized through Bernstein's infectious off-kilter rhythms. Since that time he was directly involved in seven different versions of "Candide", some of which differ vastly from each other. They have been performed around the world. None proved definitive, although each had Bernstein's blessing at least provisionally. In 1989, one year before his death in 1990, the composer led a concert performance in London —in a version preserved on recordings—that stands as his last sign-off on the opera that had puzzled him for thirty-three years.
"Candlelight Carol" written in 1984 by English choral composer and conductor, John Rutter, is a popular carol for choirs which focuses on the Nativity of Jesus. This instrumental arrangement for concert band by Jay Dawson, loses none of the emotional content of the original.
The complete "Harry Potter" themes from all eight movies is arranged by Jerry Brubaker. Scores written by: John Williams, Nicolas Hooper, Patrick Doyle, and Alexandre Desplat. Harry Potter is a British-American film series based on the Harry Potter novels by author J. K. Rowling.
"Suo-Gan" arranged by Carl Strommen, is a beautiful traditional Welsh lullaby written by an anonymous composer. Some will recognize this melody, not by the original lyrics, but alternate titles and words, such as "Christ Before Us". "Hymn and Fantasia" is based on a poem written in 1225 by Giovanni Bernardone, son of a wealthy merchant, who renounced his wealth to live in poverty and service. He later became known as St. Francis of Assisi.