Mingus Union boys wrestling opens home slate with three wins
Originally Published: November 29, 2018 2:56 p.m.
Updated as of Thursday, November 29, 2018 2:56 PM
Mingus Union boys wrestling went 3-0 in their home opener on Wednesday.
The Marauders beat Hopi 71-6, Snowflake 48-36 and Kingman 66-18.
"It went as good as can be expected," Mingus head coach Klint McKean said. "Snowflake is a team that is year in year out very solid. They've got 45 wrestlers on the team, so the numbers are there, they're strong, they're athletic and really for us that was an upset, us beating them. We weren't supposed to beat them but our kids believed and they fought and we had some wrestlers that we losing and all of a sudden they get pins, so the wrestlers are really starting to come together as a team and they're believing in each other and they're fighting for one another and they're excited and being a part of it and seeing it is just a lot of fun."
Mingus Union opened the season last week with a fifth place finish at the Patriot Disposal Yavapai County Dual Meet Championships. They lost Prescott and Chino Valley and beat Mayer.
Two Marauders did go undefeated in Prescott though. Junior Ryan Griffith did at 220.
"We really think he has a great shot at finishing very high on the podium for State," Klint McKean said.
Freshman Isaac McKean, Klint McKean's son, also went undefeated in his high school debut. He is 6-0 so far this year with three pins.
"He beat two very good wrestlers, one was a senior from Chino Valley and the other was a wrestler from Prescott," Klint McKean said. "So he had two quality wins last week, so it was a good start for him, not only for the season, but for his high school varsity career."
Photo Gallery
Mingus Wrestling Hopi Snowflake Kingman 112818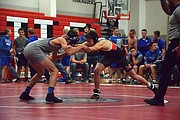 Mingus Union wrestling hosted Hopi, Snowflake and Kingman in their home opener on Nov. 28. The Marauders beat Hopi Hopi 71-6, Snowflake 48-36 and Kingman 66-18. VVN/James Kelley
Over the summer Isaac McKean earned All-American status at the USA Nationals Weekend of Wrestling in Las Vegas finishing third. He leads a group of freshman that came up through the Mingus Muckers and Cottonwood Middle School teams that Klint McKean led.
"We've got a good freshman class," Klint McKean said. "Isaac and some of our other freshmen have a lot of experience so they're coming not as green freshman but as seasoned freshmen. He is still young and he still doesn't have the strength that a lot of the upper classmen do but he makes up for that with his experience and just his grit."
In addition to Griffith, senior Zachary Moreno and senior Michael Thurman, at 132 pounds, lead the upper classmen.
"(Thurman) won all of his matches (Wednesday) and he had a very, very close match against Snowflake, he was actually losing third period and ended up pinning the wrestler and that was really what got our momentum going and from then on we just kept winning that gave us the lead and we kept the lead after that, so really his match was pivotal for that dual," Klint McKean said.
Former Camp Verde High assistant and head of New Breed Wrestling Mario Chagolla Sr. has joined the coaching staff.
"Oh it's been great," Klint McKean said. "We could see a difference from the day he came in. The kids love him. He's been coaching for 30 plus years, maybe 40 plus years and he knows how to speak to kids, know how to motivate kids, his technique is great, he's a great asset and we're happy to have him."
Mingus Union almost has filled all the weight classes, though forfeiting some is not uncommon. On Wednesday Hopi and Kingman each forfeited about half their matches and Snowflake did one match despite the high numbers of wrestlers overall.
"We're still putting pieces together," Klint McKean said. "We are forfeiting 120 pounds and we are forfeiting 182. We will have 182 filled as soon as we have an eligible wrestler who is cutting down right now. One of our senior captains, Zachary Moreno, he's at 195 and he's making his way down to 182. So he'll be there. We're almost putting together a full team. Also we're trying to piece stuff together for heavyweight, we'll have a full time heavyweight hopefully in January. Right now we're having to bump up some wrestlers and do some shifting."
More like this story
SUBMIT FEEDBACK
Click Below to: