Ortiz wins Region COY, Zabala offensive player of the year
Originally Published: November 29, 2018 3:13 p.m.
Updated as of Thursday, November 29, 2018 3:13 PM
After winning its second consecutive region championship, Mingus Union football racked up the Grand Canyon honors.
Senior quarterback Antoine Zabala won Region Offensive Player of the Year after leading the Grand Canyon in passing stats and rewriting the MUHS record book.
"I thought he had a great year," Mingus head coach Robert Ortiz said "He's the best passer Mingus has ever had thus far, he broke all the school's passing records. To accomplish that with him and I only working together since the beginning part of June is a testament to his work ethic and who he really is as a quarterback in the game of football."
Zabala has the school records for passing attempts, completions, passing touchdowns, passing yards and quarterback rating.
In his first year, Ortiz won Region Coach of the Year. Earlier in the season he won Arizona Cardinals and Wells Fargo "High School Coach-of-the-Week."
He said it is a huge honor and privilege.
"Honestly I feel like it's pretty cool to be voted by your peers and what not, to come in and as a first year guy and do that," Ortiz said. "One of the things that I talked about is I would have voted for coach (Mike) Moran up at Coco because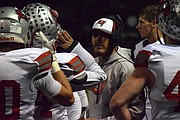 for them to do what they did and him as a coach to turn that place around in year one, we're talking about a complete turn around Mingus got a new football coach, that guy turned his whole program around, so I feel like there are other guys that are deserving of it. But I think one of the things they always do is they make sure to recognize the region winner."
After a couple short-handed losses in the September, the Marauders won six games in a row, including three in a row on the road.
"Robert did a great job in their region," Camp Verde head coach Rick Walsworth said. "He did a great job of getting them through some tough times early in the season. They went on the road and won the region championship Week 10, so they did everything that they needed to do and then they went on the road and to a win in the playoffs. Getting wins on the road in the playoffs is tough."
Senior Chaz Taylor (defensive back and receiver), senior Gabe Meyers, senior Kendrew Streck (linebacker and tight end), senior Zachary Moreno (offensive line) and senior Alex Nelson (Offensive Utility/Flex Player) made the first team.
Taylor and Streck are the only players to make the first team for offense and defense. A couple Bradshaw Mountain players made the first team twice but their second position was long snapper or punter.
"I feel like our entire team had a great year but those two, what Kendrew did defensively and what Chaz did receiver wise hasn't been done here in the past and I think that's a testament to who they are as student athletes," Ortiz said.
Competition for three player of the year spots was tough. The Grand Canyon had four teams finish in the top four at state.
Colton Amos, Region Defensive Player of the Year, and Austin Clark, Region Player of the Year, won the other two POY awards.
"It's tough conversations when we do," Ortiz said. "The toughest part about it is that you can't vote for your own kid so that always makes it hard. In everyone's eyes here in the community and when you look around and when you watch film, Kendrew Streck should have been defensive player of the year, you can't vote for your own kid, thus one vote goes the other way and that's kinda how it swings."
Seniors Colby Fanning (Defensive Backs), Joe Machado (Defensive Utility/Flex Player) and Zabala (Quarterbacks) made the second team for Mingus Union.
Junior Ryan Griffin, for defensive line, senior Fabian Jimenez, for receiver, senior Chris Mathe, for receiver, and senior Mardquez Mestas for receiver were honorable mention.
Ortiz was proud of all the Marauders for getting honorable mention but especially for Mathe, who didn't play football last year and Mestas, who didn't play much last year.
Marauders that he thought deserved to recognition was the whole offensive line but that was a tough position to get because the region had six 1,000-plus yard rushers.
SUBMIT FEEDBACK
Click Below to:
More like this story