WAS JUSTICE SERVED? Sabrina Champ says judge let Seth Collins off easy in SR 260 accident

By
Bill Helm
|
BillHelm42
Originally Published: October 2, 2018 3:57 p.m.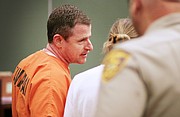 A week ago, Yavapai County Superior Court Judge Jeffrey Paupore decided that Seth Collins will spend about nine more years in prison.
According to Sabrina Champ, Collins was given a break. A big break.
When Paupore delivered Collins' sentence on Sept. 26, Champ said she began to do the math.
"Ten years, eight charges," she said. "Probably fair. And then [Paupore] said concurrent … I couldn't breathe for a second."
Collins was responsible for the Nov. 21, 2014 collision of his GMC pickup into a 2007 Chevrolet mini-van driven by Jeremy Hutchinson on SR 260.
He was sentenced to 12.25 years for 23 charges stemming from the crash that includes 12 counts of aggravated assault, two counts of endangerment, four counts of aggravated DUI, criminal damage, possession of methamphetamine, possession of diazepam, and two counts of paraphernalia.
Taking into account time already served in the county jail – 1,266 days as of Sept. 26 – Collins will serve another 8.75 years in prison.
'You can't put a price on what we've lost'
Champ and her children were among Hutchinson's passengers that day. Champ was pregnant, carrying Hutchinson's child.
It's not just the accident, Champ said, that makes her angry.
For Champ, it's what's happened since.
Her unborn son, whom she'd named William, died on Jan. 17, 2015. Then she lost Hutchinson, whom his mother Vicki Hutchinson said "has never been the same."
Following the accident, the couple married on New Year's Eve 2014, Champ's daughter pushed her down the aisle.
"After William passed, our marriage fell apart," Champ told Paupore. "He's so lost right now. Depression, survivor's guilt. You can't put a price on what we've lost."
Overwhelmed
Sobbing, and shaking, Champ also told Paupore that her family is "overwhelmed with the debt and the hopelessness of pulling my children out of this."
"I watched them cutting themselves and talking about suicide," Champ said. "Somehow we made it through to today."
Though she now needs a wheelchair to get around, Champ can drive an automobile. But she won't let anyone drive her anyplace.
She's afraid to let anyone else do the driving.
Champ spent more than 10 minutes reading from a statement she prepared that morning.
She told Paupore of events leading up to the crash, events such as miscarriages, and Hutchinson's memory of the accident 10 years ago on SR 260 that claimed the life of his father, Pastor Bill Hutchinson, and his two brothers, James and Matthew.
260
Jeremy Hutchinson didn't like driving SR 260, not since he lost his father and two brothers.
Champ told Paupore that though Hutchinson was a smoker, he wouldn't take his eyes off the road, not even to light a cigarette.
Champ lit a cigarette for Hutchinson. When she looked up, she noticed a truck driving on the wrong side of the road. On their side of the road.
"I couldn't see the driver, but whoever it was wasn't in their lane," Champ told Paupore. "He was very quickly headed into ours. Why wasn't he in his lane? Who was he even trying to pass? Why was he still coming toward us?"
Champ recalled Hutchinson's reaction as he saw the truck.
"He screamed 'Not again, not again' as he swerved right to try to avoid impact," she said. "It was too late."
Restitution
Besides the remainder of his sentence, Collins will pay $116,397.90 in restitution for medical bills resulting from injuries sustained in the accident.
"We have not submitted any request for restitution," Champ said. "Our lawyers dropped us as soon as they found out he didn't have insurance, and told us it was hopeless, we'd never see a penny."
'Too much for words'
The morning after Paupore's sentencing, Champ said she "still [doesn't] know how to feel."
"Last night I felt so raw, like every nerve was exposed," she said. "I had nightmares. I could feel the doctor's hands inside me, tugging my guts around as he pulled William from my body. I could see Jeremy's face, his empty eyes as he was handed our son, turning to me broken, shaking his head, too much for words."
-- Follow Bill Helm on Twitter @BillHelm42
More like this story
SUBMIT FEEDBACK
Click Below to: