Camp Verde High cross country enjoys home meet
Originally Published: October 4, 2018 4:30 p.m.
Camp Verde High cross country hosted its annual meet on Saturday and the Cowboys had promising results.
On Sept. 29 the Cowboys staged the Camp Verde Cross Country Invitational. Peoria Centennial won both the boys and girls races.
Centennial senior Zemar Willis finished first in the boys race in 19:16 and senior Elli Lucas won the girls race in 22:40. The course record is 18:25 set by Carlos Bugdud of Phoenix Alhambra in 2016.
Senior Fabian Herrera Araiza led the way for CV boys, finishing 23rd in 22:35. Camp Verde's girl runner, freshman Daphne Sanchez, was 20th, in 37:32.
"It went well, it went well," CV head coach David Castillo said. "We had a good turn out, there was nine total teams that showed up. The boys ran well together. Daphne ran really well this meet, she knocked four minutes off her personal record on a tough course, so she did really well and my top three boys all finished within I would say 30 seconds of each other and so they all worked hard, they worked hard as a team.
Senior Seth Jackson was 25th in 22:54 and freshman Christian Aranzamendi finished 26th in 22:57. Freshman Regelio Carillo was 44th.
"I think we did really good," Herrera Araiza said. "We stuck together as a team, at least the boys, we had three boys in a row and we finished strong, we finished together."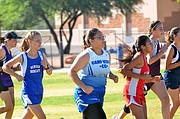 Sanchez finished 50th at the Horizon Honors Invitational. She improved on that finish by 30 places at Camp Verde.
"It was a really fun time," Sanchez said. "It was kinda stressful at first but then I got into it more because I've been training every day, I don't know how to explain it, it was fun."
Not only did Herrera Araiza, Jackson and Aranzamendi finish close together, it continued the Cowboys' trend of a different male runner finishing first.
"Everything's been going good, since the very first meet I've had someone new on my team finish first for the team," Castillo said. "So it first started with Fabian, then someone beat him the next meet, someone beat that next guy the next meet and then Fabian came back and ran strong this one and came from behind and ended up beating the rest of the team but it's been really nice to see the competition in that there has been a new leader every race."
Herrera Araiza was the top Cowboy in their first meet, then Jackson in the second and then Aranzamendi was first in the third meet.
Former CV head coach and current assistant coach Mike O'Callaghan helped them put on the meet along with a slew of volunteers like Camp Verde middle school coach Mark Pelfrey.
"It was a lot of preparation and organization coach O'Callaghan helped a lot with the logistics and administrative component of it, which is much appreciated and we had tons of volunteers from the Camp Verde running group and our middle school coach actually came out, he was instrumental in helping me mark the course up, cones and different things like that, so we had a lot of volunteers that came out to make sure out athletes didn't get lost on the course," Castillo said.
After their first meets were in Glendale, Tucson and Phoenix, this was their first race at home.
"It seems different, you just know the course, you've run it a couple times, you know here and there, when to turn, when to speed up a bit and keep your pace," Herrera Araiza said. "It's something different."
It's the only cross country meet in Verde Valley this year.
"It's kind of more relaxing than any other meets because you're in an unknown environment but at home it's more comfortable, your family actually can go there and you can go home straight after (laughs)," Sanchez.
This is Sanchez's first year running cross country.
"I had a rough start because I had never done cross country at all before, it's my first year of running but then as I progressed I actually got better, it's a lot more fun," Sanchez said.
Up next the Cowboys go to the Thunderbird HS/Dave Doerrer Invitational on Saturday morning. After that they have three more meets left in the regular season.
"We are actually heading out towards Phoenix this weekend, there's the Thunderbird meet, it's an 8 a.m. meet so it's going to be an early one for us," Castillo said.
More like this story
SUBMIT FEEDBACK
Click Below to: