Commentary: Well-maintained roads say 'Clarkdale Cares'
Doug Von Gausig: MY TURN
Originally Published: October 9, 2018 1:59 p.m.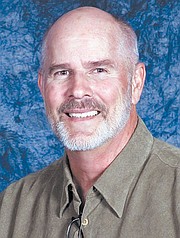 I'm writing this to urge the citizens of Clarkdale to vote "Yes" on Proposition 445, the Clarkdale Road Maintenance Bond.
For more than 10 years, the Arizona State Legislature swept (some might say "stole") the funds Arizona's cities and town use to maintain their roads so that they could pay the state's bills without raising taxes.
This left Clarkdale with little money to apply to road maintenance, repairs, and improvements. The result was what we all see today – deteriorated streets, potholes, and asphalt that is coming apart.

The State's legislators took credit for lowering your taxes, while they robbed us of the money needed to maintain roads. The cost of that folly is now coming home to roost.
Just like the roof over your home, or the oil in your car, unmaintained roads will soon deteriorate to the point where they must be completely replaced – at huge cost. And like your roof or your car, paying a little along the way to keep them in good shape is a lot less expensive than replacing them when they fail.
It is that imminent failure that Proposition 445, the Road Maintenance Bond, addresses.
We can all complain that the Legislature did what it did, and we'd be right to do so, but complaining doesn't get the job done. After closely studying the issue and looking at all the alternatives for funding a maintenance program (sales tax increases, for instance), the Clarkdale Town Council has decided that the only way to get our streets back to good condition is through a carefully planned and executed maintenance program that will prioritize repairs on the worst of our roads to save them from complete failure.
The plan then calls for periodic strategic maintenance (crack sealing, chip sealing, edge maintenance, etc.) for all our roads. This will be funded in part by the Proposition 445 road bond, the rest will come from the state highway user funds that have finally been restarted (but too late to make up for the damage already done).
What if this bond doesn't pass? Then, the Town could fix only the roads that are currently failing and continue to ignore the majority. This would not be a plan for success, but a plan to fail. We would never catch up with ongoing deterioration.
What if you live on a private road? Remember that your support for our public streets is just as important as it is if you lived on a town-maintained road.
You use the "feeder" streets and highways just as much as the next person. I happen to live on a private road, where we have formed a neighborhood road maintenance committee to fix our roads and see that they are maintained.
The cost of this maintenance to each of us is much, much more per mile than this bond will ever cost us, but we do it because we are proud of our neighborhood and we know that periodic maintenance is cheaper than rebuilding our roads and adds to our property values.
We made the decision to live on a private road and we don't expect the townspeople of Clarkdale to maintain our roads any more than we would expect them to maintain our homes. We do expect to contribute to all the other roads in our Town though, because we use those roads every day. Also, contrary to some statements you may have read, no private roads in Clarkdale will be repaired or maintained by this bond money.
Clarkdale's streets and roads are the single most important part of a vital economy. Well-maintained roads say, "Clarkdale Cares," and they demonstrate that we are a vibrant, modern town that welcomes business and prosperity. Well-maintained streets are the first thing a tourist or a new family sees, and they tell people just what we think of our town! Let's tell them we love Clarkdale and we're willing to keep it up.
Please vote "Yes" on Proposition 445. Do it for your community.
To read more about the proposition and the roads program, visit the Town's website at https://www.clarkdale.az.gov/ and click on the "Projects" menu. Thank you for caring about Clarkdale.
Doug Von Gausig is the mayor of Clarkdale.
More like this story
SUBMIT FEEDBACK
Click Below to: