Camp Verde Cavalry founder leads Fort Verde Days parade
By
Bill Helm
|
BillHelm42
Originally Published: October 11, 2018 2:23 p.m.
CAMP VERDE – This year, the Camp Verde Cavalry has participated in events such as Sedona's annual St. Patrick's Day celebration, Flagstaff's Armed Forces Day celebration, and a flag presentation at Cottonwood's Veterans Park.
On Memorial Day, the Cavalry was in two places – not at once but on the same weekend – Prescott's Memorial Day remembrance and Cottonwood's Memorial Day weekend festivities.
They also served as color guard for the Prescott Frontier Days parade and grand entry at the Prescott Frontier Days rodeo.
Just two weeks ago, they held their annual Colonel's Daughter competition at Fort Verde's parade grounds.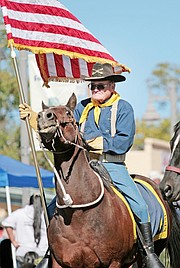 But it's Fort Verde Days, the crowning jewel of Camp Verde's annual signature events, which is nearest and dearest to the Cavalry's members.
Howard Parrish, 90 since late-April, is the sole surviving founder of the Cavalry. Not many nonagenarians ride horses in their town's annual parade. But Parrish isn't your average man.
'Wash and wear'
Parrish harkens back to 1957 – or maybe it was 1958 he says – when the Camp Verde Cavalry was founded of ranchers, construction workers and farmers.
"We ordered the uniforms from New York," Parrish recalled. "They're wool. And we hated wearing wool in the hot sun. We use wash and wear, now."
In his lighter-than-wool uniform, Parrish and the other Cavalry members will participate in the annual Fort Verde Days parade as they always do, on horseback.
Parrish has only missed two Fort Verde Days parades. The first one, and in 1993, due to a prior commitment. As long has he can ride his horse, Parrish said, he'll be in the parade.
Colonel's Daughter
It was the Cavalry who started the Colonel's Daughter competition back in 1960. The Colonel's Daughter title is from a novel written in 1882 by retired Capt. Charles E. King, who joined the 5th Cavalry in Camp Verde in May 1874.
King, who was wounded in November of 1874 at Sunset Pass, never fully recovered from damage to his right arm.
That story is what inspired Parrish to start the Colonel's Daughter competition.
"It's more than a beauty contest," he said. "It's very important for Camp Verde to have this every year. It's something that nobody else has."
At 10 a.m. Saturday, Parrish and the rest of the current members of the Camp Verde Cavalry will take part in the annual Fort Verde Days parade, as they escort the Colonel's Daughter and her Court down Main Street.
-- Follow Bill Helm on Twitter @BillHelm42
SUBMIT FEEDBACK
Click Below to:
More like this story