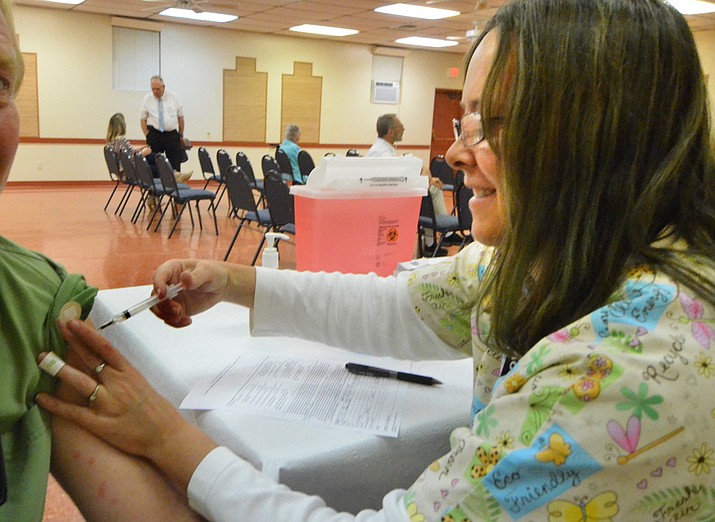 Originally Published: October 11, 2018 11:16 a.m.
Everyone is wondering: should they get a flu shot this year? The Yavapai County Community Health Service's states that the single best way to prevent flu is to get a flu vaccination each year.
Some people say they are not going to get a flu shot because it doesn't always work, said YCCHS nurse Christine Dixon, "but I always tell them it's better than not getting a flu shot at all. There are different strains each year. Once you get the flu, it's too late to get the shot. Better safe than sorry."
Dixon was at the Verde Village Clubhouse on Wednesday giving out flu shots. The YCCHS will also be at the Beaver Creek Adult Center in Rimrock on Friday from 10 a.m. to 1 p.m.
Dixon said last year was a bad year for the flu, but she has not heard any predictions for the upcoming season. So she recommended that people get their flu shot to be safe because the shot the Yavapai County Community Health Service protects against four strains of the flu, so if it doesn't work against one strain, it's bound to work against some of them.
Dixon recommends getting a flu shot "the earlier the better." Even people who get their flu shots now will be generally protected up to the next flu season, she said. People can get flu shots at the local health departments, doctors' offices, clinics in the community and pharmacies, she said. People can walk in and get a flu shot at the YCCHS clinic in Cottonwood on Tuesdays, she said.
More like this story