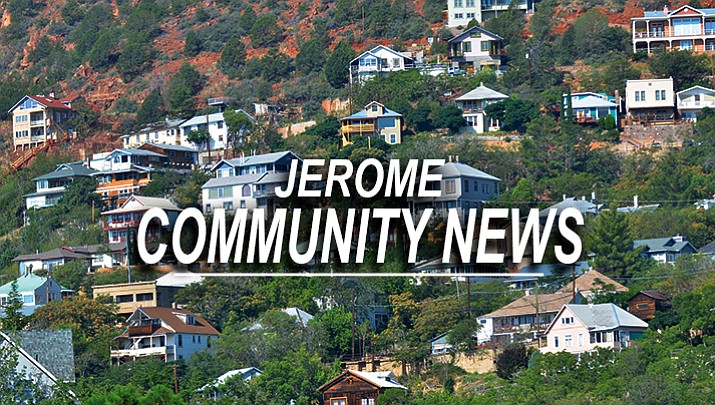 Originally Published: October 11, 2018 11:30 a.m.
Ghost Walk at Spook Hall this weekend
The Jerome Historical Society is hosting its 14th annual Ghost Walk this weekend.
The shows are on Friday and Saturday from 6:30 p.m. to 9:30 p.m. at Spook Hall at 407 Clark St., Jerome.
Actors will sketch performances every half hour while depicting Jerome's history. There will be six shows each night. Their interactive shows will take guests on a walking tour as the story progresses. The grand finale "will not disappoint," according to the event's website.

Subject matter should be regarded as PG-13, according to the event's website. Guests are encouraged to wear comfortable shoes.
Tickets can be purchased at the door or online at www.jeromehistoricalsociety.com . Friday's performance is $15 and Saturday's is $20. Children 10 and under get in free.
Call the Jerome Historical Society at 928-634-1066 for more information.
Candace Gallagher on 10th year as Jerome's town manager
Candace Gallagher has completed nine years of service as Jerome's town manager this month.
"As I begin my 10th year here, I want to take this opportunity to say thank you to tall those, past and present, who have supported and assisted me over the years," Gallagher wrote in her staff report for the Oct. 9 meeting. "It has been an enjoyable ride, and time as flown by. I look forward to continuing to serve the town I love.
In an interview with the Verde Independent, Gallagher said she came to Jerome "many years ago" during a trip out West.
"We spent an afternoon in Jerome and it resonated strongly with us," she said. "We never forgot it. We knew that eventually we'd be back, and years later, here we are."
Jerome passes new trash ordinance
Jerome Town Council approved Ordinance No. 441, which amends the Town Code regarding garbage collection. The ordinance provides a maximum of three 40-pound cans. It also prohibits disposal of animal carcasses. 
"Residents needs to understand there are humans picking up the garbage," said Council Member Jay Kinsella.
Jerome approves new parking configuration
Jerome Town Council approved new parking configuration and layout Tuesday in the middle parking lot along Hull Avenue.
The purpose of reconfiguring the lot is to create more efficient traffic flow, said Vice Mayor Jay Kinsella.
Last month, council met at the lot during a special meeting.
Vice Mayor Jay Kinsella said ADOT told him they can do whatever they want "as long as it doesn't involve us."
One of the suggestions in the configuration plan is to build an island.
"The island would be built out of concrete and would be big enough to stop vehicles from kissing noses," Kinsella said at the September meeting.
The plan also calls for signage forbidding drivers from entering certain parts of the lot.
Jerome Town Council will have its next meeting on Tuesday, Nov. 13, at 7 p.m., at the Jerome Civic Center at 600 Clark St., Jerome. Agendas and minutes are posted on the town's website at www.jerome.az.gov
More like this story