Originally Published: October 11, 2018 2:18 p.m.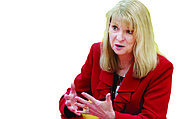 Thanks to a countywide broadband initiative, technology problems shouldn't stand in the way of Mingus Union High School students who take standardized testing.
That's essentially what Mingus Union Superintendent Penny Hargrove said just before the Arizona Department of Education released its accountability grades on Oct. 5.
Those grades, better known in the education vernacular as A-to-F letter grades, were compromised at Mingus Union in the 2017-2018 school year, Hargrove said in a letter the district sent to students' families Oct. 5.
The letter stated that the school's D-grade reflects a "major technology failure that took place during our AzMERIT testing session last year."
"While many attempts were made to correct the technology issues, we were unable to fully alleviate the concerns throughout the testing window," the letter stated.
Mingus Union will appeal "the inaccurate letter grade" with the Arizona Department of Education," Hargrove's letter stated.
The system improvements Hargrove referred to in the letter were the result of high speed, fiber-based Internet access made available through the Yavapai County Education Technology Consortium.
The consortium, made up of school districts, charter schools and libraries, is facilitated by Yavapai County School Superintendent Tim Carter.
Called e-Rate, the program pays for as much as 100 percent of the construction costs to bring high speed fiber to rural schools and libraries, according to Frank Vander Horst, e-Rate manager for Yavapai County Education Service Agency.
The primary out-of-pocket cost to upgrade systems at Mingus Union, Hargrove said Thursday, was new servers.
"It cost us about $10,000 to $15,000" Hargrove said of the district's investment in servers and hardware.
"Significant time, resources, upgrades, and ongoing systems testing are now in place to ensure our district's technology infrastructure can accommodate high volume of use so this type of failure does not happen during the 2018-19 testing," Hargrove stated in the letter.
The new added fiber, Hargrove said, "can handle at least 1gb of bandwidth."
Hargrove also said that the technology upgrades were installed over the summer because the district "couldn't take the networks down when the kids are in place."
With the technology upgrades at Mingus Union, students will not have slow systems to blame for low test scores.
"Ultimately, it's our responsibility," Hargrove said. "We're not going to use [technology failure] as an excuse."
According to Vander Horst, "many" of the county's schools and libraries have less than 2 percent of the FCC's recommended bandwidth.
For more information or to become involved with the countywide broadband initiative, contact Stan Goligoski at 928-442-5754.
The A-B-Cs of the state's A-to-F Accountability System
AzMERIT will go away at the end of the 2018-2019 school year. Whether that is good or bad, the elimination of that brand of standardized testing will greatly affect A-to-F scores moving forward, as AzMERIT accounts for half of the Arizona State Board of Education's A-to-F Accountability System.
A-to-F is weighted 30 percent on proficiency and 20 percent on growth, each based on AzMERIT scores.
The remaining 50 percent of A-to-F is based on 10 percent for English language proficiency and growth (assessed by the Arizona English Language Learner Assessment), 20 percent for graduation rate, and 20 percent for college and career readiness.
The A-to-F Accountability System measures an A at 84.67 percent or more, a B at 72.39 percent to 84.66 percent, a C at 60.11 percent to 72.38 percent, and a D at 47.83 to 60.10 percent.
An F is less than 47.83 percent.
Oct. 25 deadline for schools to appeal A-to-F grades
A year ago, the Arizona State Board of Education was met with controversy as it handed down its achievement profile for the state's public and charter schools.
Better known as an A-to-F grading system, more than 200 schools a year ago saw the evaluative tool – and their grades – as appealable.
Some of the Verde Valley's schools, such as Beaver Creek School in Rimrock, have not yet decided whether they will appeal their 2017-2018 letter grades. While others, such as Mingus Union and Cottonwood-Oak Creek schools, have already stated that they are in the process of appeal.
Schools have until 5 p.m. Oct. 25 to appeal their letter grade, according to the Arizona State Board of Education website, https://azsbe.az.gov/f-school-letter-grades.
At noon on Nov. 19, the A-F Appeals Committee will review appeals.
-- Follow Bill Helm on Twitter @BillHelm42