Camp Verde girls soccer beats Holbrook in must-win game
Originally Published: October 18, 2018 2:14 p.m.
Camp Verde High girls soccer won its must win game on Tuesday night, keeping their playoff hopes alive.
The No. 7 Cowboys (5-6, 1-3 Central) beat No. 11 Holbrook 3-0 at home. The win comes after they lost 6-0 to No. 2 Northland Pre on Monday.
CV head coach Javier Pineda said it was a pretty good game for the Cowboys.
"We worked on some of the stuff that we didn't do (Monday) night (laughs), so it was good, it was good for the girls," Pineda said.
Senior midfielder/goalkeeper Brina Church had a brace, scoring the Cowboys' first and third goals and senior midfielder Eliana Paniagua scored the second goal.
The win kept the Cowboys in contention for a top six spot and a place in the postseason. The 2A girls soccer tournament is four teams, with the top region champions earning a spot in the semifinals against the two winners of the play-in games.
Camp Verde hopes to get into the play-in round by getting into sixth.
Pineda said the Holbrook game was a pretty reaction after the NPA rout 24 hours earlier.
"They knew that they had to win (Tuesday), after (Monday) night, that you can't put your head down, the game is over so we got to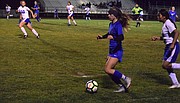 get to the next one," Pineda said.
Camp Verde closed out the season on Oct. 18, against No. 1 Chino Valley at home, though results were not available at press time. The Cougars are 14-0-1 and ended Northland Prep's 35-game winning streak earlier in the season.
Pineda expects that the Cowboys will need to upset Chino Valley to make it to the play-in game.
"It all depends on all the other teams, see how they do and all that stuff but it's pretty hard for us to do it now," Pineda said. "We have to win no matter what (laughs)."
Camp Verde entered the Chino Valley game having won three of their last four and four of their last five. Their only losses during that span were to the defending state champions and 1-0 and No. 8 Page.
Pineda though they have played alright but haven't returned the success they had in the first game of the season when they beat Show Low 1-0, the current No. 5 team.
"They've been playing alright, they haven't been playing to the potential that they have I mean the first game of the season they played close to the top that they could play but for reasons, injuries and some other stuff, they haven't been able to get to that point but they've been playing okay," Pineda said.
He said they don't have all their players healthy for the season finale but they're close.
SUBMIT FEEDBACK
Click Below to:
More like this story