Originally Published: October 20, 2018 8:57 a.m.
The City of Cottonwood and the Cottonwood Historic Preservation Commission will host the 5th annual Cottonwood Historic Home & Building Tour Saturday, Nov. 3, 10 a.m. to 3 p.m. The tour will showcase a number of diverse homes and buildings that are the foundation for Cottonwood's early days as a mining and agricultural community.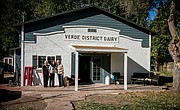 The Cottonwood Historic Home and Building Tour was started in 2014 as a way to showcase and celebrate the history and unique character of historic Cottonwood. Local businesses and homeowners came together to sponsor the tour, as well as dozens of volunteers to make the first year an incredible kickoff. This annual tour, now in its fifth year, has drawn folks from all over the state and has been a source of pride and pleasure for local Verde Valley residents.
All proceeds from the tour go into a matching grant program administered by the Cottonwood Historic Preservation Commission to help beautify and preserve historic homes in Cottonwood.
Informed docents and on-site exhibits will provide detailed information on each structure and building. Shuttle transportation is provided between the newly remodeled Cottonwood Community Club House to the homes and buildings along the route.
Tour participants can choose to shuttle, walk, and/or drive to the Tour stops. Please note, the tour is not handicapped accessible.
Each year the tour kicks off from one of the most iconic historical buildings in Old Town Cottonwood.
Designed by Lescher and Mahoney, an architectural firm out of Phoenix, and completed in 1939, the Cottonwood Community Club House (formerly named the Civic Center) was partially funded by the Works Progress Administration (WPA; renamed in 1939 as the Work Projects Administration), the largest and most ambitious American New Deal agency employing millions of people (mostly unskilled men) to carry out public works projects, including the construction of public buildings like the Club House.
This iconic building in the heart of Old Town was constructed using river cobble stone and red sandstone. According to The Living New Deal, "Local citizens raised the matching funds through bake sales and other grassroots fundraising efforts.
Wrought-iron hinges on the armory-style doors contribute to its sturdy, fortress-like appearance. During WWII the building was rented to the Defense Department to house members of the Navy."
Cottonwood Community Club House had not been significantly altered since 1940 and was honored with its own individual listing on National Register of Historic Places before its renovation and remodel this year. The space is now available for community and corporate events, weddings, parties, and celebrations.
Tickets for the Cottonwood Historic Home and Building Tour are $20. Kids under 12 can attend for free.

Each ticket includes four complimentary drink tickets, which can be redeemed for wine tasting from participating wineries or for non-alcoholic drinks at participating cafes.
Tickets can be purchased in advance online at cottonwoodhometour.org or on the day of the event, at the Tour headquarters, in the newly renovated Cottonwood Community Club House (805 North Main Street). Ticket sales end at 3 p.m.
ALL proceeds go toward preservation of landmarked properties in Cottonwood through the Cottonwood Historic Preservation Commission's small grant program. Don't miss this full day of exploration, fun, and history in Cottonwood, Arizona.

Do you have questions or would you like to volunteer for this event (no experience required): send an email to cottonwoodhometour@gmail.com.