Nothing goes to waste and no one goes hungry thanks to Cornucopia Community Advocate
By
Bill Helm
|
BillHelm42
Originally Published: October 20, 2018 4:09 p.m.
Each Friday, Lavina Sanchez visits Camp Verde's Bread of Life Mission.
As Food Bank manager for the Yavapai-Apache Nation, Sanchez has a list of 170 clients who rely on the Nation for fresh food.
The "four food groups" are represented in the weekly rations, Sanchez says. Thanks to the Food Recovery program implemented by Sedona's Cornucopia Community Advocates, the Nation's food box clients can look forward to fresh produce that she picks up at Bread of Life.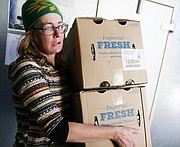 According to Cornucopia's Leslie Fox, Bread of Life, the Old Town Mission and the Camp Verde Seventh-Day Adventist Church are sources and recipients.
The Food Recovery Program receives "catered leftovers" from the Sedona Golf Resort and L'Auberge de Sedona.
The Food Recovery Program also provides food for St. Vincent de Paul Church, Abide Maternity Home and the Emerald Waves Healing Center, Steps to Recovery, Angie's House, Verde Valley Sanctuary and the Cottonwood Public Library's Youth Services Program, just to name a few.
For Sanchez, the Food Recovery Program means that though food boxes also have canned produce, the fresh produce provides "a healthier option."
"This food has more nutritional value," Sanchez says. "And they really like it."
Experiencing hunger 'right now'
As Cornucopia's Food Recovery coordinator, Fox is responsible for finding food that would otherwise go to waste, for the purpose of feeding people who she says are "experiencing hunger right now."
"Where does food come from? And where does it go?" Fox asks as she thinks about the roughly one-third of Arizona's children have no idea where their next meal is coming from.
Registered as a 501 (c) (3) non-profit organization, Cornucopia Community Advocates believes that food recovery means "eliminating food waste and feeding the people in our communities who are experiencing hunger or whose lives would be better today if they received free food," Fox says.
Not just people are starving, Fox says. If the food waste is not suitable for human consumption, "We feed our animals."
"If the food is not suitable for animals, we create compost," she says.
'Locally driven, community sponsored'
Fox says that the flow of food today needs to return to a "locally driven community sponsored endeavor."
"We need to grow and trade our food within a 50-mile radius from where we dwell for many reasons," she says. "To eliminate the pollution of shipping, and to eat food that is at its maximum energy worth to our bodies are just two reasons. We need to eliminate the waste and feed our neighbors."
Deb Stein lives in the Village of Oak Creek. Stein volunteers with Fox at Cornucopia because she "hate[s] food waste."
"Who shouldn't people who need [food] get it?" she asks.
Each week, the Sedona Area Homeless Alliance provides food for about 100 people, Stein says, mostly food that doesn't need to be cooked, such as fresh produce and drinks.
'Share with everyone'
Friday, Fox collected several large bags of carrots to take to her recipients, some of the carrots she says were as "big around as my arm."
As she carries the carrots out to her truck, Fox explains that she "gets all the carrots, and someone else gets the bell peppers."
"I'm thinking we need to mix and match all of this," she says. "And share with everyone."
To get involved, or for more information, contact Leslie Fox, Food Recovery coordinator for Cornucopia Community Advocates, at (928) 592-3837 or leslie@cornucopiacommunity.org. Or visit http://cornucopiaca.org.
Cornucopia Community Advocates is located at 95 Spotted Fawn Court in Sedona.
What else could you do to help feed the hungry?
 Choose to shop Smile.Amazon.com and choose Cornucopia Community Advocates as your charity of choice
 Share your bountiful harvest and let us help
 Become a Cornucopia Sponsor
 Become a Matching Donation sponsor
 Support our capacity growth through a planned gift
 Donate your IRA to help countless people live better lives
 Support our endowment fund
What can you do to get involved?
 Create gardens
 Care for community gardens
 Interview food sources for donation links (food source)
 Interview emergency food banks for food donation links (food recipients)
 Transport donated food from food sources to local food banks
 Volunteer activity coordinator
 Volunteer recruiting
 Support school gardens
 Teach classes, such as gardening, nutrition or healthy cooking
 Administrative assistance
 Food Hub delivery and assistance
 Fundraising event assistance
 Farmers Market assistance
SUBMIT FEEDBACK
Click Below to:
More like this story