Sedona budget battle not over
Following Home Rule, PBA vote will mean something more

Originally Published: October 20, 2018 4:58 p.m.
SEDONA -- The Home Rule vote in Sedona last August brought out political signs, personal attacks on social media, and a debate about quality of life in the tourist community.
But the hype and anxiety seems to be missing for the Nov. 6 vote on whether to limit Sedona's budget with a Permanent Base Adjustment initiative which actually does have some legal ramifications.
The city will remain under Home Rule for four years, but the Nov. 6 ballot would establish a permanent expenditure limit on the Sedona City Council after that.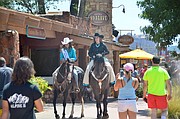 "The City will be under Home Rule authority for the next four years whether or not the PBA is approved in November," said Karen Osburn, assistant city manager of Sedona. "A City could have both and in that case, Home Rule would supersede the PBA."
Osburn said the City of Sedona would operate under the Home Rule for four years and then the Permanent Base Adjustment, if approved by voters in November, would become the rule. "Unless the City initiates another Home Rule or a new PBA initiative," she said.
If approved by the voters, the PBA proposal on the Nov. 6 ballot would establish a permanent expenditure limit of approximately $25.2 million (about half the city's annual spending) on the Sedona City Council, according to the city's website. Any tax dollars raised by the town above that could still be collected and put in a bank account, but not spent under this PBA limit.
Sedona City Council passed a budget of approximately $47,400,000 on June 26 for FY2018/2019.
Opponents to the Sedona Chamber of Commerce and growing tourism in the community publicly lobbied citizens to vote down the Home Rule vote in August but failed. Home Rule passed by a large margin.
The opponents petitioned to put the PBA initiative on the Nov. 6 ballot in hopes Home Rule would first be voted down, their PBA initiative would then pass, thus it would have put limits on city council spending next year.
Sedona Chamber of Commerce President/CEO Jennifer Wesselhoff said the PBA proposition on Nov. 6 is "wrong for Sedona" because "we set ourselves up for potentially devastating budget cuts four years in advance."
The Sedona City Council is likely to discuss a "professionally-developed PBA this year, carefully considering our future needs and getting input from all Sedonans before sending it to voters."
"Sedona voted overwhelmingly to extend Home Rule in August, showing we want balanced budgets that target our priorities," Wesselhoff said, pointing out that if people voted yes on Home Rule, they should vote no on Proposition 446, which the initiative is called. "Prop 446 was not professionally prepared of publicly reviewed," she pointed out.
If they choose, the City could put on a Permanent Base Adjustment vote in 2020, or wait and put it on in 2022 when Home Rule expires, or they can put another Home Rule Vote in 2022, Osburn said.
The State of Arizona imposes formula-base budget spending limits on Arizona cities and towns. Home Rule allows local municipalities to spend more money than the state permits but requires a vote every four years.
A Permanent Base Adjustment is a permanent adjustment to the maximum amount of money the City would be allowed to spend under state law without having to revote every four years.
Also, the town's council determines the Home Base Rule budget while the voters determine the Permanent Base Adjustment's budget.
However, a town can only spend the money it takes in in taxes.
The vote in November will still be held because, the citizens have met the requirements to put the PBA initiative on the ballot, so it will move forward, Osburn said.
The city of Cottonwood passed a Permanent Base Adjustment in 2012-1013 with an expenditure limit of about $74 million each year.
Before the PBA approval, Cottonwood voters passed Home Rule "every four years since its inception with large margins," according to Rudy Rodriguez, assistant city manager of Cottonwood. However the city only uses a fraction of that amount each year in actual expenditures, he added.
More like this story
SUBMIT FEEDBACK
Click Below to: