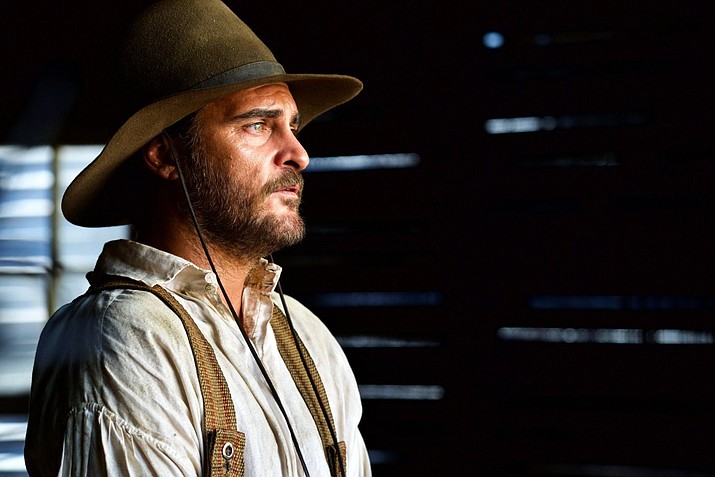 ---
---
John C. Reilly, once again emerges from the shadows of supporting roles (as he did in Chicago, 2002) and shines in The Sisters Brothers.

He plays Eli Sisters, who with his brother, Charlie Sisters (Joaquin Phoenix), make a team of hitmen in Oregon in 1851.
It is gold rush era and that is the backdrop of this story. The Sisters brothers' boss, the Commodore, has been swindled by a clever, young chemist, Hermann Kermit Warm (Riz Ahmed). The Commodore sends Eli and Charlie to find him and kill him. Their pursuit of Warm takes them across a good part of Oregon and California, with outstanding visual displays of those landscapes, including the Pacific Ocean.
Warm gets involved with a gold seeker, John Morris (Jake Gyllenhaal), who is also after Warm. Morris and Warm team up and decide to skip out with as much as they can draw down from the Commodore.
Eli and Charlie cannot seem to get through any town without engaging in some deadly gun fight. They always survive and prevail, leaving dead bodies everywhere. Eli is getting burned out with his profession and wants to quit. Charlie is a heavy drunkard and he has no ambition other than being a hit man. Charlie has no person in his life that he is close to, besides Eli. At one time, Eli had an emotional encounter with a woman, who gave him a gift of a knitted shawl. Eli treasures the shawl and apparently has dreams of returning to her someday.
With all of the gunfighting and killing, with all of the unpleasant physical events, with all of the screaming and betrayals, the brothers keep us interested most of all.
They are clearly very bonded, although they do have differences. Charlie, the younger brother, was given the leadership in the hmission by the Commodore.
Charlie seems like the sharper of the pair. But more and more, we get the feeling that Eli is the one that will save them and bring success to their nefarious endeavor.
Reilly is excellent in the role of Eli. He dominates the story although Phoenix, Gyllenhaal and Ahmed hold up their parts very well. Some of the encounters the brothers engage in seem extraneous to the main plot.
The rivals in a gun battle may not be involved in any part of the Commodore's assignment, but it gives us a broader perspective of the life of the Sisters. It also makes the film longer and somewhat slower.
The Sisters Brothers is at the Harkins Sedona 6 theater.