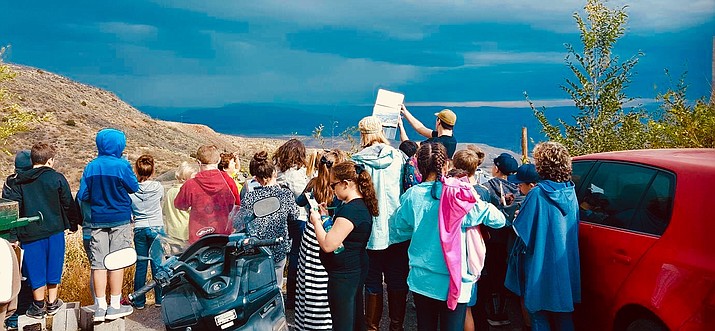 Originally Published: October 23, 2018 2:30 p.m.
Updated as of Tuesday, October 23, 2018 2:30 PM
JEROME -- For Joe Westcott, there is no reason to embellish any part of Jerome's history.

"You're getting lazy if you have to do that," he said. "You should just read a page of one history book and you'll probably find something cool."
The 19-year-old tour guide said he strives for historical accuracy.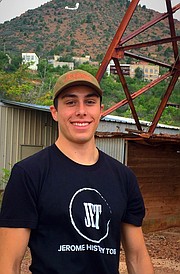 "The facts in Jerome are really cool and there are a lot of cool towns in Arizona … but what Jerome has is that we are directly lodged at the side of the hill."
That, Westcott said, is what is particularly unique about the former mining town nestled on Cleopatra Hill.
"It's so hard in Jerome when you're looking at an original town site map … 50 to 70 percent of the original structures are gone," he said. "Another thing to think about with Jerome is that there used to be an economy here with at least 10,000 people."
Today, those numbers are down quite a bit. The last United States Census Bureau recorded 455 people living in Jerome.
Local tour from a local guy
Westcott started his tour guide business when he was just 17 years old. The hour-long walking history tour "brings the past to life," he said. The focus is on history, not ghost stories. Although, Westcott said he will sprinkle in some gruesome details about some of the mining accidents that occurred in the now-bustling tourist town.
"What's cool about my tour is it's an hour and we can take a short walk around town and get a really good general overview of what Jerome used to be like," he said. "I try to make it enjoyable for kids … get a good summary so when you're spending the rest of the day walking around Jerome, you get a better idea of what you're looking at. It makes everything so much more interesting."
Westcott grew up in Clarkdale but now resides at the Old Jerome High School. He said he runs his business from his bedroom.
The job is "perfect," he said, because he can make his own hours while attending classes at Yavapai College.
Westcott's family also has ties to Jerome dating back five generations. He said he has "always had an affinity for Jerome."
"My favorite thing to do when I was a kid was come to Jerome and sit on the steps with my dad," he said. "There has always been a pretty strong attachment for me up here. When I walk around I see people who know me that I don't know and they'll say, 'I remember when you were this big.'"
Westcott calls Jerome a "little refuge on the hill." Which he jokes is "a nice way of putting it."

"If you're not a Republican, it's hard to live in the Verde Valley," he said. "Jerome is much more tolerant"
Consulting the experts
One of Westcott's favorite historical sources is his own grandmother, who was born in Jerome in 1943.
"She was here at an interesting time," he said. "She was 10 years old when the mines closed. And that's a time period I like to talk about. People started leaving Jerome rapidly and the population was declining. It was a really uneasy time."
Westcott said he also consults with other locals and museums in town to make sure his tours are 100-percent accurate. During his tours, he carries a binder with him filled with photographs and other important historical information.
"I keep it pretty much in order for when I do my tour," he said.
Jay Kinsella general manager of the Jerome Historical Society, praised Westcott's tours during an Oct. 9 Jerome Town Council meeting.
"You do a great tour," he said to Westcott, who was getting his businesses license reapproved at the meeting. "And an individual your age that's taking the time to check Jerome's history … that's the type of tour companies we need in Jerome."
Westcott said he never liked high school but wants to prove with his tours that learning history can be fun.
When he conducts his tours, he always encourages people to ask questions – especially kids.
If they're not asking questions, he'll ask them what they think.
"I don't like to push the envelope on things but I do like to ask kids -- not serious question -- but realistic questions," he said.
Questions from kids are usually ones he doesn't think about, he said.

"Every time I stopped five hands raised up and they'd ask things like, 'what did kids get to do?' 'What was there to eat?'"
Westcott said so far, he has never been stumped – "yet."

"Not saying that can't happen because I don't consider myself a historian at all, I think that takes a much longer time of studying," he said.
But he said he thinks he has a good grasp on Jerome.
Visit jeromehistorytours.com to book a tour with Westcott or call 928-592-3768.