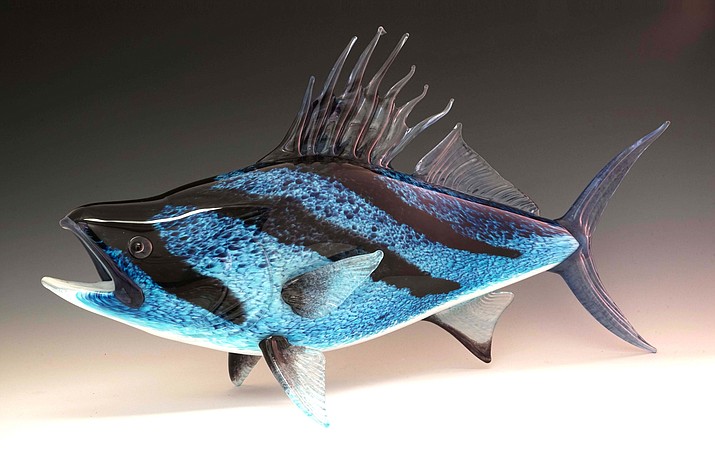 ---
---
Community is a strong and vital part of life, present in nearly all realms of the animal kingdom. For people, it provides nourishment to the soul and connects us through commonality while encouraging our positive differences.
This September, Kuivato celebrates the role community plays for artists and the community that supports them in their new exhibit, Cultivating Community. Join them for the opening reception, Friday, September 7th, from 5-8 p.m., during 1st Friday in the Galleries and participate in the making of the gallery's new promotional video. 
Ceramic artist Sumati Colpitts cultivates community through a shared love for animals. All her pieces bring together the realistic qualities of each of her animals and the friendly demeanor she associates with their lives. The different details that make up each animal are masterfully captured within her free-formed sculptures through shape, texture, and her taxidermy-grade glass eyes she adds in after firing her pieces. Though we often cannot see this side of most of the animals in the real world, her intention is to promote their friendly personalities to her viewers, so they can experience this lighthearted feeling as well. By encouraging this bond between humans and the wildlife in her artwork, Sumati cultivates a friendly yet wild community that is open for the world to share.
Glass artist Michael Hopko celebrates community in a similar matter, but with a focus on aquatic life. His love of nature has inspired him to create a masterful range of beautiful creatures that populate our seas. Majestic great white sharks inspire awe as they are displayed next to adorable, tentacled octopi that easily melt your heart. And fish of all sorts grace his renowned repertoire, from bass and salmon to mahi-mahi and yellowfin tuna. Although greatly varied, his pieces are amazingly cohesive, reflecting the natural balance of this underwater community.
Great art is only as great as the community that supports it. At this First Friday, Kuivato asks you to join them, Friday, September 7th, from 5-8 p.m. for the opening reception and participate in the making of the gallery's new promotional video that will be used on social media, the web, and in television spots. See how community informs the work of Sumati and Michael, as well as the work of all our represented artists. Explore the gallery, talk to local artists, and enjoy small bites and drinks.
Kuivato, a Creative Gateways Gallery is a founding storefront in Tlaquepaque in Sedona. The gallery displays a wide variety of mediums, including fused, blown, and torchwork glass, jewelry, ceramic, mixed media, watercolor, and bronze. Kuivato is a sister gallery to artist collective and public gallery space, Creative Gateways in West Sedona. Visit Kuivato 7 days a week, starting at 9 a.m. For more information, please visit www.kuivato.com or call 928-282-1212.