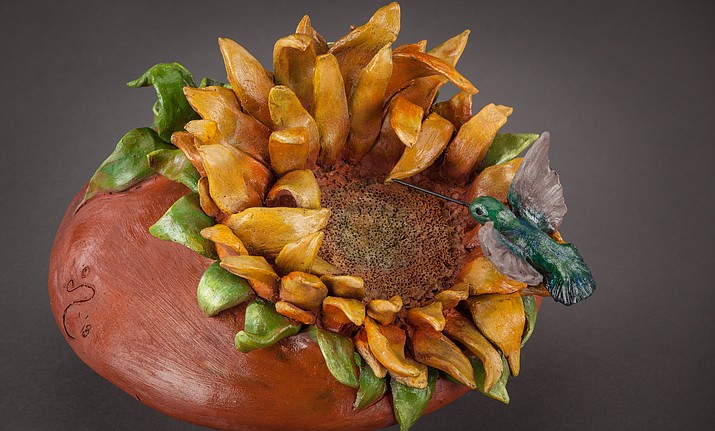 ---
---
Mountain Trails Gallery in beautiful Tlaquepaque opens the Fall Season with "Winged Creatures and Furry Mammals: America's Wildlife" featuring guest artist Cheryl D. Cooper, a sculptor, instructor, and ceramic potter known for her unique animal and nature-inspired vessels on 1st Friday, September 7, from 5 to 8 p.m. In addition, Mountain Trails Gallery presents wildlife artists who have captured an amazing selection of birds and mammals available for viewing in the United States in a group of paintings and sculptures on exhibit for the month of September. The bounty of winged creatures includes eagles, owls, song birds, quail, roadrunners, hawks, ravens and hummingbirds to name a few by artists Joe Garcia, Adele Earnshaw, Betty Carr, Stephen Krasemann, and Jennifer O'Cualain.
Included in the selection of furry mammals are rabbits, fox, mountain lions, elk, bison, moose, bears, wild mustangs, as well as domestic animals and pets by leading artists from the West including Bryce Pettit, Raymond Gibby, Corrina Johnson, Susan Kliewer, Curt Mattson, Michael Trcic, Corrina Johnson, Vic Payne, Sarah Phippen, Scott Rogers, Tobias Sauer, Maria D'Angelo, and Mark Edward Adams.
Mountain Trails Gallery is proud to present a selection of ceramic and mixed media vessels by sculptor Cheryl D. Cooper. "Currently, I am focusing on creating large vessels depicting wildlife from Arizona and the Southwest. I hand coil the pots using an East Asian Coil Method, sculpt the chosen animal on the outside of the vessel and design an appropriate top using 'found objects' or items that typify the animal. The pots are dried for several weeks, depending how large they are, fired twice in an electric kiln, and finished with a hand painted patina. Each vessel is a one-of-kind piece," spoke Cooper from her Prescott studio. Cheryl Cooper has been a sculptor, instructor, and ceramic potter for more than 40 years, working on large scale projects and memorials, and participating in exhibitions throughout the West including at the C.M. Russell Museum in Great Falls, Montana. She has also been a featured artist on HGTV's popular Carol Duvall Show.
Julie R. Williams, Director of Mountain Trails Gallery is inspired by what is being presented for the show, "Whether it's in our great parks or out in nature, a wildlife sighting is uplifting. Our wildlife artists seem to capture that perfect expression of surprise or delight, a regal stance, or a critical survival moment in their paintings or sculpture."
First Friday at Mountain Trails is an opportunity to meet Cheryl and other artists who are inspired by the beauty of our area. These artists are also inspired by the visitors and art lovers they meet at these festive gatherings. The reception for "Winged Creatures and Furry Mammals: America's Wildlife" takes place September 7, from 5 - 8 p.m. at Mountain Trails Gallery at Tlaquepaque, 336 SR 179, Sedona, AZ 86336, last entrance by the creek, upstairs near Toy Town, Suite A201 in Patio de las Campanas. (800) 527-6556 (928) 282-3225 fineart@mountaintrailssedona.com www.mountaintrailssedona.com