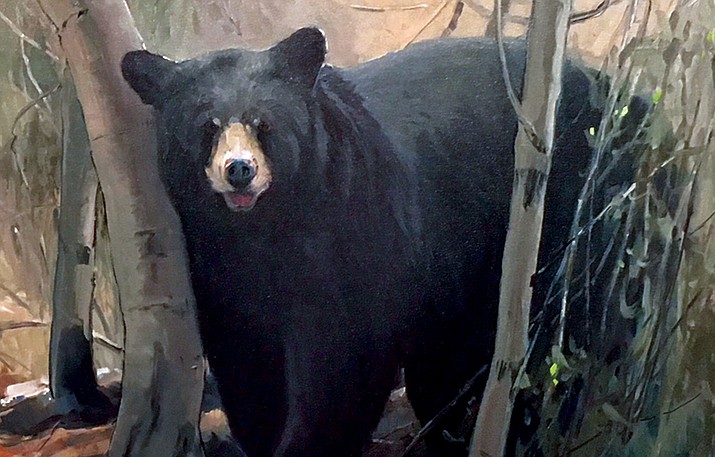 ---
---
Summer slips away as fall makes its way into the year. With beautiful evenings, it is a perfect time to patronize the local galleries during Sedona's 1st Friday in the Galleries event, which takes place on September 7, from 5-8 p.m. Guests will enjoy art, refreshments, music, poetry and great conversation with the gallery staff and artists themselves.
If you have noticed and appreciate a change of light with the change of seasons, you will love Judy Choate's work at the James Ratliff Gallery. Choate recognized the unique light of the Southwest's high-desert, especially just before sunset. Using acrylics, contrast, hard edges and bold colors, Choate demonstrates the southwest so well, she has become internationally known and her work is widely collected.
When anticipating autumn, trees come to mind. The tree art of Christopher Jackson isn't limited to any genre of painting, and his pastels are rich and solid compositions. Jackson said his primary tool is to evoke emotion and create happiness and solitude. Jackson's work can be found at the Renee Taylor Gallery in Tlaquepaque Arts and Crafts Village.
The ALT Gallery in West Sedona is kicking off fall with a new collection of original Sedona and Grand Canyon landscape paintings. Works of art by John Cogan, Jerome Grimmer, Susanne Nyberg, Jorge Tarallo, John Cox, Frank McCarthy and Alan Wylie can be experienced during 1st Friday in the Galleries.
For more trees and nature, step into the Andrea Smith Gallery and view the work of David Fischel. 'Canyon Colors' or 'Athena and Mother Nature' will offer a unique view on nature with the creative use of mixed media.
Fiber Artist Mary Fisher is showing her work at Goldenstein Gallery for this public event. Fisher works across a wide range of media, from handmade papers, fiber and quilts, to sculpture, prints and jewelry. Fisher's art has been exhibited in one-woman and group shows, and is now found in distinguished private and public collections throughout the world.
At Rowe Fine Art Gallery celebrate fall and Labor Day by visiting the 'Labor of Love' exhibit. Speak to northern Arizona artists about their creative process while enjoying appetizers and wine.
Get a chance to experience Adele Earnshaw's black bear in oil, 'Early Riser' by visiting Mountain Trails Gallery in Tlaquepaque. Of Earnshaw's many accomplishments, one includes being selected to design the first three stamps for the New Zealand Game Bird Habitat. Earnshaw primarily paints in oil and keeps her focus on wildlife and birds.
Acclaimed Native American sculptor Larry Yazzie has been a consistent award winner at prestigious art shows and his talent has only grown. Meet up with Navajo artist Larry Yazzie at the Turquoise Tortoise, a Bryant Nagel Gallery for 1st Friday. Yazzie, a stone sculptor will discuss his work; a reflection of his: feelings, traditions and the honor he strives to return to his Navajo (Diné) people.
For more information on the Sedona Gallery Association and 1st Friday in the Galleries, call: 928-862-4440 or visit www.SedonaGalleryAssociation.com for a printable map to all locations.