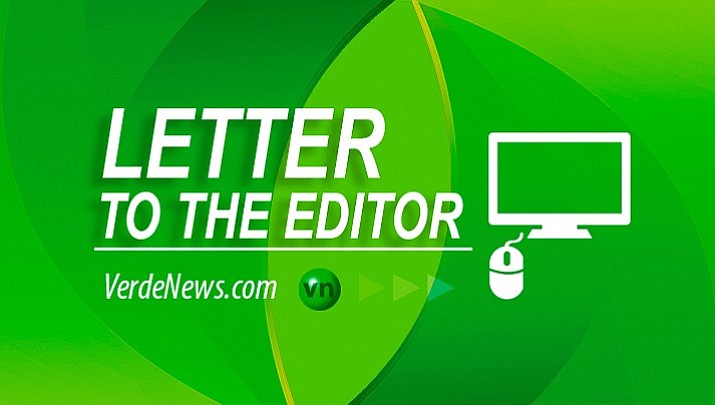 Originally Published: September 4, 2018 10:29 a.m.
Editor:
Yesterday at three High Tea at our friends' home in Sedona,
Soft breezes, clouds slowly gathering, red rocks revealing aura.
It was perfectly still and almost entirely quiet and serene,
We spoke softly among us of interesting places we had seen.
We lingered, enjoying friendship and respect for one another,
The majestic redness of the landscape seemed to magically hover.
Time was of no consequence and was in a holding pattern,
As if, in fact, it really just did not matter.
A sense of awareness and peace of the afternoon was keen,
No need to ask what did it all mean.
As time to depart drew near, with reluctance we did rise,
Our dear host and hostess presenting us gifts of surprise.
We were happy and content and very joyful within,
Not knowing something had changed at the drop of a pin.
Traveling home the redrock towers retiring into eve,
Shadows of illusion showed their heads bowed to grieve.
Tiny teardrops of rain fell from their brows so low,
Tho we did not yet know why this was so.
Bell Rock and Castle Rock, perhaps letting the world know,
That our friend of this country and world had decided to go.
Headed home on Beaverhead, crossing landscape twixt and tween,
We wondered out loud about Senator John McCain.
Commenting to each other and pointing off a little way,
"He's right over there, 'cross that hill, hope he's doing okay."
A U.S. Senator from Arizona with whom we did not always agree,
Still, he loved as much as we, freedom and democracy.
His aspirations, mistakes, success, and humanness,
The fragility of being human, as well as his acts of kindness.
With this we identify, and study how he mastered forgiveness.
Learned, taught, inspired, and moved on into greatness.
When we arrived home we heard news of his passing,
Absolutely, thankful we are, his presence on earth was a blessing.
A true hero he was, a fine example of a man and human being,
A voice in the dark, who stood up to those who are plain ol' mean.
Never from him me-ness, ugly ego or self-centered idolatry,
But always dignity, integrity, love of our country.
The world is in mourning on this beautiful morning,
And we should all be grateful for this soul of honor and glory.
The Sedona red rocks this morn weep not, but glow yet again,
Their tribute to him will not soon be forgotten.
Heaven's gain, and our loss, it can only be said with much pain,
As we remember a true American HERO, Senator John McCain.
Charmayne Pelt Samuelson
Sedona