Community pulls together for family of woman killed in crash
Money raised will pay for toddler's medical expenses
Originally Published: September 5, 2018 9:45 a.m.
CLARIFICATION: The locations of the car wash and car show fundraisers have been updated.
Members of the Verde Valley community were shaken after a 22-year-old Camp Verde woman was killed in a multiple-vehicle accident in Camp Verde on Aug. 28. Her 2-year-old son, Jayden, is currently being treated for serious injuries.
Two other victims were being treated with non-life threatening injuries, according to CVMO.
Now, friends, businesses and members of the community are rallying to raise money for medical and burial expenses as Faith Kalis' family recovers from their loss.
Sean Scott, who is a friend of the Kalis family said the family has expressed the desire to share proceeds with families of the other victims involved in the accident.

Drop-off bins for donations are set up at the following locations:
• Denny's, 2211 AZ-89A, Cottonwood AZ
• Denny's, 1630 W AZ-260, Camp Verde AZ
• Zonies Galleria, 215 AZ-89A, Sedona AZ
• Ink Stain Tattoo, 516 E AZ-89A, Cottonwood AZ
• El Toreo, 2181 AZ-89A, Cottonwood AZ
According to the Camp Verde Marshal's Office, Kalis was heading westbound along State Route 260 at a high speed and passed vehicles in a no-passing zone. She collided with two different vehicles, according to CVMO. Her vehicle split in two upon impact and her son was thrown out of the vehicle in his car seat. Kalis was pronounced dead at the scene. Jayden is currently being treated at Phoenix Children's Hospital for his injuries.
This Saturday, a car wash fundraiser will be hosted at the Wendy's in Camp Verde from 10 a.m. to 3 p.m.
Ink Stain tattoo in Cottonwood will also host a car show fundraiser this Saturday from 6:00 p.m. to 10 p.m. The event is $10 per entry. Contact Martin Molina at 928-274-3191 for more information.
On Sept. 21, State Bar in Old Town will host a benefit concert from 5 p.m. to midnight. The event is all-ages at $5 donation per person.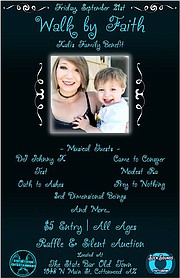 Phillip Wray, owner of Syntheticide Entertainment, is one of the leaders in facilitating the concert. He said he knows the family through Kalis' siblings.

"We want to give as many artists and bands an opportunity to be a part of the event so we can really bring the local scene together for the Kalis family," Wray wrote in an email. "We're hoping to bring a diverse line-up of rock, metal, hip-hop, solo artists, acoustic, reggae and more so there's something for everyone."
Wray said the focus is to keep the entertainment local with maybe a few bands from Phoenix.
"The biggest thing anyone can do is to make sure to share and promote the event," he said.
Wray said he is working with Samantha Alcorn of Sick Sounds Photography, who is also accepting donations, gift certificates or anything anyone wants to donate for raffles.
Wray said 100 percent of all proceeds will go to the family.
"Since I know the family personally, the proceeds will be given directly to the family in person to make sure 100 percent goes to them," he wrote in an email. "We will make sure they are at the event so it can be presented to them directly."
Syntheticide Entertainment is a promotion and booking agent for Northern Arizona bands.
"I've always also been adamant about trying to provide more all-ages events in the Verde Valley to give something better for our youth and be a safe environment but also a place they could express themselves even for one night." Wray wrote in an email. "It's really just all about creating a platform for both musicians, artists, fans and the local community to bond together to do something positive in each other's lives." 
Contact Wray at dancefloormassacre@hotmail.com for more information.
A memorial service for Kalis will be held this Friday at 3 p.m. in Rimrock.
Walk By Faith Benefit Concert tentative lineup
• Came To Conquer
• Oath to Ashes
• Test
• Prey to Nothing
• 3rd Dimensional Beings
• MODEST RA
• DJ Johnny K
More like this story
SUBMIT FEEDBACK
Click Below to: