New era begins for Camp Verde High cross country
New head coach David Castillo takes over program
Originally Published: September 6, 2018 2:49 p.m.
Camp Verde High cross country began a new era last week with new runners and a new head coach.
The Cowboys feature six eligible runners currently, all new from last year.
David Castillo has taken over as head coach and said team is looking good so far and that he hopes to add more runners.
"We're small this year," Castillo said. "We've got some guys, two seniors, right now a couple freshmen looking to add more kids as the semester goes on a little bit and my goal is by the end of the year try and have a full scoring team on both the girls and boys sides."
The Cowboys opened the season last Wednesday at Alhambra with Camelback, Central and Hayden at Thunderbird Paseo Park.
"It's been going good," senior Fabian Herrera Araiza said. "We've been practicing real well. We've only had one meet actually and it's been going pretty good."
Castillo takes over for Mike O'Callaghan, who is serving as an assistant coach. Matt Malloy is CV's other assistant.
"I've had a lot of support from coach O'Callaghan who was last year's head coach, he's actually in there right now doing a little bit of paperwork, so he's been helping me tremendously with a lot of just coordinating meets and I'm learning the ropes as far as how to order things and just different things like that," Castillo said. "So it's good and coach Malloy is been pretty consistent about being out here to run with the kids when he can, he's busy with his school schedule but I definitely appreciate the help that they've given me so far."
The Cowboys are missing junior Sy Hanson who had a couple top 20 finishes last year and took 88th at Sectionals in 2017. He is ineligible this year due to AIA double transfer rules because he transferred and returned to Camp Verde.
"Sy has been awesome, he's our manager this year and he's been great in just leading the team," Castillo said. "He ran last year, he'll run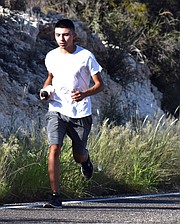 with me next year but he's just been a great leader for us."
Herrera Araiza and senior Seth Jackson finished 18th and 19th respectively out of about 30 runners in their first ever races. Herrera Araiza finished in 18:42 and Jackson in 19:00.
"The first meet went well, it was pretty much an unofficial meet, they didn't give any awards or anything like that, they kept places and things I had two of my boys run, they came in one right after each other, it was their very first high school meet," Castillo said. "So it was good I just wanted it to be a learning experience for them, just so that they can figure it out."
Freshman Daphne Sanchez, the girl on the CV team, also ran at the first meet.
"She did well," Castillo said. "A little bit of running walking, I've been trying to encourage her more on just continuing to keep a steady pace and just keep on going."
Jackson said the first meet was hard but he pushed himself.
"For me it was pretty tough, it was my first meet actually, as a senior, I haven't done cross country at all and it was an experience that left me with something to think about for the next one," Herrera Araiza said.
Jackson said Castillo is a good guy.
"I think he's a really good coach, really passionate about what he's teaching us and how he wants to us to run," Herrera Araiza said. "At practices he makes us runs different things so it's not the same thing over and over. He's a good coach."
The Cowboys go to Tucson for the Desert Solstice on Friday for a big meet that features 14 races and dozens of teams from Camp Verde to Campo Verde, from Desert View to Desert Vista, from Marana Mountain View to Mountain Vista.
"We're heading to Desert Solstice this weekend, which is in Tucson," Castillo said. "It's kind of a cool event, just looking at all the race info, there's like 11 races, they do individual freshmen races and different things like that, so it goes into the night. So it's pretty cool."
The Cowboys host their annual meet on Saturday Sept. 29, the only high school meet in Verde Valley this season.
SUBMIT FEEDBACK
Click Below to:
More like this story