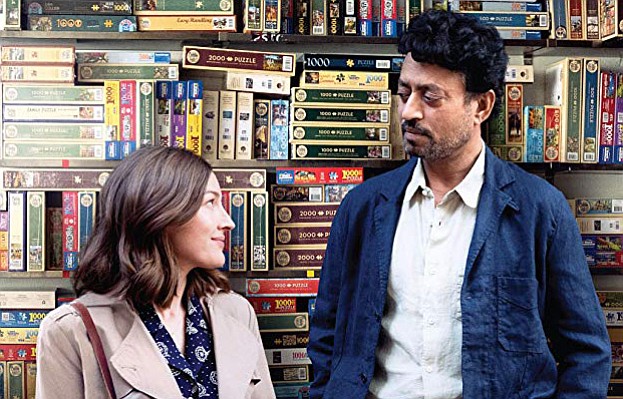 ---
---
Puzzle is a film that is not trying to knock your socks off.  It is rather a quiet, human drama that draws you in, amuses you, and breaks your heart.
Kelly Macdonald plays Agnes, the main character here.  She is a woman in her 40s, living in Connecticut with her husband and her two young adult sons.
The opening of Puzzle is a scene that tells us all about Agnes' life.  She is seen cooking a meal, setting tables for a party, preparing all the decorations and clearing the debris of the preparation.  The guests arrive. Agnes retrieves a large home baked chocolate birthday cake from the refrigerator. She places candles on the cake, lights them and carries the cake into the party.
The lights dim and the crowd breaks into song. They sing Happy Birthday — to Agnes! It is her birthday.  After the party, Agnes cleans up.
Agnes does not feel any anger or disappointment over her role in the celebration.  Her husband, Louie (David Denman), has a successful auto repair business.  Louie loves Agnes and he is good to her, as he sees that role. Agnes loves Louie and accepts her position as the servant-like mate. The two sons aren›t much help to Agnes, although the older son, Ziggy (Bubba Weller), working at his father›s shop, is very unhappy with his plight. 
He wants to pursue a career that is unbelievable to his father.  He wants to be a professional chef. Ziggy is close to his mother and there is a feeling of simpatico between them. The younger son, Gabe (Austin Abrams), is more carefree and has a girlfriend who frequents the home.
The next day, alone in the house, Agnes opens the gifts she received. One of them is a 1000-piece jigsaw puzzle. She has never been drawn to jigsaw puzzles, but her curiosity is aroused. 
She opens the box, pours the pieces out onto a table, and a spark ignites in her brain.  She finishes the puzzle in very quick time. That excites her and she seeks more of the same. She finds a shop that sells puzzles, and buys two difficult sets. She sees an ad requesting a puzzle solver to join an expert as partner in a major puzzle contest.  Agnes realizes she is turning a corner in her life. She answers the ad and goes to New York to meet the man who placed the ad.
That is Robert (Irrfan Khan). He lives in a brownstone, elegantly furnished and he is obviously financially well off.
Agnes is nervous about the arrangement proposed by Robert, but she relaxes when she sees how much of an expert he is. Meanwhile, Agnes does not reveal any of this to her family.  She tells them she is visiting an aunt who needs some help. As this goes on, Agnes is growing more aware of herself as a person, an individual.  Tensions arise when Louie sees changes in her attitude and personality. 
Through the unfolding of the story, our feeling for Agnes grows stronger. Her life opens to many features for the first time. She begins to discover who Agnes really is. But the conflict with Louie continues to grow, as she focuses more on herself and her partnership with Robert.
Kelly Macdonald has appeared in many productions as a supporting player. In Puzzle, she is the main character and she is excellent in her portrayal of a woman who, like a butterfly shedding its cocoon and sprouting wings, finds that the world is more than her locale in Connecticut.
Irrfan Khan is also very good as Robert. David Denman adds quality to Puzzle in his role as Louie. He's a good guy and we hope he'll realize how he has to change to maintain his life as good as it has been.
In Puzzle it sometimes seems like the pace is slow, but I found the timing of events very realistic.
Puzzle is at the Harkins Sedona 6 Theater.