YCSO: Traffic Stop leads to meth, firearm seizure
Originally Published: September 13, 2018 7:55 a.m.
CORDES LAKES -- Three people were arrested on Wednesday, Sept. 6 on various drug charges following a routine traffic stop on Interstate 17 near Cordes Lakes, according to Yavapai County Sherriff's Office.
According to YCSO, a deputy stopped a U-Haul marked GMC Sierra 9ick-up for several moving violations traveling along North I-17, north of Cordes Lakes. The driver was 34-year-old Ann Duffy of Phoenix. A 15-year-old juvenile female passenger was in the cab with her, according to a YCSO news release.
48-year-old David Everitt of Clarkdale and 38-year-old Dustin Perley of Phoenix were seated in the truck bed, according to YCSO.
Duffy told the deputy they were heading to Prescott even though they were already past the correct exit. A record check indicated Duffy's out of state license was suspended, the news release stated.
Duffy remained unusually nervous during the contact with the deputy and was issued a citation, according to YCSO. During further conversation, Duffy admitted carrying syringes used to inject meth, and a marijuana pipe in her purse while Perley admitted there was a meth pipe in the glove box. Deputies recovered the paraphernalia from Duffy's purse, the news release stated.
During a check of the vehicle interior, deputies opened a shoe box and found a 'Gillette' brand HIDE-A-CAN which contained more than 22 grams of meth packed in several individual baggies, officers stated.
The HIDE-A-CANS are used to conceal valuables/contraband in a hidden compartment accessible by unscrewing the bottom of the can, according to YCSO.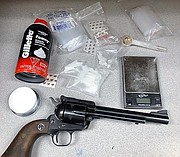 A scale, meth pipe and nearly 60 baggies were also seized from the box indicating illicit drug sales, according to YCSO. The shoe box logo and size marked on the box matched the brand of shoes Perley was wearing at the time. In the bed of the truck, deputies found several grams of marijuana along with a .357 magnum pistol in a suitcase belonging to Everitt who is a convicted felon and not permitted to possess firearms. Several rounds of ammunition were also located, according to YCSO.
According to YCSO, Everitt was charged with possession of a deadly weapon during commission of a felony, prohibited possessor in possession of firearm, possession of marijuana and drug paraphernalia. He remains in-custody on a $15,000 bond.
Perley was charged with Possession of Dangerous Drugs for Sale, Possession of Dangerous Drugs and Possession of Drug Paraphernalia. He also remains in-custody on a $15,000 bond. Duffy was cited for Suspended License and Possession of Drug Paraphernalia, the news release stated.
Deputies contacted the juvenile's legal guardian and also filed a report with the Department of Child Safety regarding the incident.

Citizens can contact the Yavapai County Sheriff's Office with information or questions at 928-771-3260.
--Information provided by the Yavapai County Sherriff's Office.
More like this story
SUBMIT FEEDBACK
Click Below to: