Mingus comes up just short at Coco in region opener
Panthers snap five game losing streak to the Marauders
Originally Published: September 15, 2018 2:27 p.m.
Photo Gallery
Mingus Union Football At Coconino 091418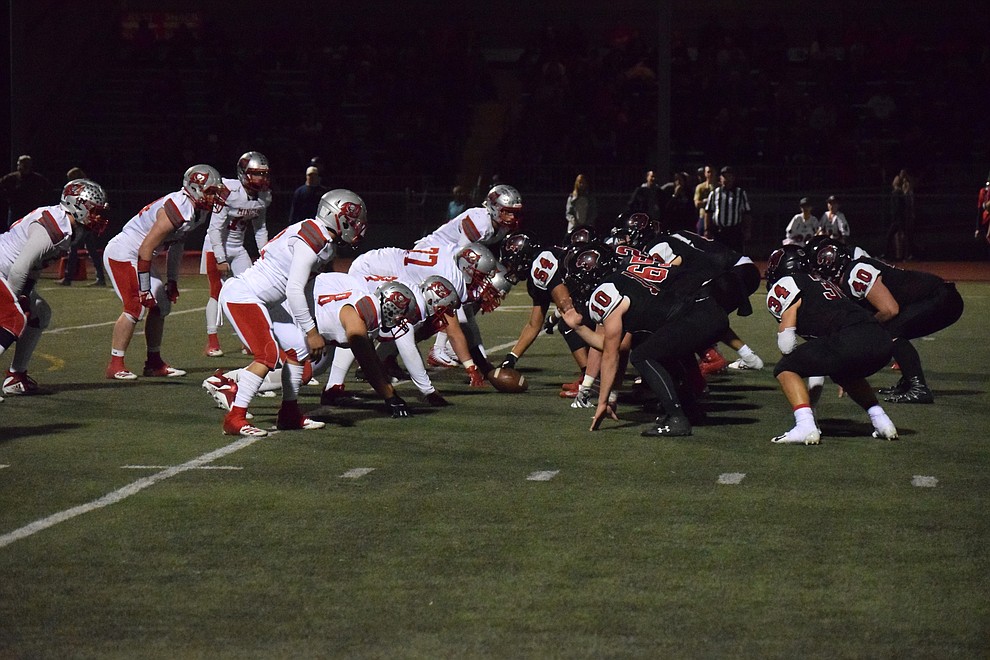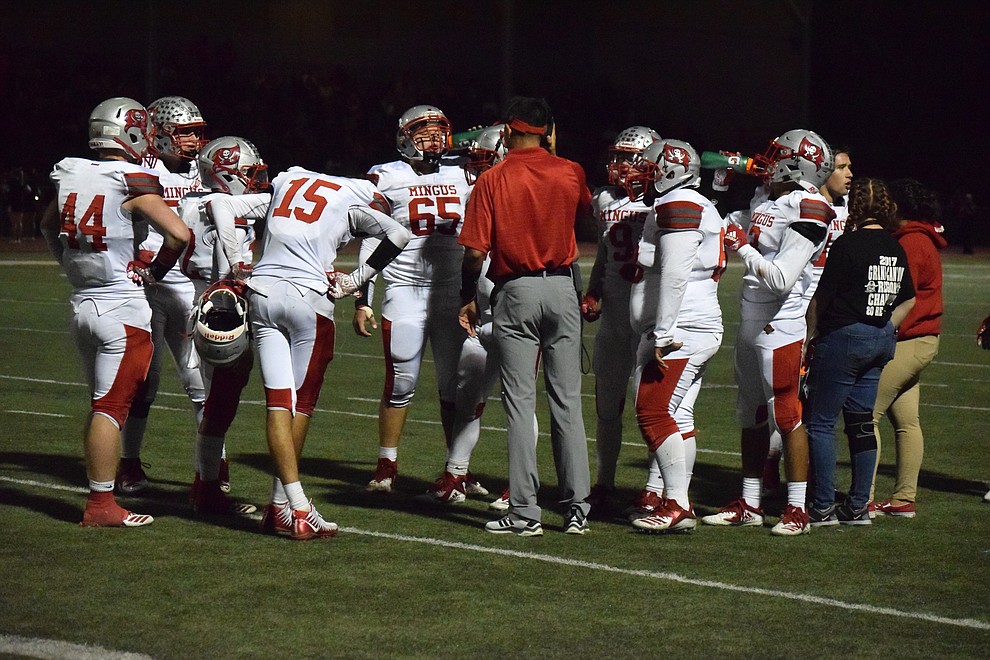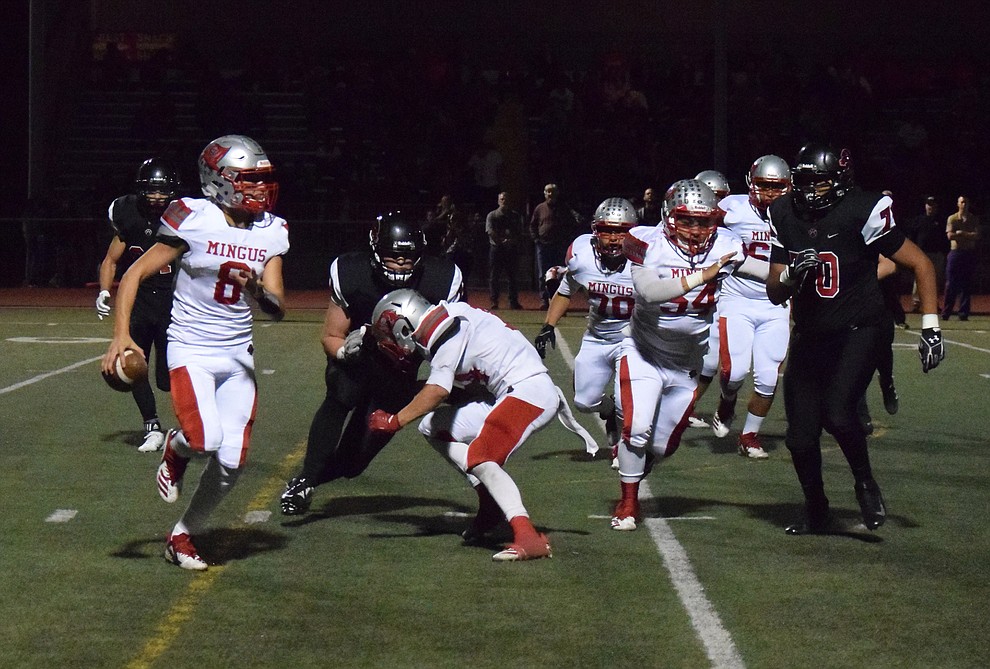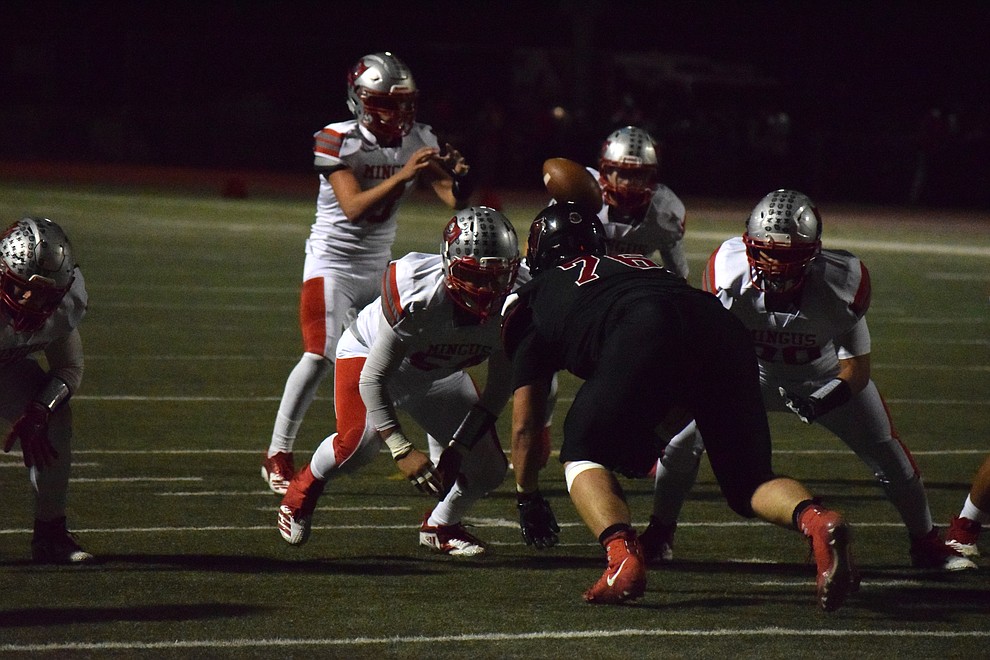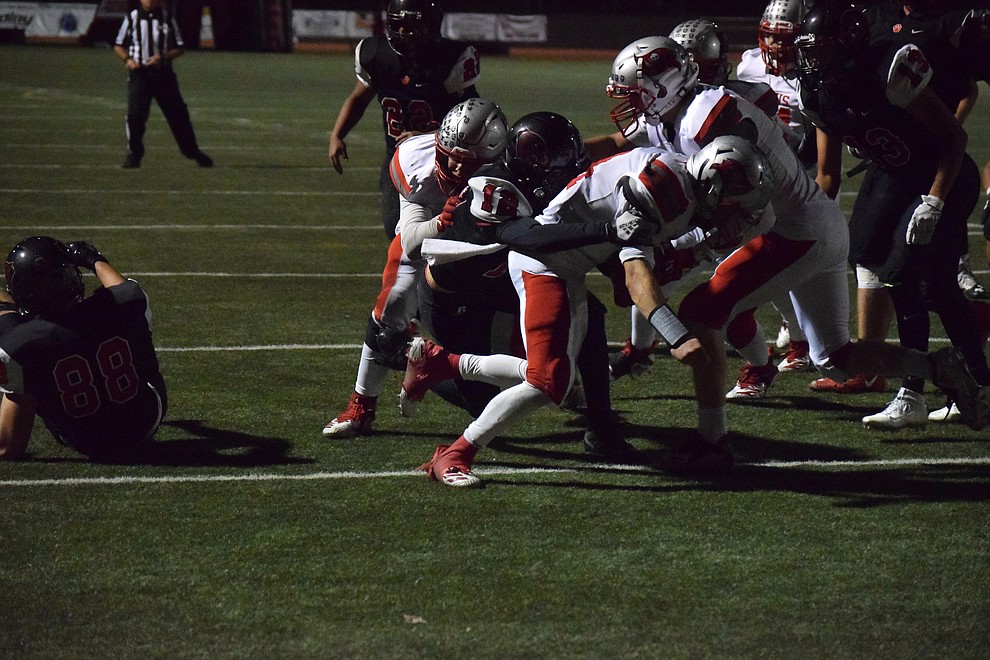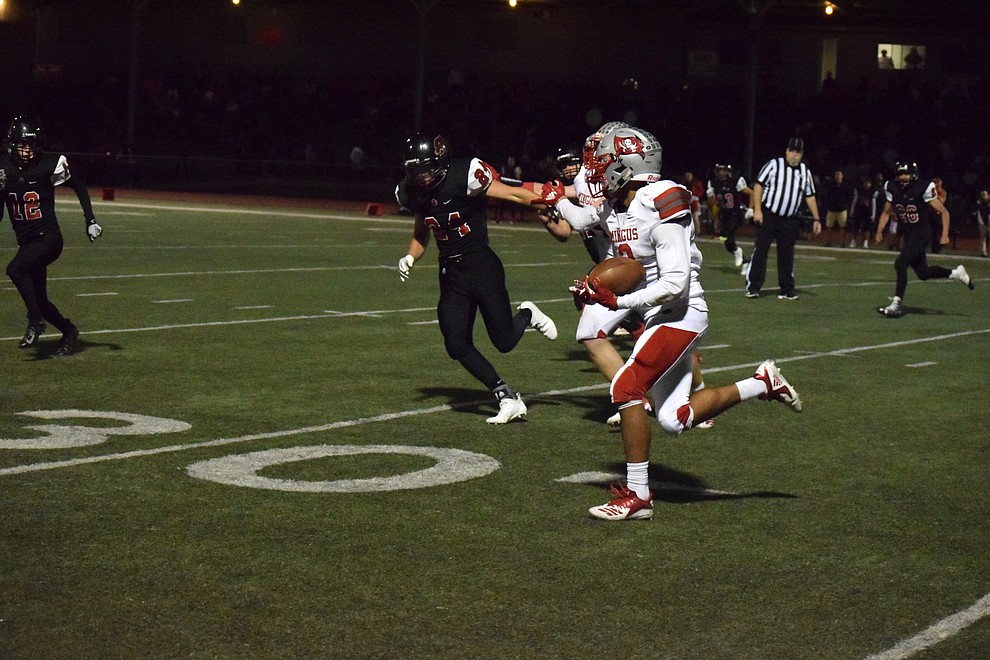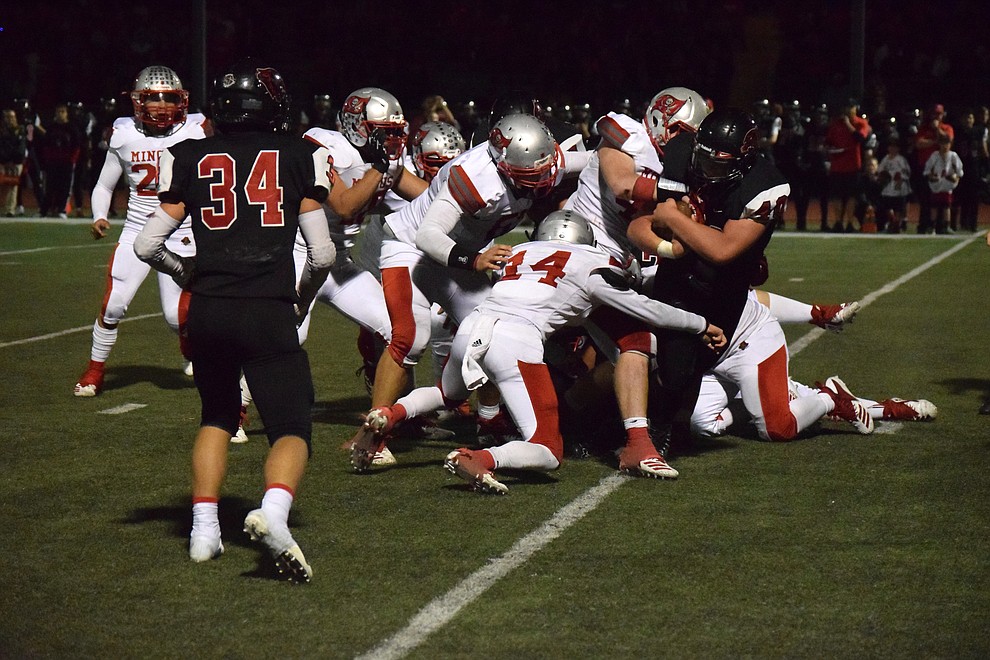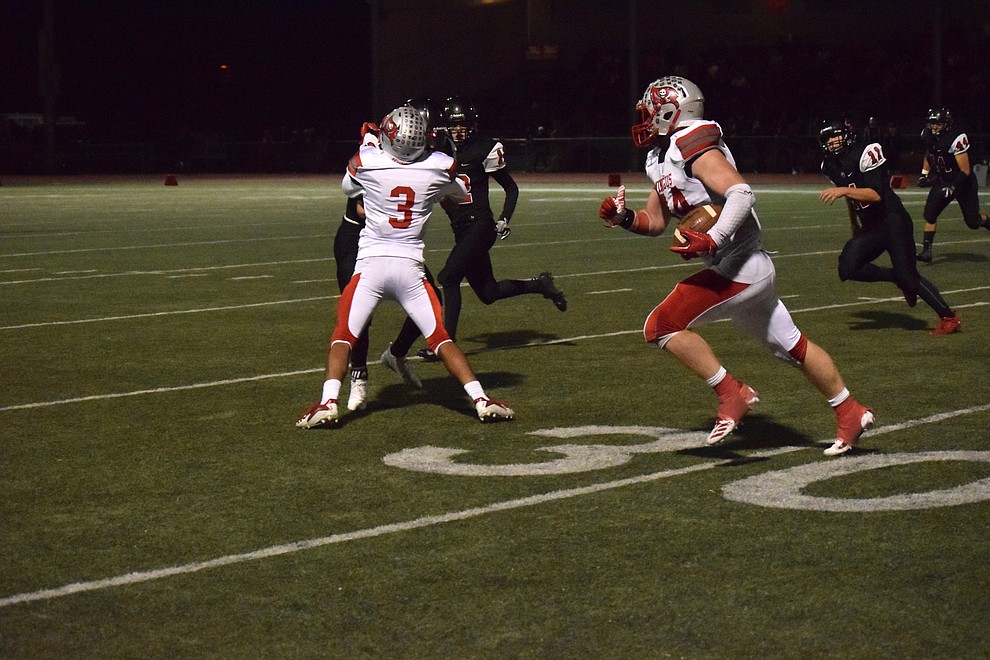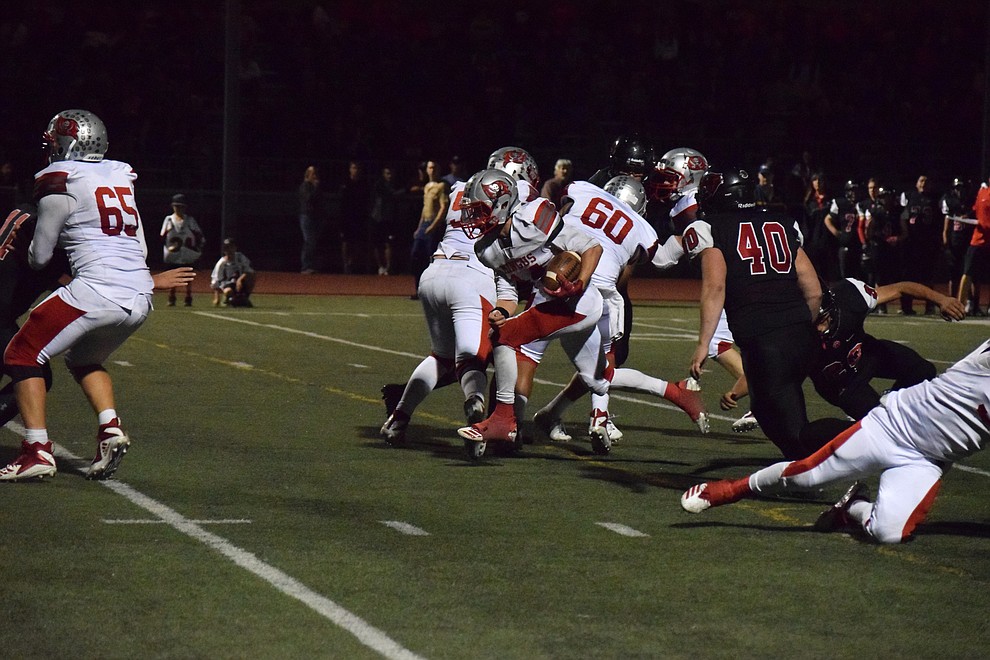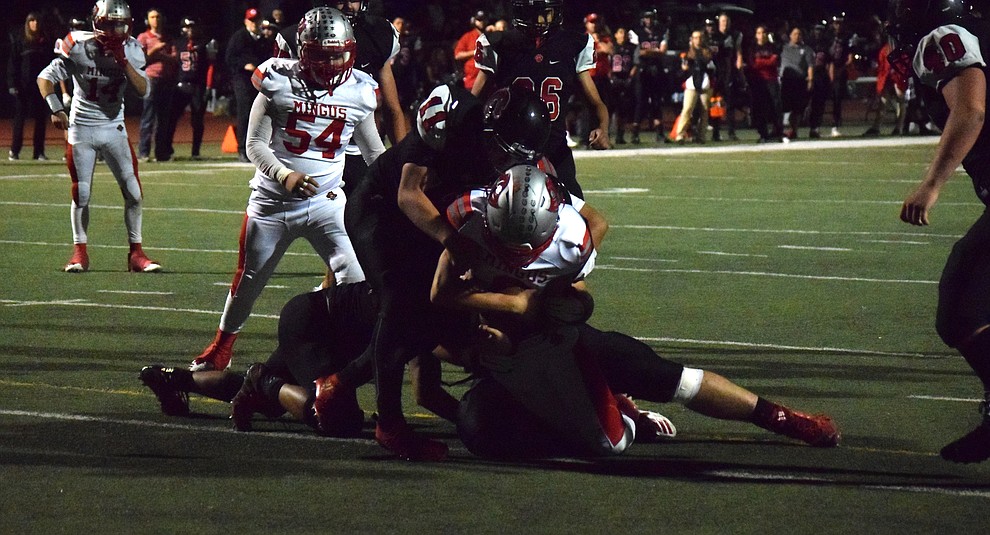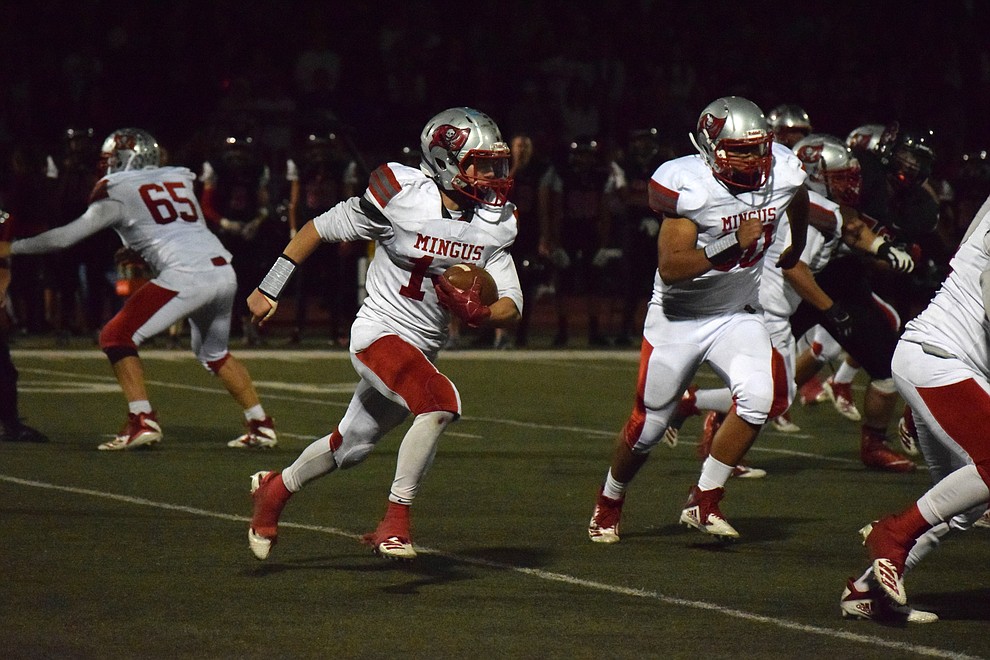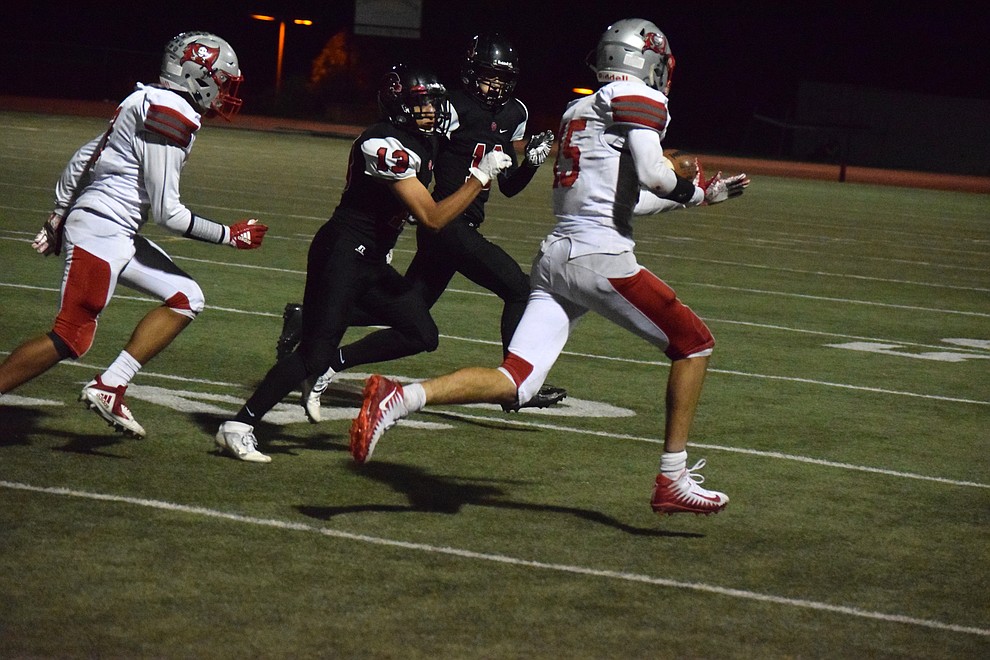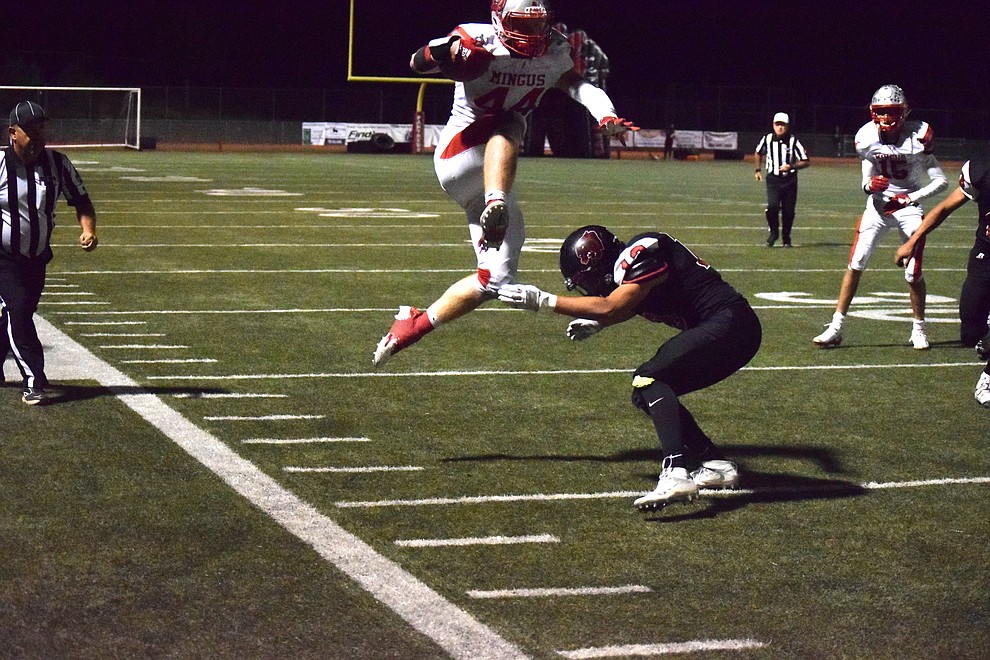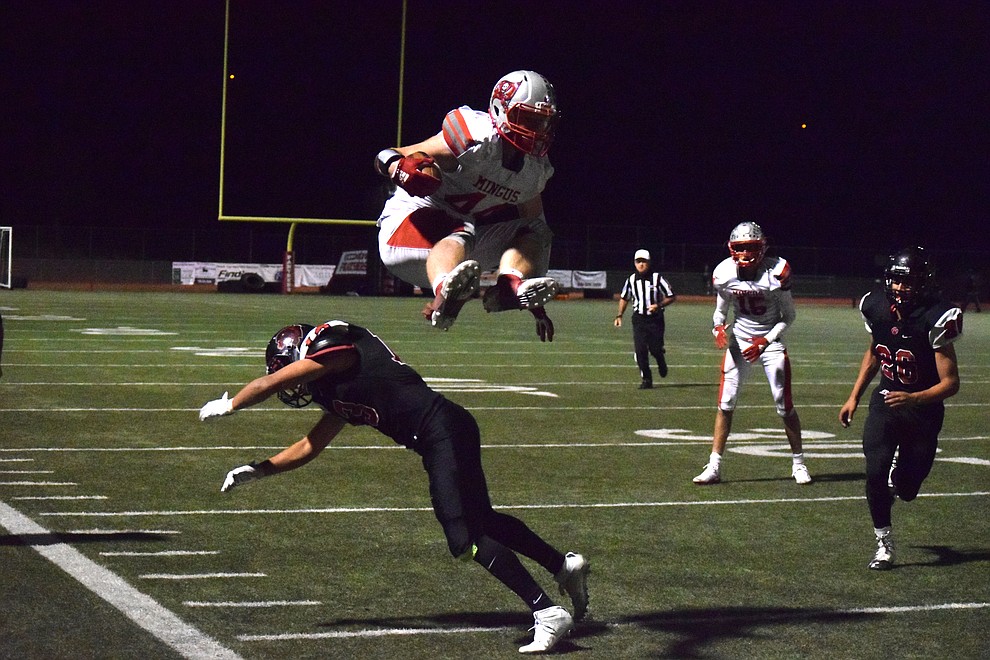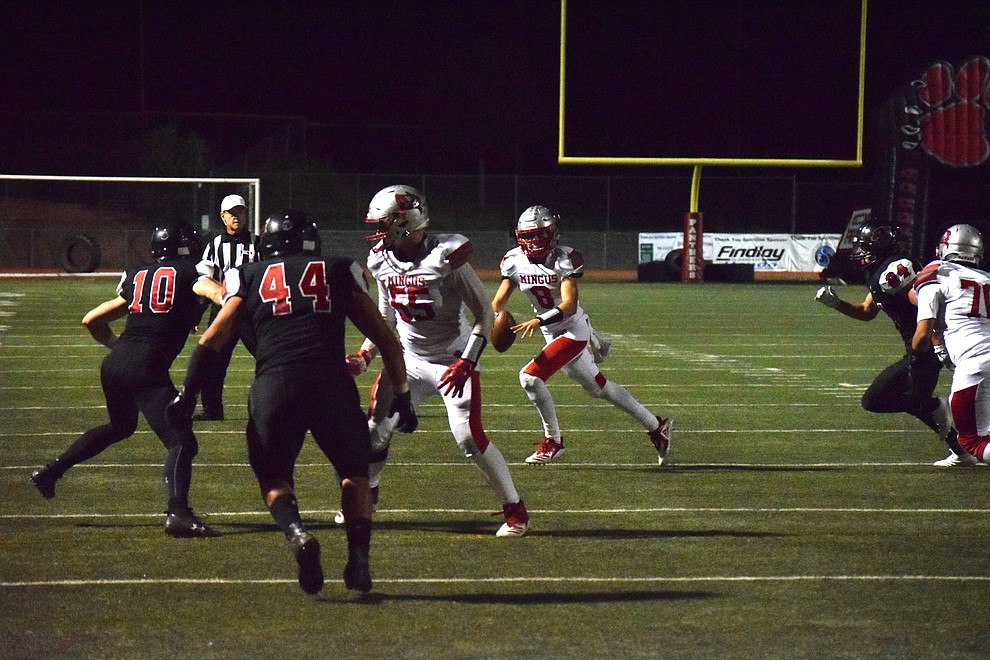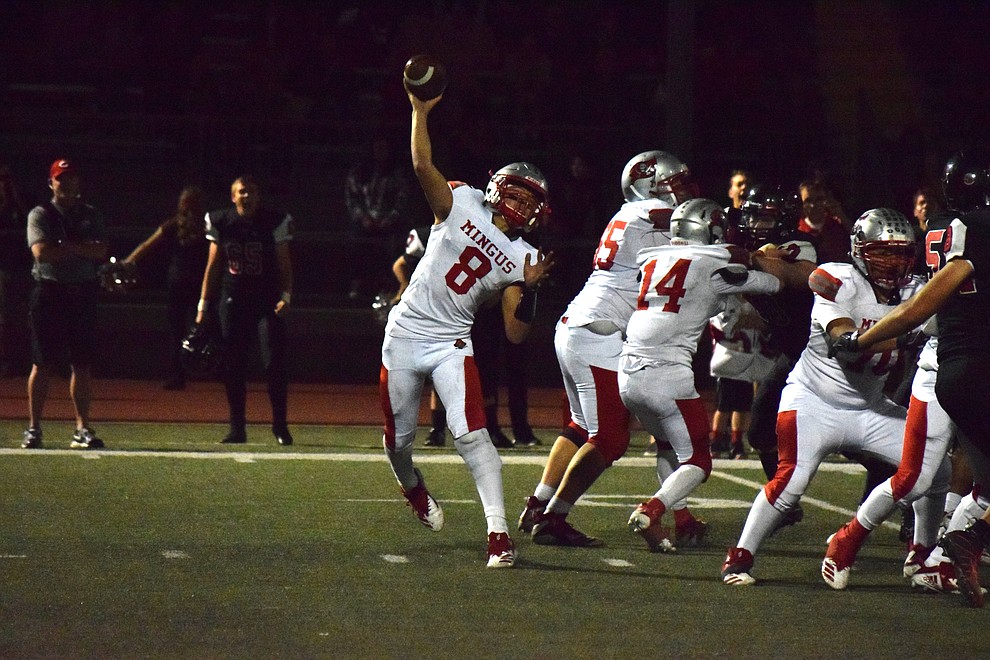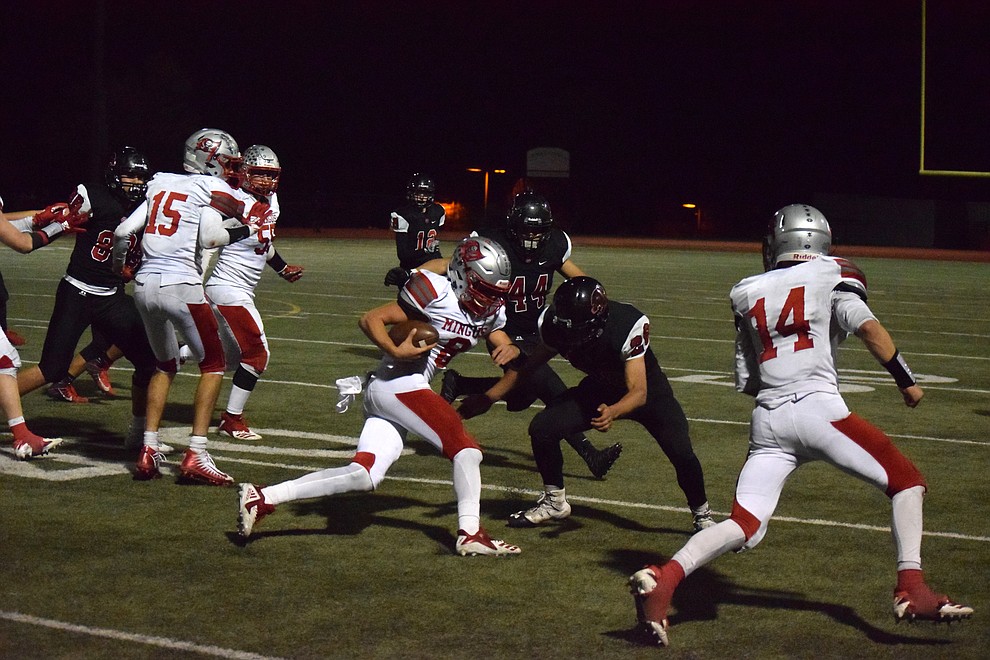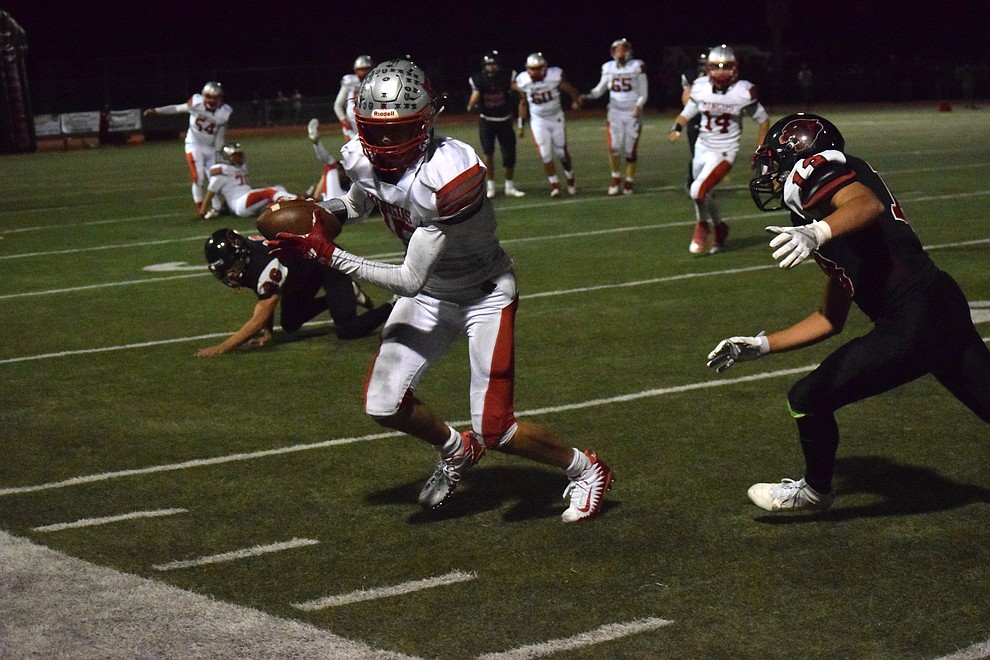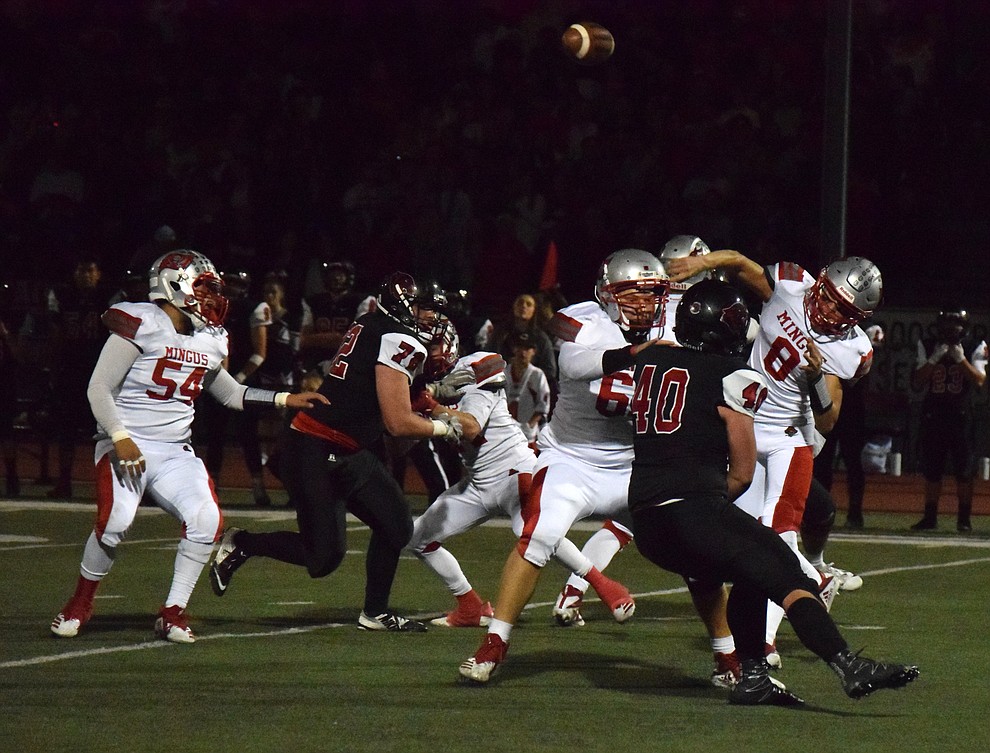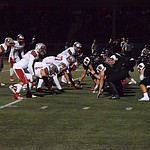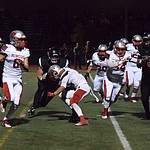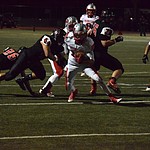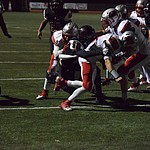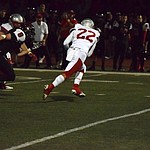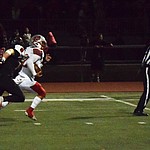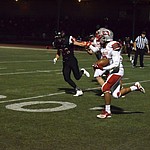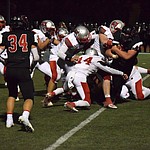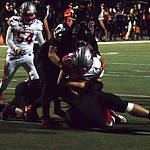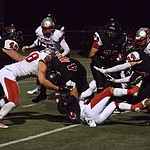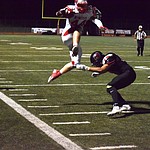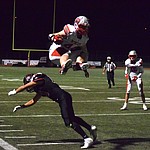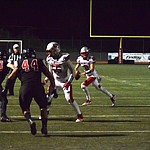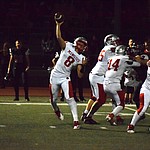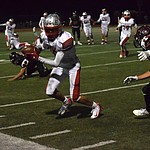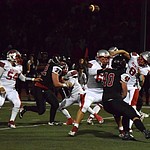 AIA week 5 football scores
4A Grand Canyon
Prescott 27, Flagstaff 24 (OT)
Bradshaw Mountain 44, Lee Williams 14
Mohave 41, Dysart 26
2A VERDE
Trivium Prep 33, Chandler Prep 0
Parker 30, Antelope Union 18
Tonopah Valley 86, Heritage Academy Laveen 6
Glendale Prep 40, Sedona Red Rock 21
6A
Copper Canyon 38, Trevor G. Browne 20
5A
Notre Dame Prep 34, Desert Mountain 28
Higley 57, Millennium 22
Maricopa 55, Central 0
4A
Mesquite 54, Buckeye Union 3
Salpointe Catholic 41, Cactus 15
Canyon Del Oro 46, Amphitheater 0
Casa Grande 70, Rio Rico 7
Seton Catholic Prep 44, Combs 20
Greenway 21, Deer Valley 7
Desert Edge 40, Poston Butte 7
Gila Ridge 37, Kofa 0
Lake Havasu 28, Moon Valley 14
Marcos de Niza 23, Tempe 7
Empire 55, Palo Verde Magnet 12
Peoria 49, Thunderbird 46
Sunnyside 21, Pueblo Magnet 14
Saguaro 45, Chaparral 37
Sahuaro 47, Cholla 0
Arcadia 32, Shadow Mountain 21
El Centro (Calif.) Southwest 14, Yuma 7
St. Mary's 53, Cortez 0
Walden Grove 49, Nogales 0
Glendale 42, Youngker 13
3A
Chino Valley 26, AZ College Prep 7
American Leadership Academy - Ironwood 40, Kingman 6
Sabino 14, Blue Ridge 7
Kingman Academy 24, Coronado 13
Page 22, Valley Christian 15
Payson 32, Catalina 14
Snowflake 21, Pusch Ridge 7
Safford 54, Show Low 28
Fountain Hills 23, Wickenburg 20
2A
Alchesay 70, Valley (Sanders) 6
Pima 46, Bisbee 20
Chinle 41, Many Farms 0
Globe 49, Tombstone 40
Hopi 38, Rock Point 8
North Pointe Prep 62, ASU Prep 7
Phoenix Christian 58, San Carlos 0
Red Mesa 60, Greyhills Academy 8
Morenci Jr./Sr. 42, Santa Cruz Valley 12
Miami 6, Santa Rita 3
Scottsdale Christian 56, Veritas Prep 6
St. Johns 72, Pinon 8
Thatcher 48 Benson 6
1A
Williams 71, Joseph City 14
Bagdad 76, San Pasqual 6
FLAGSTAFF — Mingus Union football came up just short in their season opener, a battle of first year head coaches.
On Friday night, the Marauders (3-2, 0-1 Grand Canyon) lost 42-40 at Coconino. The Panthers (4-0, 1-0) are 4-0 for the first time since 1992.
Coconino head coach Mike Moran took over the boys' basketball team last year, doubling their win total and winning the region title.
"It was definitely a hard-fought battle all the way down to the end," Mingus head coach Robert Ortiz said.
"My hat's definitely off to Coco, coach Moran's doing a great job of turning this place around and I'm glad to see this place finally taking off."
It was the Panthers' first win over Mingus since 2011. Mingus Union won those games 56-0, 78-6, 38-0, 41-13, 49-7 and 28-17.
After the game Coconino players jumped in each other's arms and some of their fans enter the field to celebrate with them.
Coconino went 2-8 last year and has already equaled their region win total from a year ago.
Led by Bradshaw Mountain (5-0, 1-0), the Grand Canyon Region features five teams with at least a .500 record.
"I think the Grand Canyon Region's really taking off," Ortiz said. "I know Bradshaw's up to good things and Coco's definitely off to a hot start, Prescott's taking off again, so it's definitely going to be an interesting battle all the way to the end for all of us."
Mingus Union jumped out to a 12-0 lead after a seven-yard run by senior Colby Fanning and a four-yard touchdown reception for Kendrew Streck.
Coconino responded by scoring 28 straight points but Mingus Union cut the lead to 28-26 following another score by Fanning and a 38-yard return on a fumble recovery by senior Joe Machado.
"That's a huge one," Ortiz said. "In the game of football, it's momentum, big mo and you see it every Saturday and Sunday in a college or NFL game, a momentum swing is huge and that honestly probably saved the game for us and put us in position to have an opportunity to win it. His fumble recovery for six changed the entire game and the mindset of the kids."
Fanning scored again to give Mingus Union a 34-28 lead. The Panthers scored a couple more touchdowns, including a 41-yard run to take a 42-34 lead.
Fanning scored again but the two-point conversion failed.
"It's a tough one, these kids have a lot of heart and I've said that for three weeks now, we snuck one out against Mesquite, fought hard all the way up until the end against Seton and same thing against (Friday) night, just when we needed it most, a couple missed assignments and it'll cost ya," Ortiz said.
Fanning, the back up running back and one of the leaders on the defense as a cornerback, filled in for starting running back Alex Nelson, who was suspended for the game because of his ejection the week before. Fanning scored four touchdowns and had a key block on the touchdown punt return.
"I think Colby did an excellent job," Ortiz said. "Colby's definitely one of those guys that goes unnoticed sometimes because he does so much for your football team and he's perfect almost all the time and he expects perfection out of himself, so if he falls short or makes a mistake he's very tough on himself and I think that's one of the reasons why he helps our football team in a lot of ways."
After suffering a concussion the week before at Chandler Seton Catholic Prep, senior quarterback Antoine Zabala returned to practice late in the week.
Zabala passed four 198 yards and two touchdowns.
Ortiz said his football IQ is so high that missing a day or two doesn't hinder that much and that the health of the players is the most important thing.
"He's one of the smartest kids I've ever coached," Ortiz said. "He comes to me with a lot of ideas and a lot of things."
The Marauders return to action on Friday when they host Lee Williams (2-3, 0-1) at 7 p.m.
More like this story
SUBMIT FEEDBACK
Click Below to: