On the Run: Mingus runners turn in solid performances in Four Corners Invitational
Originally Published: September 20, 2018 10:48 a.m.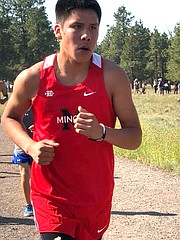 There is an old saying among high school cross country coaches that you are only as good as your No. 5 runner.
Another truth about the distance-running sport is that the best teams are able to put a gap of 1 minute or less between their first and fifth scoring runners.
For Mingus Union cross county Coach Dave Moncibaez, the puzzle pieces are clearly coming together for the Marauders boys team.
In Saturday's prestigious Four Corners Invitational at Flagstaff's Buffalo Park, not only did most all of Moncibaez's runners have their best race of the season, but his top 5 runners on the day had a gap of 1-minute, 10-seconds between the first and fifth best times turned in.
Even more impressive was a 15-second gap between the Marauders' top four runners.
Super sophs Jehiah Rogers and Riley Bliss led the way for Mingus Saturday. In a field of 138 runners in the boys varsity seeded race, Rogers finished 25th overall among 143 runners in 18-minutes, 45-seconds. Bliss was two places and 5 seconds back while steady senior Nick Lodico ran third for Mingus in 35th place in 19-minutes flat. Another sophomore, Henry Durnez, whose closing speed is as good as you will find at the high school level, clocked in at 19:55 and 63rd place for Mingus. Overall, the Mingus boys finished 9th among 22 teams in the boys varsity seeded race.
The big surprise for Mingus, though, came in the boys open 3-mile race where senior transfer Izayis Hale finished fifth among 234 runners with an 18:51 clocking. Overall, the Mingus boys finished seventh among 19 teams in the open division.
For Moncibaez, the objective now is to close the time gap between his top four runners and No. 5. At Four Corners, sophomore Henry Durnez was Mingus' No. 5 man overall among the seeded and open teams, but he has tough competition for that spot as junior Taylor Capite, senior Cody Wager, and freshmen Marcus Bueno and Andy Babcock are all vying for No. 5 spot for Mingus. Just another step back are two more freshmen, Ratief Tapia and Issac Reynolds, and sophomores John Valentine and Silas Willoughby, who are all close to dipping under the 21-minute barrier for 5-kilometers.
For the Mingus girls, senior Meg Babcock had one of her best races of the season by finishing fifth among 117 runners with a 21:46 clocking for 3 miles. Freshmen Claire and Aubrey Peterson finished 25th and 36th in the seeded varsity race.
Moncibaez is still looking for two to four more runners to round out his girls varsity squad. That likely will come from the junior varisty ranks and Estafana Para, Hannah Normandin and Rylee Culver all had their best races of the season Saturday in Flagstaff.
After three consecutive weeks of running tough courses at high altitude, the Mingus runners will drop down into the Phoenix area this weekend for the Doug Conley Invitational. The following week, the Mingus runners will run against the top runners from throughout the Southwest in the prestigious Nike Desert Twilight XC Festival in Casa Grande.
SUBMIT FEEDBACK
Click Below to:
More like this story