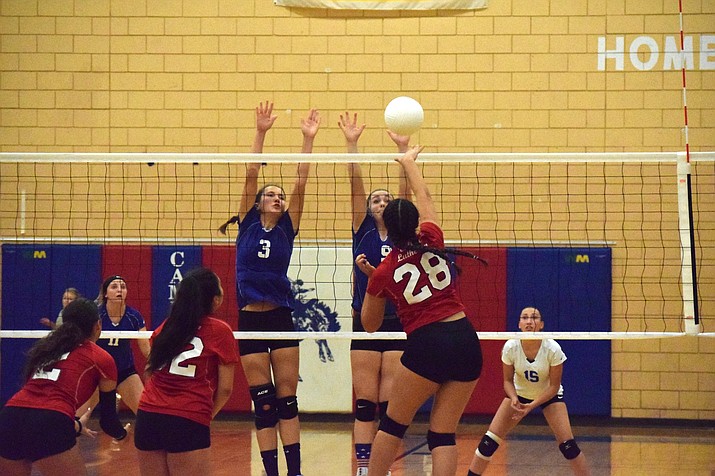 Originally Published: September 22, 2018 5:45 p.m.
Camp Verde High volleyball rebounded after a "rough" tournament in Ash Fork.
After the Cowboys went 1-4 last weekend at the Spartan Volleyball Classic, they lost 3-1 to Valley Lutheran and then beat North Pointe Prep 3-0.
Valley Lutheran (6-1, 3-0 Central) is in second place in the region.
"Valley Lutheran was a tough team," CV head coach Britney Armstrong said. "They came out strong with a quick offense and attacked every ball. It took our girls a few sets to adapt but in the fourth set they found their passion and came back fighting. Our character word for this week was courage and it definitely takes a lot of courage for a team to come back like they did against a top notch team and take the 3rd and (almost 4th) set. I couldn't be more proud of the courage they displayed (Tuesday) night."
Against VL, after a tough first two sets, 25-11 and 25-14 losses, the Cowboys won the third 25-23 and then just lost the fourth 25-21.
"I'm super proud of them, that's tough to come back after a double loss and for them to come back and fight like how they did, that just shows so much, about their heart," Armstrong said. "So I'm really proud of them."
Armstrong said she would have had a tough time picking a best player of the match. She said sophomore Maya Hedges, junior Bennett Holm and senior Rachel Stockseth did well.
"I'm sitting here like 'well Maya did great and Bennett did great and Rachel, you know there's so many of them that really stepped up," Armstrong said. "It was such a team effort, they did really great."
At the Ash Fork tournament, the Cowboys lost 2-1 to Hopi, 2-1 to Ash Fork/Seligman, 2-0 to Grand Canyon and 2-0 to Mohave Accelerated and beat Joseph City 2-1.
"The season has been like a rollercoaster Like in past years we've struggled finding our consistency," Armstrong said. "It seems like when we're playing a good team we really bring it mentally and when we're playing teams that we feel like we should beat we're just not getting after it and so the tournament was rough. So I'm happy to see them comeback like they did."
However on Thursday on the road, the Cowboys beat North Pointe 25-22, 25-21 and 25-23.
Camp Verde returns to action on Tuesday when they host Scottsdale Prep.