Spirit of cooperation: Verde Valley Farmers' Market promotes local growers
Market founders, longtime manager to be recognized at 9 a.m. Sept. 29
By
Bill Helm
|
BillHelm42
Originally Published: September 25, 2018 5:27 p.m.
Come for the cake. Stay for the fresh produce.
On Saturday, Sept. 29, the Verde Valley Farmers' Market will celebrate 15 years as the community's go-to place for most all things fresh produce.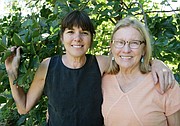 Yes, it has been that long – 15 years – since Denise Gould and Diane Scantlebury decided that Camp Verde needed its own place for the locals to sell their organically grown veggies and fruits, their hand-made jams, jellies, salsas, spices, breads and honeys, as well as other hand-made goods.
Rarely are they seen at the market these days, as Gould and Scantlebury are mostly involved with the Verde Valley's Community Supported Agriculture program – better known as CSA.
At 9 a.m. Sept. 29, both Gould and Scantlebury will be at the Verde Valley Farmers' Market to be recognized, along with longtime Market Manager Jane Davie, in a short award ceremony.
We don't sell any more [at the market], but when we're there, we run into people who have been going there for 15 years," Gould said.
Spirit of cooperation
Gould met Scantlebury "late-2003, early-2004" by her recollections. Each sold at other Farmers' Markets.
"One day we asked each other 'why do we go all over the place to sell when we can do it here?'" Gould recalled.
The market started out small, Scantlebury said. In the parking lot of the Wingfield Plaza on Main Street.
"Thinking about local growers who needed a market," Scantlebury said. "This just made sense."
The market keeps things as local as possible, with all produce grown within 60 miles of Camp Verde. But for every one person who wants to sell produce at the market, Scantlebury said "about 20 want to sell their crafts."
"It's a nice community. And we owe so much to the customers who come out week after week, year after year," Scantlebury said.
At the market, vendors share information with the customers and with each other, Gould said. They help each other carry boxes of produce either to their designated table or back to their vehicle. For the vendors, the market experience has been a "spirit of cooperation."
"And they trade food all the time, especially at the end of the market," Scantlebury said. If you're a vendor and you have one cucumber in your basket, you just know you're not going to sell it. You might as well give it away."
Promoting local growers
She started out selling her produce at the Cottonwood Farmers' Market. One day, about 13 years ago, it rained and the outdoor market was not sheltered.
So Davie called Scantlebury. "I told her we had a lot of produce we needed to sell," she recalled.
"It was so nice to come sell there in the morning," Davie said of the Camp Verde market. "I love that cool feel at the Ramada."
The following year, Davie was manager of the Camp Verde market. Other than a one-year break she took a couple years back, she's managed it every year since.
For Davie, managing the market means "promoting local growers."
"Some customers are here year after year," Davie said. Same for the vendors.
Much of Davie's career at the Verde Valley Farmers' Market has been as both vendor and manager.
Conversing with her customers, sharing recipe ideas and dinner plans, that's why she keeps coming back year after year.
Plastic-free
Maybe Gould and Scantlebury have passed off the heavy lifting to Davie, but the footprint of the market's founders still exists.
This year, Gould has taken to making the market a plastic-free experience. Not to be confused with free plastic – as in bags – the market now makes reusable bags available for its patrons.
"It's genius," Scantlebury said.
This summer, the market has distributed more than 500 reusable grocery totes at no cost to the patrons, with another 200 bags to be given out by Oct. 6, the past day of this year's market.
After a one-week break, the Verde Valley Farmers' Market will start its fall season, from Oct. 20 through Nov. 17.
The fall market is Saturdays from 9 a.m. until noon.
The Verde Valley Farmers' Market is located in downtown Camp Verde on Hollamon Street in the Ramada next to Fort Verde State Historic Park.
The summer market, held from late-May until early-October, is from 8 a.m. until noon.
-- Follow Bill Helm on Twitter @BillHelm42
More like this story
SUBMIT FEEDBACK
Click Below to: