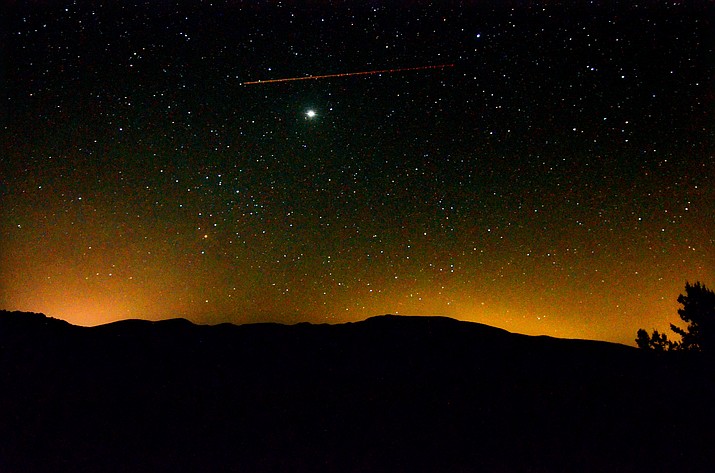 Originally Published: September 26, 2018 1:01 p.m.
CAMP VERDE -- Almost 80 percent of people in North America are unable to see the Milky Way Galaxy from where they live, according to a 2016 study published in Science Advances.

The same study estimated that 99 percent of Americans and Europeans live under light-polluted skies. Inspired by the success of nearby Flagstaff, Camp Verde began work toward attaining International Dark Sky Community status in mid-2014.
On June 8, 2018, Camp Verde became the world's 20th International Dark Sky Community and Arizona's sixth, along with Flagstaff, Thunder Mountain Pootsee Nightsky, Sedona, Big Park / Village of Oak Creek, and Fountain Hills. John Barentine, director of public policy for the International Dark-Sky Association, describes the cluster of six communities as the "central Arizona phenomenon."
This designation puts Camp Verde at the forefront of an international movement. As cities grow and natural darkness disappears, astronomers and activists alike have tried to protect what little night sky remains uncompromised by light pollution. To celebrate this designation, the inaugural Camp Verde Dark Sky Festival will be held on Saturday, October 6, from 2:00 p.m.– 9:00 p.m. at the Camp Verde Community Center and Star Park, located at 51 E. Hollamon Street. All activities are free to the public. Here are some of the scheduled activities.
Universe on Wheels
Arizona Science Center will provide museum-quality planetarium shows that bring the night sky to earth with a portable, inflatable planetarium. A wheelchair entrance is provided. The "Wonders of the Universe" program will peer deep into space through the eyes of the orbiting Hubble Space Telescope and travel back billions of years in time to witness the birth of the universe.
On this breathtaking excursion, children will witness the formation of galaxies and explore some of the wondrous nebulae and astronomical structures ever discovered before they fly deep into our own Milky Way Galaxy for the return home to Earth. Each show can accommodate up to 45 children and lasts about 20 minutes. Shows will be scheduled during the Festival from 2:00 to 5:00 p.m. Tickets will be required for each show and can be obtained at the entrance to the Community Center. In addition to the planetarium, the Arizona Science Center will provide tables where families can explore space with hands-on activities to learn all about the planets, stars, gravity and even becoming an astronaut!
Kidz Zone
Exploring Our Space Neighborhood. The National Park Service will present a program in the Town Ramada that covers topics like the earth's atmosphere, the rotations of our planet and moon, and the other planets that surround us in our stellar neighborhood. After that, kids will run in a rocket ship relay race to discover more fun facts about the planets.

Keynote Address by Dr. Jeffrey Hall, Director of Lowell Observatory
Jeffrey Hall has served as Lowell's Director since June 2010.
Hall is presently a member of the American Astronomical Society's standing committee on light pollution, space debris, and radio interference, and has played an active role in dark-sky preservation efforts around Arizona.
Hall's presentation is titled "A Planet by any Other Name: The Recent History of Pluto."
A Guide to Good Outdoor Lighting: Workshop
John Grahame was one of the founders of the citizen-based Flagstaff Dark Skies Coalition. Building on the positive relationships cultivated by local astronomers, the coalition broadened awareness of the economic and environmental benefits that dark skies bring to the community through many successful programs.
Grahame will present a workshop on "Which Light is Right: A Homeowner's Guide to Good Outdoor Lighting."
Modern Research at Lowell Observatory: Film

Lowell astronomers conduct research spanning the full range of modern astronomy and solar system exploration, with leading experts in the areas of comets, asteroids, icy moons, and Kuiper Belt objects. This film highlights some of these exciting new areas of research taking place at Lowell Observatory.
Mayan Tools of Astronomy: Film
Thousands of years before the Hubble telescope, the Ancient Maya were observing and recording details about the universe with a precision that continues to astound scientists today. This film travels to Mexico's Yucatán peninsula to get a firsthand look at the ancient world's most skilled astronomers, the Maya. The film explores the remains of a round structure known as El Caracol, which looks remarkably like a modern-day observatory, and shows how the Maya built it to track the astronomical cycle of Venus. Finally, viewers will discover how the Maya used the sun to lay out their temples and observatories, and to examine their incredibly complex and accurate calendar system.
Astrobiology
Astrobiology is the study of life in the universe. The search for life beyond the Earth requires an understanding of life, and the nature of the environments that support it, as well as planetary system and stellar processes. Matt Malloy, an astronomy teacher at Camp Verde High School, will give a talk on how astrobiology combines the knowledge and techniques from many fields, including astronomy, biology and atmospheric science, among others.
Dark Sky Art and Photography Exhibit
The Festival will feature several stellar astrophotography examples by Ralph Nye and Mike Cadwell. Ralph Nye, known as "The Telescope Guy," is the director of technical services at Lowell Observatory, who has a passion for astrophotography. Joining him will be Mike Cadwell, a member of the Astronomers of Verde Valley, who has displayed his astrophotography at the Sedona and Camp Verde libraries. The two will present beautiful photos of colorful nebulae and cloudy galaxies. The exhibit will also feature artwork by local students.
Exploring the Night Sky with Binoculars
The greatest tool that we can use when observing the night sky is not only our curiosity but also our very own eyes! In this interactive session, participants will learn about selecting and using binoculars for enhancing our observation of the night sky, as well as our curiosity.
Saving the Dark: Film
From the award-winning director of Lost in Light, comes the follow-up documentary, Saving the Dark. This film captures what dark skies really mean for the health of all life on the planet and what is being done on all levels to reclaim and steward our dark skies. Using beautiful cinematography and new information, this film invites and excites each person to protect and enjoy the 'other half of the day.' It is about the significance of astronomy and the night skies, effects of light pollution on astronomy, human health, wildlife, and what we can do to fight it.
Informational Booths
The Community Center will also have several tables with information from a variety of organizations. Meteor Crater will distribute informational material and show a short video on the crater's creation. The Verde Valley Archaeology Center will have a display on meteorites from Meteor Crater that have been found within ancient Sinagua sites in the Verde Valley. AstroVerde, the Astronomers of the Verde Valley, will provide information on what they do and how you can join. Lowell Observatory will have numerous handout materials about, as well as brochures on being dark sky compliant.
Stargazing
The Camp Verde Star Park will provide a number of opportunities for guests to view astronomical objects.
There will be six telescopes provided by Astro Verde and one telescope from Lowell Observatory. There will also be a binocular station and a sky-quality meter demonstration by Camp Verde High School.
Astronomers will be on hand to show you deep sky objects and answer your questions. Stargazers can also learn from the photographers of the Rim Country Camera Club who will host a dark sky photography demonstration.
Music and Food
Live music will be provided by Gaetano from 5:00 p.m. to 6:00 p.m. and again from 6:30 p.m. to 7:30 p.m. There is no more beautiful way to spend an early autumn evening than with Gaetano and Friends singing Flamenco music in the Star Park Ramada.
If you have not heard Gaetano sing and strum the Spanish guitar, you are in for a real treat. Gaetano brings life to Flamenco as it is his tradition in his homeland of Seville, Spain. Camp Verde's premier pie shop, Udderly Divine, will be on site with a budget-friendly menu, including homemade chili, all-beef hotdogs, sandwiches, and Theresa's famous homemade pies.
Additional information about the Camp Verde Dark Skies Festival can be found at facebook.com/VisitCampVerde or by contacting sebra.choe@campverde.az.gov, 928-554-0008.
More like this story