Mingus football debuts at No. 17 in AIA rankings
Originally Published: September 27, 2018 7:47 p.m.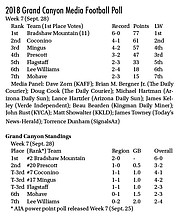 Mingus Union football was barely on the outside looking in in the AIA's first rankings.
The Marauders (4-2, 1-1 Grand Canyon) debuted at No. 17 in the state's first power rankings, unveiled on Tuesday. The state tournament is a 16-team affair with eight automatic bids and the eight highest ranked at large teams.
Grand Canyon rivals No. 2 Bradshaw Mountain and No. 7 Coconino were in the top 10. Chandler Seton Catholic Prep at 12th was the other Mingus Union opponent in the top 16 in the first rankings.
Although the Marauders lost 42-40 to Coconino on the road, they host Bradshaw Mountain on Oct. 12 on Senior Night.
No. 19 Gilbert Mesquite and No. 20 Prescott were also in the top 20. The Marauders lost to Seton Catholic by 10 on the road but beat Mesquite 24-21 at home.
Last week Mesquite handed Seton Catholic their first loss of the season 45-14. Prescott likely dropped after losing 35-23 to Oro Valley Canyon del Oro last week in a game that was postponed due to rain.
This week the Marauders travel to No. 36 Mohave and then after the BM game travel to No. 32 Flagstaff before closing out the season at Prescott.
Mingus Union is 4-0 at home this season and 0-2 on the road.
Tucson Salpointe Catholic (5-0, 0-0 Kino) topped the rankings, with Scottsdale Saguaro (5-1, 2-0 Desert Sky) surprisingly coming in at No. 5. The Sabrecats have not lost to a 4A school since 2012, haven't lost to a team from Arizona since 2015 and have won five state championships in a row.
Mingus Union moved up to fourth place in the Grand Canyon Region Media Poll and four points behind Coconino, who is in second. The Panthers (4-1, 1-1) suffered their first loss of the season when they fell 28-14 at home to Bradshaw Mountain (6-0, 2-0).
The Bears are off to their first 6-0 start since 1986. They've topped the Grand Canyon Region poll every week in its inaugural season and received all 11 first place votes this week.
Prescott dropped to fourth and Flagstaff, Lee Williams and Mohave remained fifth, sixth and seventh respectively. Lee Williams was 35th in the state rankings and Mohave was No. 36.
This week the Flagstaff schools travel south, with Bradshaw Mountain hosting Flagstaff and Coconino going to Prescott.
Week 6 scores (Sept. 21)
Canyon Del Oro 35, Prescott 23
Bradshaw Mountain 28, Coconino 14
Mingus 48, Lee Williams 14
Flagstaff 42, Mohave 21
Week 7 Schedule (Sept. 28)
Flagstaff at Bradshaw Mountain, 7 p.m.
Coconino at Prescott, 7 p.m.
Mingus at Mohave, 7 p.m.
Bye Week: Lee Williams
SUBMIT FEEDBACK
Click Below to:
More like this story