Camp Verde football bounces back with victory
Cowboys overcome deficit to defeat Glendale prep
Originally Published: September 29, 2018 5:43 p.m.
Camp Verde High football bounced back with a come from behind victory on Senior Night.
The No. 27 Cowboys (3-3, 1-0 Verde) overcame a 14-0 deficit to defeat Glendale Prep 22-14 on Friday night at home.
"Oh man, it's an exciting game," CV head coach Rick Walsworth said. "Just the kids playing hard on both sides. I'm just really proud of how hard our kids played and just the work they put in and the effort they gave, they made themselves proud (Friday) night, they did a great job."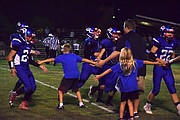 The Cowboys ran the ball 42 times for 255 and had 289 yards on 50 plays. Junior running back/defensive back Cale Cook led the way with 131 yards rushing on 20 carries.
No. 31 Glendale Prep (1-6, 0-2) jumped out to a 14-0 lead following a 79-yard touchdown run before the Cowboys came back.
"It was a great game," said senior quarterback/defensive back Steven Petty. "It was a dog fight, I mean when you think about a football game, that's what you dream of right there."
Petty rushed for 52 yards on seven attempts, scoring a touchdown and a two-point conversion. He was also 3-for-6 passing for 34 yards.
Marauders defeat Mohave following two losses
Mingus Union football cruised at Mohave on Friday night to win its second game in a row.
The No. 17 Marauders (5-2, 2-1 Grand Canyon) beat No. 36 Mohave (2-4, 0-2) 41-20 to improve to 1-2 on the road.
After losing two straight road games, the Marauders have won two in a row. Mingus Union started the season 3-0.
The win moves the Marauders into third place in the region, behind only Bradshaw Mountain and Prescott, who beat No. 7 Coconino 28-16 on Friday night.
The Marauders have a bye this week before hosting No. 2 Bradshaw Mountain (7-0, 3-0) on Oct. 12 in their final home game of the regular season. After beating Flagstaff 42-7 on Friday, the Bears are off to their first 7-0 start since 1986, matching their best start ever.
Mingus Union closes out the regular season at Flagstaff on Oct. 19 and at Prescott on Oct. 26.
The Cowboys rebounded after losing 14-0 at rival Sedona Red Rock the week before.
"Last week was a really tough game for us, it hurt a lot, so this game meant more than just for tonight I feel like this game set the tone for the rest of our season," Petty said.
In the second quarter Cook ran for a 16-yard touchdown to cut the deficit to 14-6.
Then after sophomore linebacker/offensive lineman Jacob Kane recovered a fumbled Griffin pitch at the GP 15-yard line, Petty ran it in the end zone from six yards.
"He's doing a great job but other guys have been doing their job to force things to come to him and he's done a great job of taking advantage of that when its been his turn to make a play," Walsworth said.
After the Cowboys stopped the Griffins on 4th and short, freshman running back/linebacker Jacob Oothoudt scored the game winning touchdown on a 20-yard run.
Oothoudt said scoring the touchdown "felt amazing."
"We ran a fake up the middle, I came back, I got the ball, went up the right side and then just burst into the end zone," Oothoudt said.
Petty and freshman Garrett Dulaney split time at quarterback. Dulaney played the first quarter and Petty the last three.
Walsworth said they both did well and the plan was to have Dulaney play the first quarter and Petty the second. They played about even so he stayed with the senior on Senior Night, he said.
He's not sure how it will go this week but he expects Petty will start in his final home game, which is at 7 p.m. against No. 19 Parker (3-3, 0-1).
"I like it cuz diversity doesn't hurt anyone and I think it threw their defense off a little bit, throwing new quarterbacks in there," Petty said.
Petty was the starter at the beginning of the year but didn't play quarterback the last two games after injuring his hand.
"It hurts but it's nothing that I feel when I'm out here when I'm in the game," Petty said.
Although the game was their second to last home contest, it was Senior Day and the senior football players and cheerleaders were honored at the half.
While the senior football class is only four players, Walsworth said he will miss them.
Along with Petty, there's offensive/defensive lineman Damian Wathagoma, offensive/defensive lineman Jayel Peterson and senior receiver/defensive back Dominic Pittman, who played just this season after previously being a Camp Verde cross country star.
"They give a great effort," Walsworth said. "A couple of them are first year players I think and Steven and Damian have just been hard workers since the summer. It's just a good group of kids. So I'm glad I got them for a few more weeks."
More like this story
SUBMIT FEEDBACK
Click Below to: