Mingus Union track & field shines on Senior Night
Originally Published: April 13, 2019 2:42 p.m.
Friday Mingus Union track and field hosted the Mingus Invitational with big results.
The Marauders medaled in a handful of events and set PRs across the board in the wind and rain.
"It went really well," Mingus Head Coach Molly Westcott said. "You know it's hard when we're putting on the meet (laughs) to really focus on the kids, I think I only saw a few races (Friday), but so far so good, it was good. Our relay teams, that we've been working on the past couple of months did really well."
The girls 4x400 relay team of Meg Babcock, Natalee Rogers, Cassidy Vergara and Brooke Peterson won. Their time of 4:13.99 puts them back atop the Division III state rankings.
The girls 4x800 relay of Josey Valenzuela, Sadie Backus, Aubrey Peterson and Claire Peterson also won.
The boys 4x800 relay (John Capite, Joseph Calhoon, Dallin Gordon and Silas Willoughby) took second. The boys 4x100 relay (Nick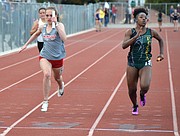 Bloniarz, John Capite, Taylor Capite and Landon Trezise) was third.
Babcock won the 800 by about 11 seconds. In the girls pole vault, Mingus' Joelle Santiago won with a PR of 9-feet and freshman Alexandra Carey took second.
Rogers won the 200 meters. Kendrew Streck won the shot put and took second in the discus.
In the girls throwing events, Lindsey Jones took second in the shot put and third in the discus and Summer Scott PRed (86-04) in the dis-cus, taking second.
Carey took second in the triple jump and Andrew Peterson was second in the high jump.
Dallin Gordon won the 800 meters and Silas Willoughby was second.
The meet featured 14 schools, the biggest Mingus invite ever.
"I think last year we had nine or 10, so it was the biggest and I think it went pretty well," Westcott said.
Backus took third in the 1600 meters with a PR time of 6:12.68a. Ta-tum Barker was third in the 100m hurdles with a personal record 18.71a, she was also fourth in the 300m hurdles.
In the 110m hurdles, Christian Reid took third with a PR (18.42) and Chance Densmore took fourth with a PR of 18.7h (1.2). In the 300m hurdles, Densmore was third with a 46.87a PR.
MUHS put on the meet with an army of 40-50 volunteers.
"Honestly we could not run the track meet without our volunteers," Westcott said. "We've got a few at every event and they basically run everything."
More like this story
SUBMIT FEEDBACK
Click Below to: