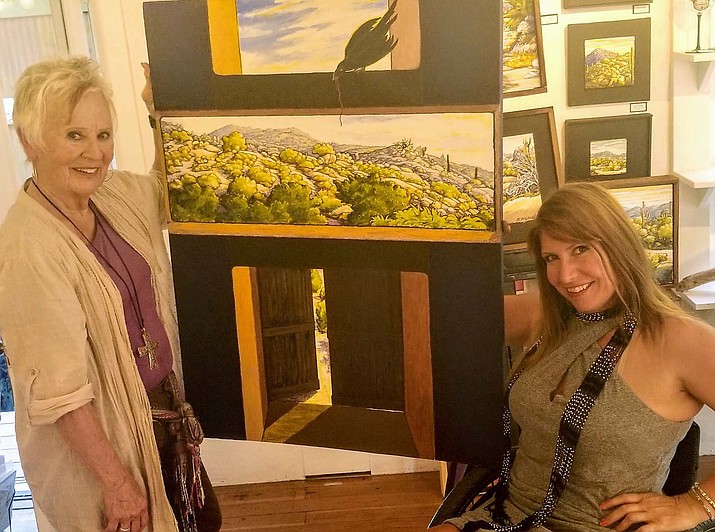 ---
---
Carefree resident Nancy A Michaelson has always been an artist. As a child, her artistic expression came through observation. She'd often ask her dad to stop the car so she could breathe in a perfect sunset, a field of grass, water tumbling over rocks in a brook. 
She began practicing art through attending art workshops, then majoring in Art at a Tech High School, went on to receive a BS in Art Education, and was blessed to study with Jack Beal in Italy, to name a few.
Michaelson has won numerous juried competitions across the nation, plus had her own one-person shows, and been a gallery owner.
In her Curriculum Vitae are: cover artist for the 'Hidden in the Hills' Art Catalogue in 2006, the 1st place winner of the 'Ann Arbor Women Artists Group' represented in the 'Ann Arbor Art Show' in 1999, and she was asked to be represented with two pages of Selected Works in the 100th celebration issue of 'American Art Collector' in 2014. 
Of all her artistic experiences, she considers the largest influences the prestigious position of "Artist in Residence" at the Mammoth Cave National Park in 1999, and leading to that, a 1996 trip to Italy to study Italian Renaissance Masters.
Michaelson's work reflects the world around her: desert landscapes, doorways peeking to the outside, mantles full of treasures, cereal boxes and common everyday items; made more brilliant, more eye-catching, more delicious by her color choices and composition.
For the August Second Saturday Art Walk, Michaelson has brought up The Desert as my Sanctuary, which won 1st place at the 2007 Scottsdale, Carefree, Cave Creek 1st Annual Art And Film Festival. The Muse Art Gallery in Old Town Cottonwood will proudly be featuring Michaelson's work, and the artist will be on site, for Second Saturday Art & Culture Walk on Aug. 10, 4-8 p.m. The artist will be in-house to visit with, and will be presenting an expanded inventory of her artwork during the event.
The Muse Art Gallery is located at 735 N Main St, Studio A, in Old Town Cottonwood.