Cottonwood Clippers close out season on high
Originally Published: August 15, 2019 3 p.m.
The Cottonwood Clippers swim team closed out their successful summer with a pair of home wins.
The Clippers won the Verde Valley Invitational on both the girls and boys sides, the girls won by 38 points over the second place Needles Sandsharks and the boys beat the second place Bull City Barracudas by 35.5 points.
The Clippers also had a record number of swimmers join the team this year.
"It was fantastic," said Clippers head coach Gretchen Wesbrock. "We had exactly 150 kids. We won the Verde Valley Invitational, so that was really exciting to host a meet and be the ones to come out on top."
At the Verde Valley invite, Kenzie Fangman won the girls 11-12 100 yard IM and 50 yard back stroke, Sterling Trezise finished first in the boys 7-8 25 yard free style and Beth Bates-Kessel won the girls 13-14 50 yard free.
Other Clippers that won their events were Bailey Hartman in the girls 15-18 100 back, Luke Fangman in the boys 13-14 50 free, 50 breast and 50 back and Morgan Newell in the boys 9-10 50 back.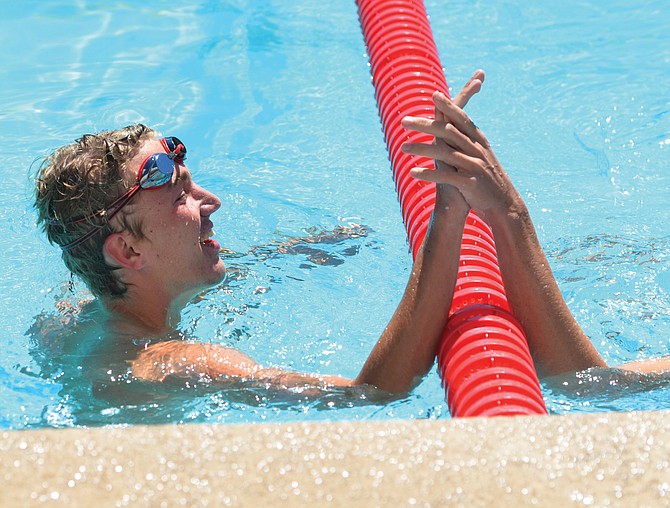 The other teams that competed were Sedona, the Payson Pikes, Prescott Valley and the Flagstaff Snow Sharks,
The Clippers also won the mixed 8 and under 100 yard medley relay, the mixed 9-10 200 medley relay, the mixed 8 and under 100 yard free relay and the mixed 9-10 200 free relay.
Clippers also not only didn't lose swimmers as the summer wore on but added more.
"Our practices stayed full all season and especially this year without a bunch of monsoons in July, we were able to keep kids going," Wesbrock said. "So yeah, I think we ended the season extremely strong and actually we built throughout the summer, we kept adding swimmers throughout the summer."
The Clippers' beginning swimmers, the "C" team, also made strides.
"We saw kids who learned multiple strokes, learned how to do them correctly," Wesbrock said. "That's always a big one, to have kids that aren't getting disqualified at the end of the season and lots of kids whose confidence was tremendous. And learning how to swim, even if you're not going to be competitive, it changes things in your life. You can go an do certain things that if you don't know how to swim you can't do. I was thinking about kids being invited to a pool party for a birthday party, it's like those parents who know their kids can swim and they're confident it's like 'yes!' and if you're not that feels very different."
Meanwhile the Clippers' high school aged swimmers honed their skills ahead of the AIA season.
"What a great preseason certainly for high school but just an overall just great, great season for that group of swimmers," Wesbrock said. "Lots of time improvements and again just gaining that confidence going into the high school season's really huge."
Marauders dive in
Mingus Union swimming started practicing on Monday and they also are growing in popularity.
Wesbrock, who is also Mingus Union's head swimming coach, said the Marauders are off to a great start.
"We had over 40 kids that showed up on Monday, not all of them were cleared, so we're in that process of getting kids cleared, but it's the largest turnout that we've ever had — since I've been coaching — it may have certainly been larger but since we've come in the numbers have just increased every single year, which is I think just really telling of the program, telling of the kids and what they're doing and how they're viewed within the community," Wesbrock said. "So it's a really, really strong team. We've got some new swimmers who've never swam competitively or even learned all four strokes, so it's exciting that we have the type of team that we're able to not make cuts. So if you come out and you're willing to do the work, we're willing to teach you and train you."
Wesbrock, is Director of Student Support Services at MUHS has gotten reports from most of the other fall sports programs that participation is up this year.
"They're actually up across all sports I think," Wesbrock said. "I heard from volleyball, I heard from cross country, I don't know about football, football's usually pretty large numbers traditionally, but I just think it speaks to like what is happening at Mingus, that we're just really encouraging student involvement. We know that is students are connected to extra curricular activities, whether those are clubs, sports, theater, music, that they are going to do better in school, they're more likely to graduate and they're just gonna be prepared. So I think that's part of it. I think with swim specifically, I don't know, I just feel like we have really, really kind kids and I think that's attractive for other kids to get to get to hang out with. It's not an easy sport…I think it's really more about the culture and kids want to be a part of that culture."
SUBMIT FEEDBACK
Click Below to:
More like this story