Camp Verde cross country hosting 24 hour relay fundraiser
Originally Published: August 17, 2019 2:45 p.m.
Camp Verde High cross country will be staging a "crazy" fundraiser on Friday and Saturday.
The Cowboys will have their inaugural 24-Hour Relay starting on Friday to raise funds for the team. Each Cowboy will run a mile and then pass the baton off to a teammate and continue for 24 hours at Sam Hammerstrom Memorial Stadium on campus.
"There's a lot of nerves, because they hear we're going to run for 24 hours and they say 'Are you guys crazy?' 'Are we crazy?,' and I guess the simple answer to that is 'yes' and we have a lot of crazy kids with a lot of heart and I mean crazy in a good way so it's a lot of dedication to run this sport, especially in the elements that we run in," CV head coach David Castillo said.
Although the relay is new to Camp Verde, Castillo often ran in 24 hour relays to raise funds for cross country teams he was a part of. He went to Silver High School in Silver City, N.M.
The second year head coach didn't have time to organize one last year because he took over the program not long before the season started.
A start time hasn't been determined. Each athlete will run several miles during the event and their goal is to surpass 125 miles.
"I wanted to bring it to the kids here," Castillo said. "It's a good team building atmosphere, you spend 24 hours with somebody, you either really get to know somebody, you get to like them or not. But it's a good team building experience, it's a good challenge for the kids and it's a way for the kids to earn their money instead of just asking for money, they're going to put forth the effort to earn it."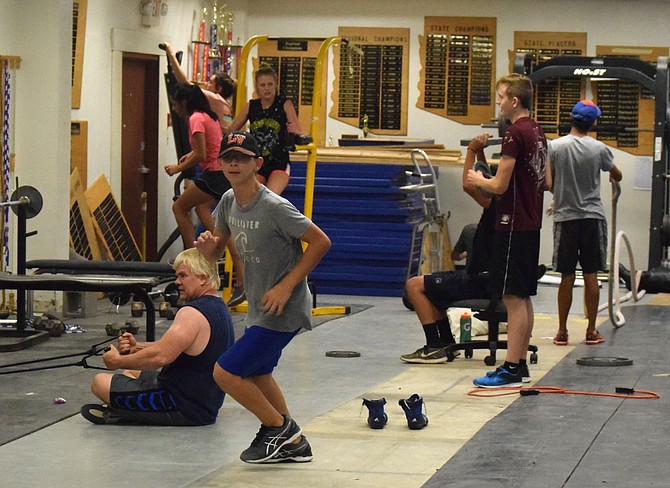 Castillo will put together a running order and after a runner's mile is completed they hand the literal or figurative baton to the next Cowboy on the list. They'll have a break of about an ho0ur to an hour and a half between runs.
"So they'll just go one by one, one mile at a time, the baton continues to move for 24 hour period unless there's some weather thing or whatever but other than that the kids'll stay the night and we'll have the lights on at the field and we just continuously run for 24 hours and we appreciate any kind of help that we can get," Castillo said. "It's a fundraiser for us so of course we'd like some financial contributions, if somebody comes by with a cooler full of Gatorades for the kids, even better."
The Cowboys are hoping for sponsors to contribute per mile or just a flat donation. The funds, which will be managed by the Camp Verde High School Athletic Booster Club, will go towards things like t-shirts, jerseys, equipment, food and lodging.
To contribute email Castillo at cazspt@gmail.com, contact CV athletic director Daniel Wall or the booster club.
This year the CV cross country team has seen a rise in participation numbers.
"Everybody's great," Castillo said. "Last year I started with two kids, like I said I personally as a coach got started late. This year we started some preseason stuff so we actually had a cross country camp at (former CV head) coach (Mike) O'Callaghan's ranch, so it was an overnight thing, we had about four or five kids there and now I'm anticipating hopefully 15-20 kids."
On Thursday Castillo said the kids keep trickling in to join the team. The season opener is Sept. 4 at Wickenburg and the Camp Verde XC Invitational is Sept. 21.
"This first month of August is about recruiting kids and really gaining the base," Castillo said. "Some of these kids have never run before, so it's 100, 100+ degrees, so we're just acclimating them to the weather, to being able to run a lot, a mile, whatever it is. The course is a 5K course, which is 3.1 miles, so they need to build up for that and these first four weeks or so is all about building up."
More like this story
SUBMIT FEEDBACK
Click Below to: