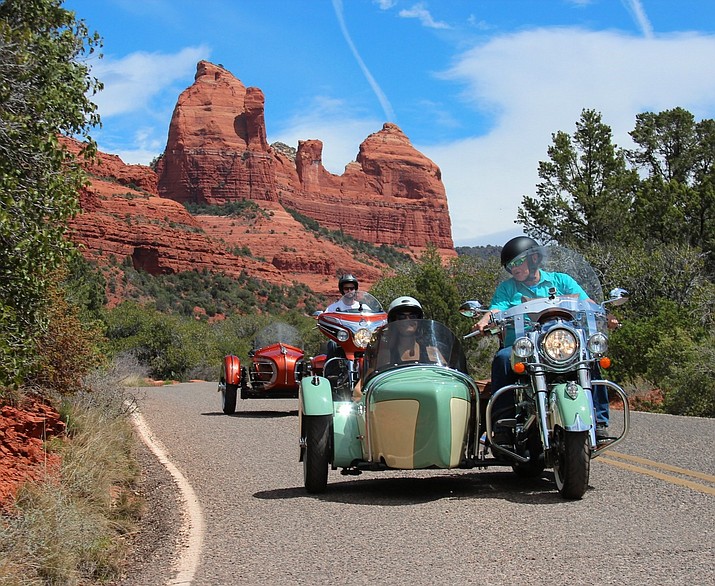 ---
---
Millions of visitors come to Arizona for fun in the sun, but many don't realize that 33% of Arizona is forested and mountainous with Humphreys Peak reaching an elevation of 12,562 feet.
From the snow-capped mountains and pine forests of Show Low to the stunning red rocks of Sedona, you can traverse extraordinarily diverse micro-climates in a single day. Now it can experienced in the seat of an Indian Chieftain Motorcycle sidecar.
The inception of Thunder Sixty Six came during a family vacation to the Grand Canyon in 2016. Jimmy Stilley was riding his sidecar, which captivated crowds of tourists and inspired him to create this one-of-a-kind service.
"Sedona is the perfect place to do just that. It's one of America's most beautiful environments," Stilley said. He and his family want to share the joys and freedom of riding in a sidecar and now he's made that dream a reality.

They offer a variety of rides and excursions ranging from four-hour rides to Jerome to visit the shops and wineries, a three-hour Oak Creek Canyon run and several one or two-hour rides to Boynton Canyon or Red Rock State Park.
The beauty of the Thunder Sixty Six is these rides are chauffeured. Riders get to enjoy the spectacular scenery of Sedona. With the option of two passengers at a time, each passenger can switch off to enjoy the sidecar experience.
Thunder Sixty Six is a Hannigan Sidecar dealer, so if you're considering a purchase, ride on up, take a trip and buy one from Stilley. Thunder Sixty Six can even install it for you. They currently have four sidecars in their fleet and can accommodate group rides.
Stilley chose the Hannigan Classic sidecar primarily because it has reclining, adjustable bucket seat with a side door and hatch opening for ease of entry and exit. Anyone who has ridden in any other manufacturer's sidecar knows it requires yoga training to get in and out. The Hannigan Heritage door and hatch are a game changer.
The other standard features are aerodynamic vintage style perfectly suited to a classic Indian.
Thunder Sixty Six can be reached at thundersixtysix.com or 928-282-1872.