Newlyweds: Ron Jiles and Julie Dodge
Originally Published: January 26, 2019 1:09 p.m.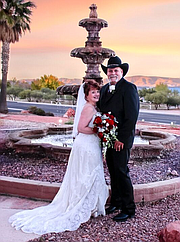 Cottonwood residents Ron Jiles and Julie Dodge were married Nov. 9, 2018, at the Immaculate Conception Catholic Church in Cottonwood. Julie is the daughter of the late Andy and Shirley Paskett. Ron is the son of the late Bill and Jean Jiles. Both are graduates of Mingus Union High School; Julie in 1976 and Ron in 1983. Julie is retired and Ron works for Cosic Transportation. Father David Kelash presided over the wedding ceremony with Blaze Scott serving as matron of honor and Joe Nieto serving as best man. The couple's granddaughters – Hailey, Emily and Aimee Jiles; and Maylyn Pomeroy were the flower girls. Their grandsons -- Brendin McMullen, Austin & Teagan Pomeroy and Joey Jiles served as ushers and grandson Evan Jiles was the ring-bearer The reception was held at the Verde Lux Hotel in Cottonwood prior to the couple leaving on a 14-day cruise to Hawaii.
SUBMIT FEEDBACK
Click Below to:
More like this story